A restaurant owner is sticking by his obscene reply to a negative review of his business, in which he called the reviewer an "ignorant, disgusting, miserable, lying, filthy c*** pig" and suggested she end her life to make the world "a little bit better place."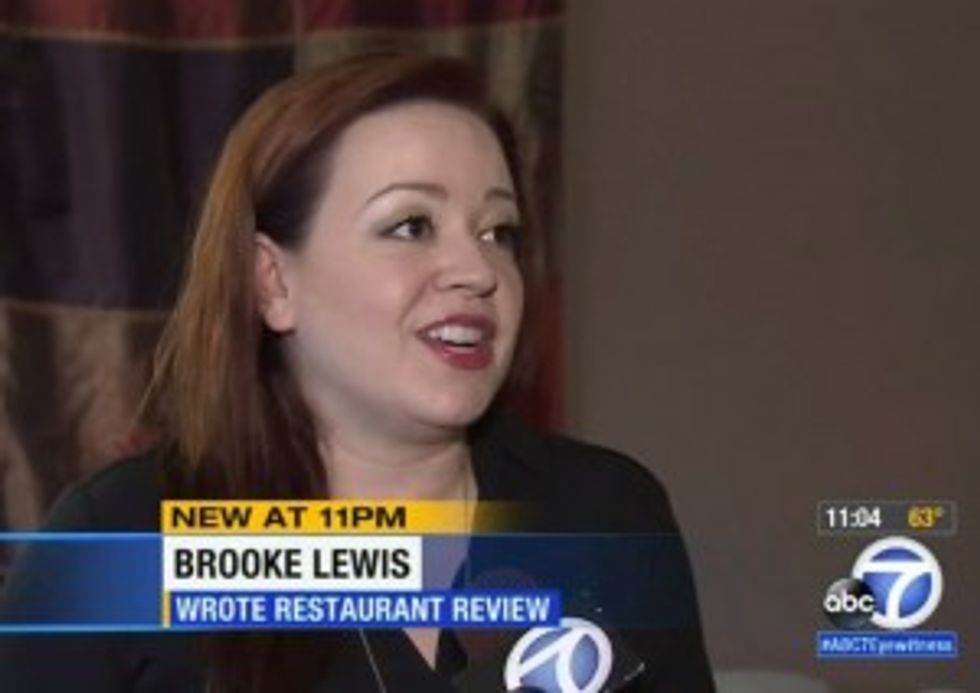 Image source: KABC-TV
Tyrone, the owner of the Sunset Terrace Restaurant and Lounge in Thousand Oaks, California, told KABC-TV off-camera that he was blocked from responding to Brooke Lewis' Yelp review after it was posted last June — but recently caught wind of the one-star assessment on her Facebook page, in which she said the service was poor and the staffers were rude.
Tyrone replied to Lewis' review on Sunset Terrace's official Facebook page several days ago, calling her a "foul, repugnant, waste of space" and saying she "spilled" from her mother's "schizophrenic vagina" as an infant.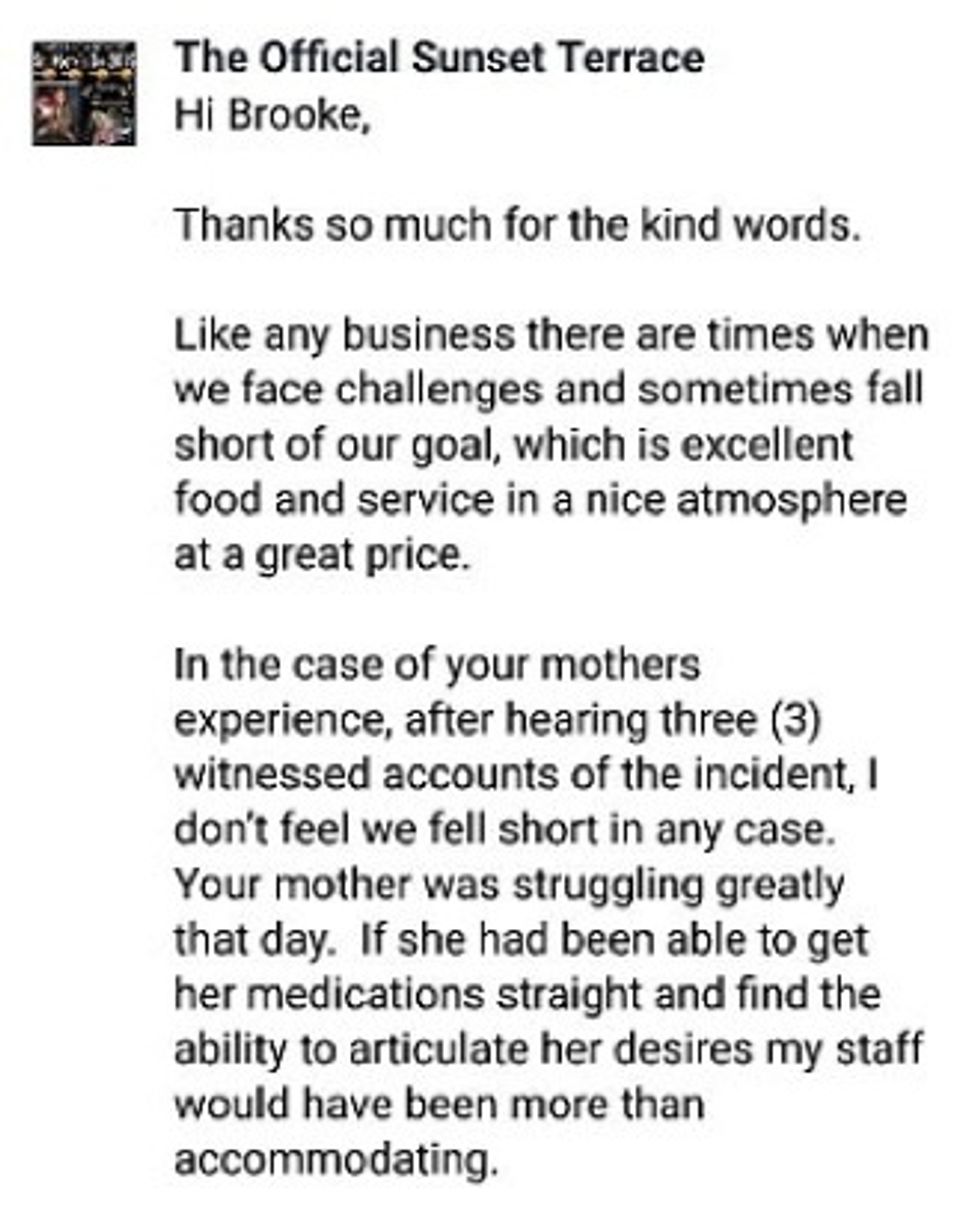 Image source: Facebook via Daily Mail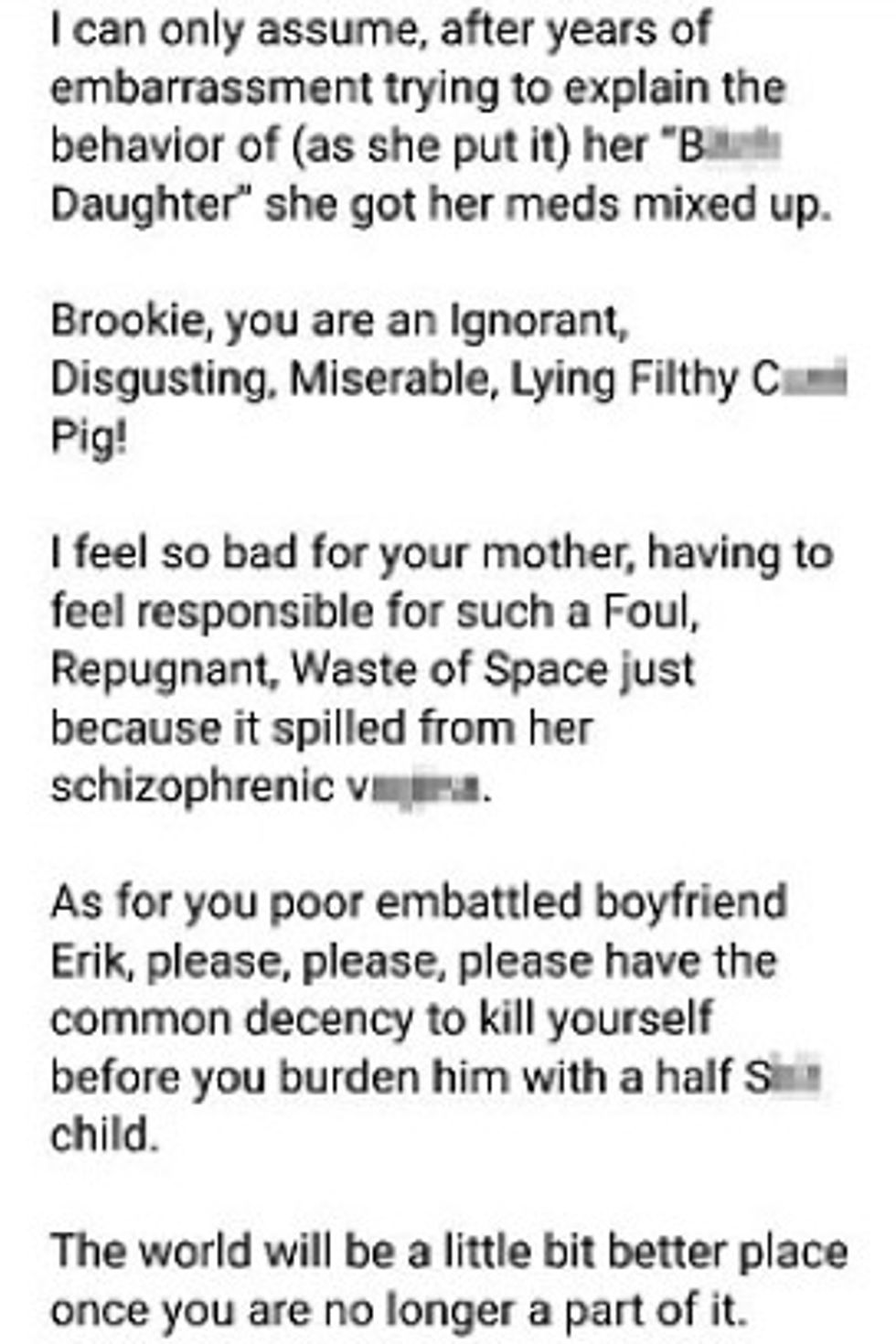 Image source: Facebook via Daily Mail
Lewis told KABC she was shocked by Tyrone's response, calling it "degrading to women in general."
"I can't believe that he responded like that, and publicly, and even after all these people are slamming him he still hasn't removed it," she told the station. "He's still admitting that he did it and he's standing by his words."
While Tyrone deleted his vulgar rant against Lewis, he replaced it with a lengthy explanation for why he used "such spicy language toward her," gave his version of "what actually happened" and noted he was apologizing — but not to Lewis.
"I apologize to anyone offended by my choice of language towards Brooke," he wrote. "I do not apologize to Brooke, her boyfriend Erik, and others like them who use social media like Yelp and Facebook to threaten and blackmail hospitality workers and businesses alike."
(H/T: Daily Mail)
—
Follow Dave Urbanski (@DaveVUrbanski) on Twitter