In 1985, after a 15-year career at the network, Geraldo Rivera said ABC News fired him for making a "non-disclosed $200 donation to a family friend running in a non-partisan mayoral campaign in New Bedford Massachusetts."
This week, it was revealed by the Washington Free Beacon that ABC News anchor George Stephanopoulos failed to disclose $75,000 in donations made to the Clinton Foundation in the last three years.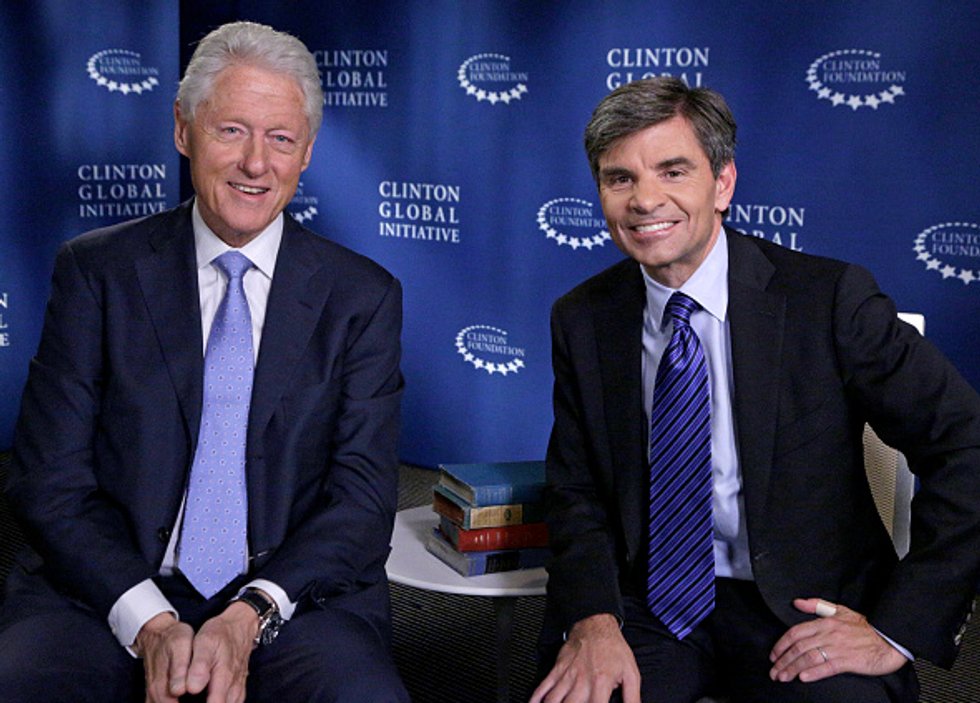 GOOD MORNING AMERICA - George Stephanopoulos interviews former President Bill Clinton about the Clinton Global Initiative happening in New York City this week. The interview airs September 24, 2014 on 'Good Morning America' (Photo by Heidi Gutman/ABC via Getty Images)
Rivera is now asking a simple question: Why is ABC News "bending over backwards" to "minimize and forgive" Stephanopoulos when they quickly fired him over a $200 donation?
The Fox News contributor said Stephanopoulos' donations "look like he's trying to buy continued access to the family he served so loyally as a political operative in the 1990's."
"If Bret Baier, Megyn Kelly, Chris Wallace or Bill O'Reilly made a similar donation to say an educational foundation run by Jeb Bush liberal wolves would be howling in front of Fox News," he wrote on Facebook.
It seems that Stephanopoulos at least violated ABC News policy, according to the New York Times.
"According to ABC News policy, a network spokeswoman said, an employee making a donation to a charity must "disclose that to us before covering a story related to that organization," according to the report.
To be sure, Rivera said there was a "real reason" that he was fired:
The real reason I was fired was because I was estranged at the time from my boss Roone Arledge. I had complained publicly after Roone spiked a colleague's 20/20 story about the Kennedy brothers' relationship with Marilyn Monroe. The Kennedy story never ran, I alleged, because of Roone's relationship with the Kennedy family.
Read the full Facebook post below:
(H/T: Mediaite)
---