The Obama administration said Friday that the rate of bullying at schools across the country has hit the lowest level since bullying episodes started to be tracked tracked by the government a decade ago, in 2005.
The National Center for Education Statistics, a federal agency that studies education data, reported that overall bullying rates fell to 22 percent in 2013, down from 28 percent in 2011. The rate has hovered close to 30 percent since 2005, and in 2007 it rose to 32 percent.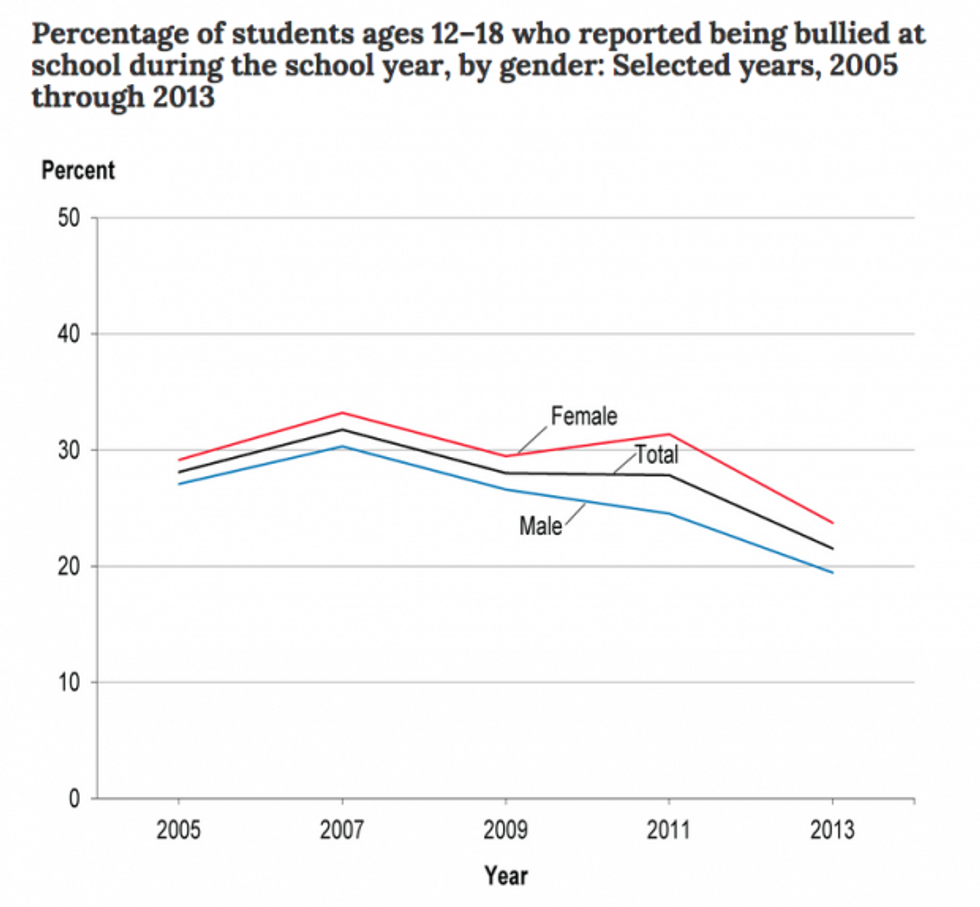 Image: National Center for Education Statistics
The agency had no explanation for why there was suddenly less bullying in school. But Education Secretary Arne Duncan praised the report and noted that the federal government has been working to reduce bullying to create a better learning environment.
"As schools become safer, students are better able to thrive academically and socially," he said. "The department, along with our federal partners and others, has been deeply involved in the fight against bullying in our nation's schools."
"Parents, teachers, health providers, community members and young people are clearly making a difference by taking action and sending the message that bullying is not acceptable," added Health and Human Services Secretary Sylvia Burwell. "We will continue to do our part at HHS to help ensure every child has the opportunity to live, learn and grow in a community free of bullying."
The data came from a "nationally representative sample of students" aged 12 to 18 about whether they had been bullied at school during the year.
Female students have always reported more bullying than males. In 2013, 24 percent of females reported bullying, compared to 19 percent of males.
The study said 24 percent of white students reported being bullied, compared to 20 percent of black students, 19 percent of Hispanic students, and 9 percent of Asian students.
In 2013, students in sixth grade reported the highest rate of bullying, at 28 percent. The rate generally fell the older the students got, and seniors in high school reported the least amount of bullying, at 14 percent.