The accusation is that bias runs deep and strong here.
Peter Schweizer, author of "Clinton Cash," penned a scathing piece in USA Today Sunday in which he skewered ABC News' George Stephanopoulos for not disclosing donations to the Clinton Global Initiative (CGI).
Stephanopoulos admitted this week to donating $75,000 to the foundation, a fact he had not disclosed prior to interviewing Schweizer about his book.
But Stephanopoulos' ties to the Clintons go much deeper, Schweizer claimed. Just look at how Stephanopoulos has spent his most valuable resource: time.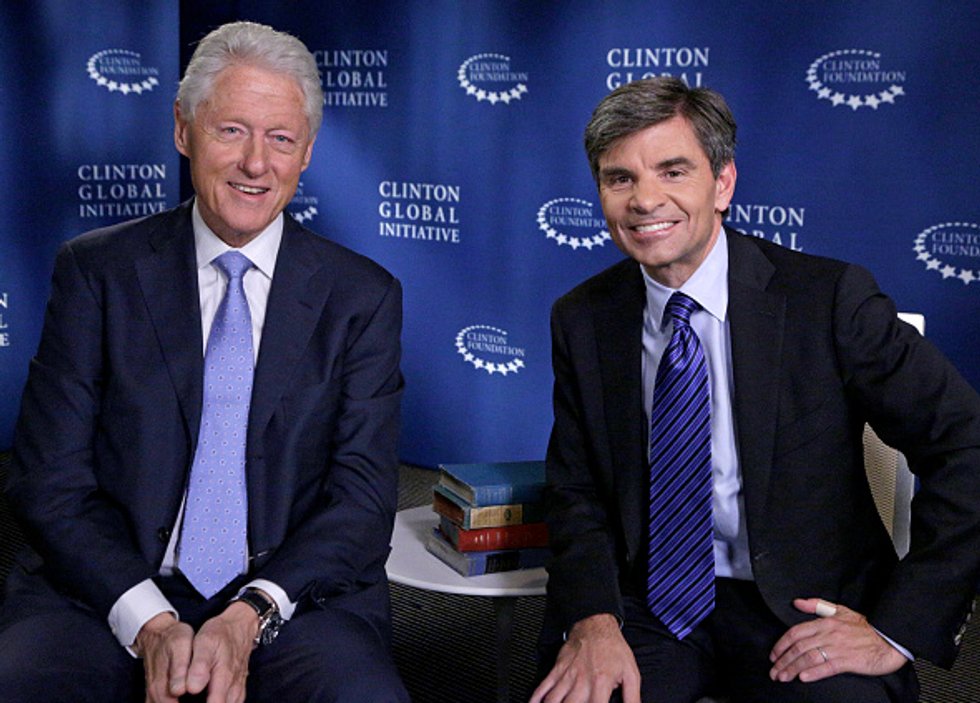 George Stephanopoulos interviews former President Bill Clinton about the Clinton Global Initiative happening in New York City this week. (Photo by Heidi Gutman/ABC via Getty Images)
Over the past nine years, Stephanopoulos has served as a panelist, moderator and even contest host for CGI events.
Schweizer wrote:
Obviously, Stephanopoulos has favorable feelings toward Hillary and Bill Clinton; he gives their foundation his money and his time. Big-time news media personalities have one thing in very short supply — time. Regular participation in Clinton Foundation events shows a deeper commitment to the Clintons than just the donations.
Schweizer also pointed to the fact that Stephanopoulos was listed as a "notable past member" of the CGI — a membership deal that the CGI's own website describes as a $20,000 ticket for "world leaders" to "network."
Schweizer's ultimate take: Stephanopoulos has damaged journalistic integrity, and his ties with the Clintons are deep and tangled.
Read Schweizer's full article at USA Today here.
—
Follow Zach Noble (@thezachnoble) on Twitter