Last week, a blog was started that showed a 9-year-old boy cowering on the floor of a cold room, his arms inside his shirt. The blog claimed that the boy's mother found him in the school's "focus room," where he told her he'd been for 90 minutes.
Since then Carl Schurz Elementary School in New Braunfels, Texas, has been fielding angry calls, criticizing its alleged treatment of the child and more information has emerged regarding the context of the situation and the room itself.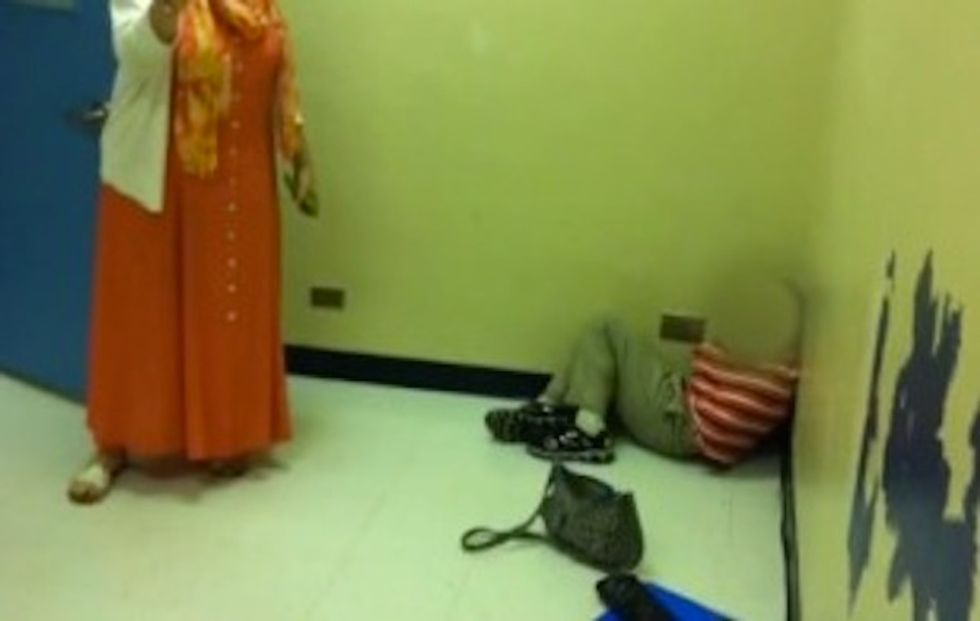 Images posted to a blog created last week showed a boy in a nearly empty room in a school, which the district described as a FOCUS Room. (Image source: KENS-TV)
"The Focus Room of Horror" blog, created by the boy's father, describes it as having "nothing but a hastily drawn circle in the center, where the child is expected to sit, and a large ball that serves as a seat for an accompanying administrator. The temperature of the room was frigid."
According to My San Antonio, the school district's superintendent emailed parents last week saying that information posted on the website was "inaccurate."
The letter sent to parents described a "FOCUS Room" as "a classroom environment that allows for behavior intervention such as social skills and counseling," according to KVUE-TV. KENS-TV reported though that what the boy's parents are calling a FOCUS room is actually, in this case, a "safe room," which is used when "a child is a danger to himself/herself or others."
The boy was apparently sent to the room for throwing food in the cafeteria. According to the blog, the boy's mother was denied entry to the room several times and when she eventually entered, it says she started taking pictures.
It went on to state that the boy claims the teachers say "rude things" to him while he's been in there and that they don't allow him his regular snack or the opportunity to exercise.
Since the blog was posted last week, more information has come out from the boy's parents.
Trevor Snowden, the boy's father, told My San Antonio that his wife found their son in the room and that they learned he had spent time there more than once.
"This has been going on a long time and we were never told about it," he said.
The boy's mother, Lillian Snowden, told KENS-TV she went to the school last Wednesday to observe her admittedly hyperactive son, knowing he had been having behavioral issues at school. At lunchtime, she left for an hour. When she returned, that's when she learned about the room and her son being sent there after he threw food. Despite him being punished for doing something wrong in the lunch room, Lillian Snowden told the news station that when she saw her son on the floor in that room, she "saw red."
"If you have a son or daughter attending Carl Schurz Elementary I strongly encourage asking your child about the 'Focus Room,' go to the school and ask to see it for yourself, insist on it," the blog post stated. "This is where they're are putting your child when they misbehave, in a freezing room with not so much as a chair, or even a picture on the wall. No snacks, no exercise, confined to a small circle created by a marker. Is that any place for a 9 year old child?"
KHOU-TV reported that the school said it will continue using the room as a form of discipline. The school district told several news stations that it could not comment specifically on this disciplinary measure, citing privacy laws.
Watch this report from KENS-TV about the situation:
See more images of the so-called FOCUS room in the blog post.