A pastor who reportedly opposes homosexuality and has made negative comments about the transgender movement recently resigned from his church position following the revelation that he had a profile on Grindr, a hookup app for gay men.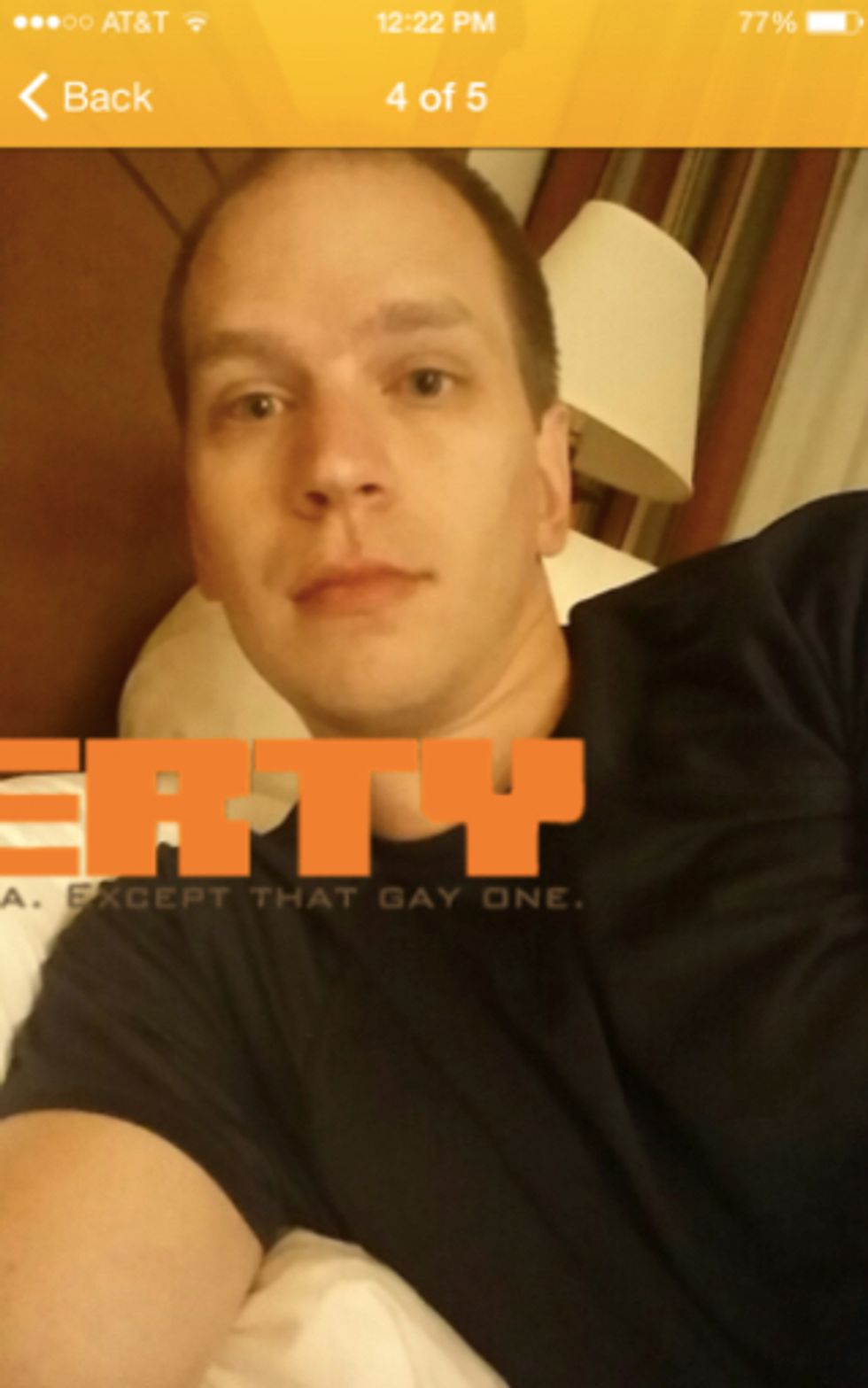 A photo reportedly posted to Grindr by the Rev. Matthew Makela (Queerty)
The Rev. Matthew Makela, a married father of five, worked at St. John's Lutheran Church in Midland, Michigan, before stepping down this past weekend, according to the Daily Mail.
In a letter addressed to the church congregation, the Rev. Daniel Kempin, senior pastor at the house of worship, announced that Makela had vacated his role, claiming that that the pastor has experienced "sin and repentance," but declining to go into specific detail.
Kempin also took aim at those who have been posting the details of Makela's sin on the Internet, and warned parishioners that they, too, might learn the controversial details.
"To make matters worse, though, the details of sin that have been kept confidential are being posted online by those who seek to do harm to the Makela family and to St. John's.  This is taking an already difficult situation and making it even more painful," the pastor wrote. "I write this to you to warn you that you may be confronted with the details of the sin, and to remind you that sin is never pretty."
To avoid angry comments, Kempin said that the church removed its Facebook pages, but that it is no guarantee that church members won't "come across this information in some way."
The letter concluded be reminding the congregation that Makela is forgiven and loved, despite his sin, and that the leaders will do their best to stand by him and his family as public attacks progress.
"Be patient and trust God.  This too shall pass," Kempin wrote. "In the meantime consider the advice of scripture:  'Be very careful, then, how you live, not as unwise but as wise, making the most of every opportunity because the days are evil.'"
Some are accusing Makela, whose Facebook page is no longer publicly available, of making disparaging comments about gays and transgendered individuals, while simultaneously seeking same-sex relationships. According to Gawker, "he compared homosexuality to alcoholism and posited less-than-charitable views about transgender people."
Reports about Makela surfaced this week after Queerty published photos and messages from the pastor's Grindr profile that the outlet claims an unnamed source provided; the pastor reportedly admitted that the photos were authentic, but declined to comment beyond that.
Makela had been a pastor at St. John's Lutheran Church since 2010.
(H/T: Daily Mail)