Capitol Police are receiving training on how to go to the bathroom after incidents where officers mistakenly left their guns behind in restrooms.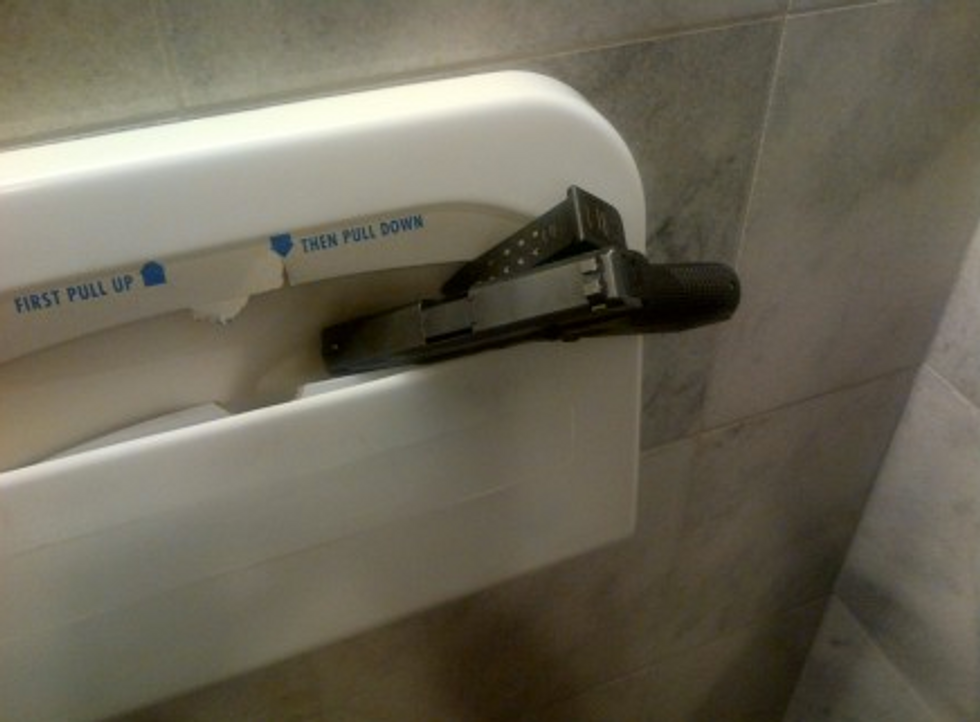 Image source: Roll Call
"We are now providing additional training on what to do when you have to go to the bathroom," Capitol Police Chief Kim Dine said at a congressional hearing Wednesday.
Roll Call first reported that there have been at least three instances of Capitol Police officers leaving their loaded guns lying around in the last several months, including one that was found by a young child in a bathroom in House Speaker John Boehner's office suite.
According to the Associated Press, Dine said the officers in each of the incidents were disciplined. The penalty for a first-time offense would be at least a five-day suspension, Dine said, but he's considering upping that to 30 days, and firing officers for any subsequent violations.
"I would be remiss if I did not say that the officers involved in these recent weapons cases reported in the media in no way intended to leave their weapons unattended. But as noted, this is not acceptable and they will be held accountable," Dine said. "They do take very seriously their life and safety responsibilities and they acknowledge that they made a mistake."
He said the department is installing more lock boxes around the Capitol where police weapons can be safely stored if need be.
House Administration Committee Candice Miller (R-Mich.) emphasized the serious nature of the violations.
"Everyone has to go to the bathroom," she said. "Securing your weapon is of primary importance."
(H/T: Gawker)