Reggie VandenBosch's grandfather was in the 101st Airborne Division during World War II. When he died a few years ago, VandenBosch's grandmother gave him the interment flag.
It was in that moment that he saw how much his work mattered.
VandenBosch was working at the time for the Chicago Flag and Decorating Company, which made a significant number of interment flags.
"Knowing that there's a decent chance the company I represented and worked for had manufactured that flag, it kind of added an element of connection there and made it very serious to me," he told TheBlaze.
"What we do really matters," VandenBosch, now president of the Flag Manufacturers Association of America and vice president of sales for Valley Forge Flag Co., continued. "I put myself in the shoes of all these other people who are receiving and giving flags out. These are more than just flags. It's very personal to them."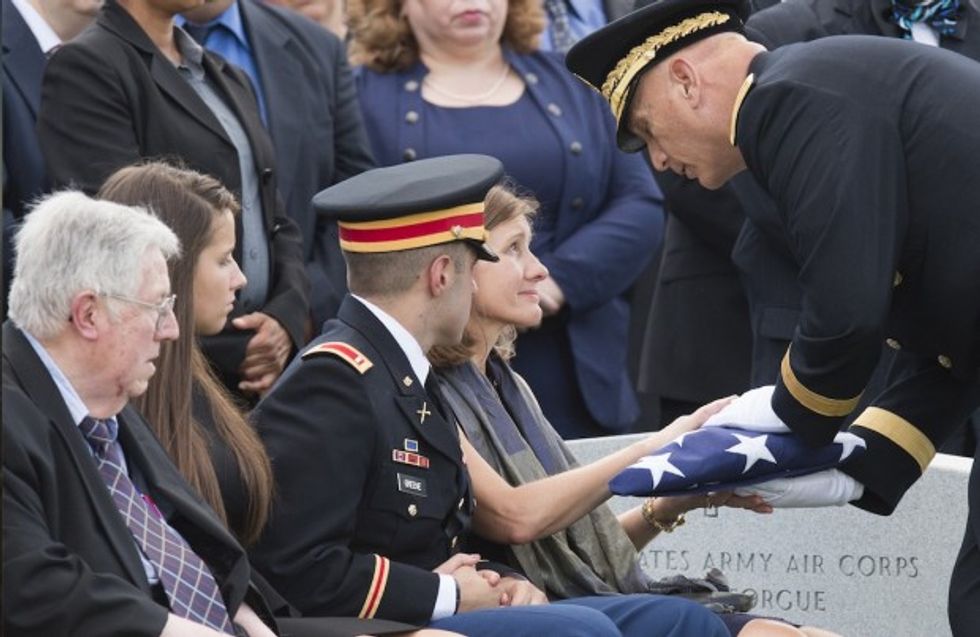 U.S. Army Chief of Staff Ray Odierno presents a U.S. flag to Susan Myers, widow of U.S. Army Major General Harold J. Greene, alongside son, First Lt. Matthew Greene, daughter Amelia Greene and father Harold Greene during funeral services at Arlington National Cemetery in Arlington, Va., August 14, 2014. (Saul Loeb/AFP/Getty Images)
VandenBosch, who has been in American flag manufacturing in the U.S. since the 1980s, said "there's a lot of pride" in it. And in all his years in the industry, he said the trend that's been the most clear among consumers is the desire for 100 percent "Made in the USA" American flags.
After 9/11, VandenBosch said, the industry in the U.S. was initially unable to keep up with the surge in demand for American flags, with many being imported from other countries that had more textile manufacturing established at the time.
"The consumer has spoken very loudly and clearly and they don't want flags that aren't made in the country," VandenBosch said.
As such, now about 95 percent of American flags are made in the U.S. The FMAA has a certification seal for flags that meet its standards. All American flags are required to have a label showing their country of origin.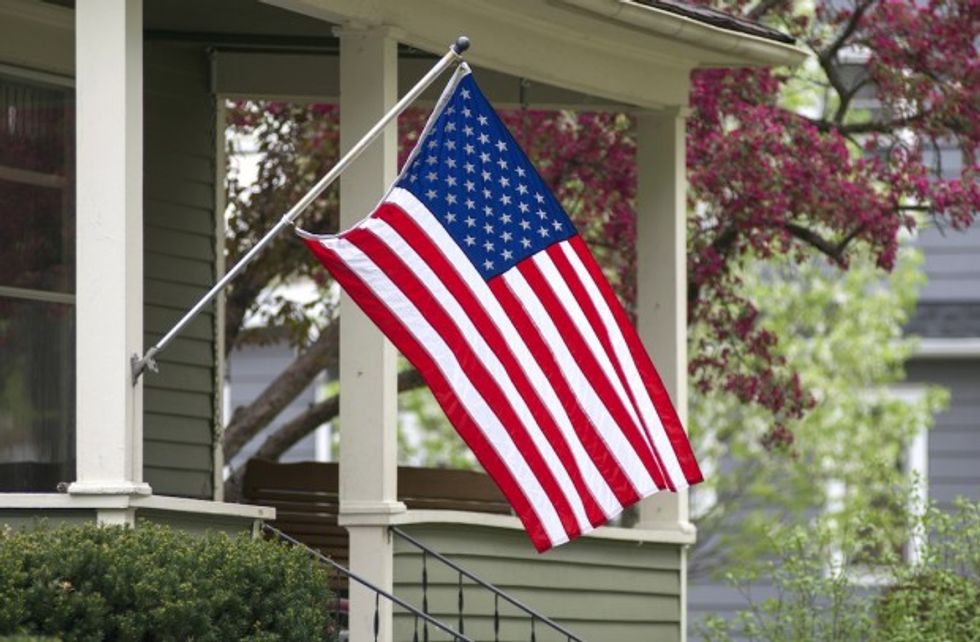 Photo credit: Shutterstock
Here are some things you should know about proper flag treatment and flying:
Respect: The No. 1 thing when handling and displaying the American flag, VandenBosch said, is to treat it with respect at all times. This doesn't mean if it touches or falls on the ground that it has to be burned. VandenBosch said it is all about intent.
Timing: If you are flying the flag without any illumination or spotlight, it can be raised from sunrise to sunset. Overnight, it should be taken down and properly stored. If there is a light on it, the flag can be flown 24 hours a day.
 Weather: VandenBosch said if your flag is designed to withstand weather, you can still allow it to fly despite poor conditions.
Half-staff: On Memorial Day, the flag should fly at half-staff from sunrise to noon. From then on, it can be raised to full staff. If you have a flag that flies on a pole attached to the side of your house that cannot be flown at half-staff, VandenBosch said proper protocol is that a black ribbon be placed at the top, usually attached to the top ring.  The FMAA has a list of all the flag-flying holidays and includes when half-staff should be observed.
Retire and repair: VandenBosch said it's usually a judgement call when a flag needs to be retired because of faded colors or fraying edges. An old flag can be brought to a veterans or civic center for proper disposal.
Folding: Watch this video to see how the military meticulously unfolds and folds the flag:
The FMAA has a pretty extensive FAQ section on its website if you have any more questions about the flag.
So when you put up your flag on this upcoming Memorial Day, remember how the stars and stripes have graced more than just flagpoles. They've been draped over the caskets of those who fought for freedom with the U.S. military, given to grieving family members and continue to serve as a reminder of the ideals for which so many have lost their lives in the effort to protect.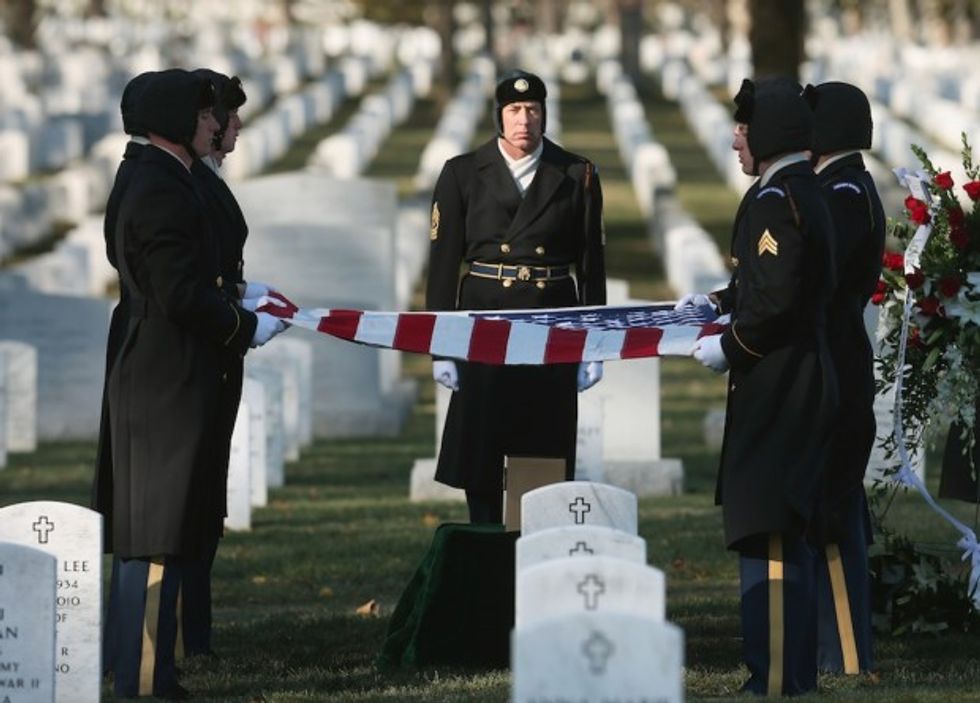 A U.S. Army honor guard folds an American flag over the remains of U.S. Army Spc. Kyle P. Stoeckli during a full honors funeral at Arlington National Cemetery, Nov. 21, 2014 in Arlington, Va. Spc. Stoeckli, of Moseley, Va., was killed June 1, in Afghanistan from injuries sustained when his unit was attacked by an improvised explosive device. (Mark Wilson/Getty Images)
"I have tremendous respect for these folks who willingly go out and risk their lives," VandenBosch said. "We do not give them enough credit while they're in [service or] afterwards. I want the American flag to represent those feelings that we should have for these folks."
This story has been updated.