Perhaps you've seen one of these in your town: it looks somewhat like a trolley but with passengers sitting on bicycle seats helping pedal the vehicle with a central driver along from pub to pub. The slow-moving vehicles have drawn a certain amount of ire, with a Facebook group of over 3,000 fans devoted to hating on the so-called PedalPub.
Well, anti-PedalPub activity came to a head over the weekend in Minneapolis. The rented party vehicle allegedly was attacked by other singular cyclists who pelted PedalPub passengers with water balloons and shot them with water guns. However, some PedalPub passengers quickly got their revenge.
"These weren't little squirt guns," Lisa Staplin, manager of PedalPub Twin Cities, told the Pioneer Press, noting that she saw a notice about a planned attack on the "I hate the Peda lPub" Facebook page. "These were big water cannons and SuperSoakers."
The attack plan posted on the Facebook page, according to the newspaper, was apparently supposed to take place at 1 p.m. Saturday. Police waited at the location where attackers said they would gather and nothing happened. But at 6:30 p.m. in the middle of a downtown street, several cyclists executed their water attack. WCCO-TV reported that a second PedalPub was attacked as well.
The Minneapolis Star Tribune reported that a possible third attack was thwarted by off-duty police officers who were the passengers. The newspaper reported that the PedalPub riders in this case saw the cyclists and pinned them on the ground to await on-duty police officers' arrival. Other reports made it seem as if an attack was actually carried out on the off-duty, PedalPub cops.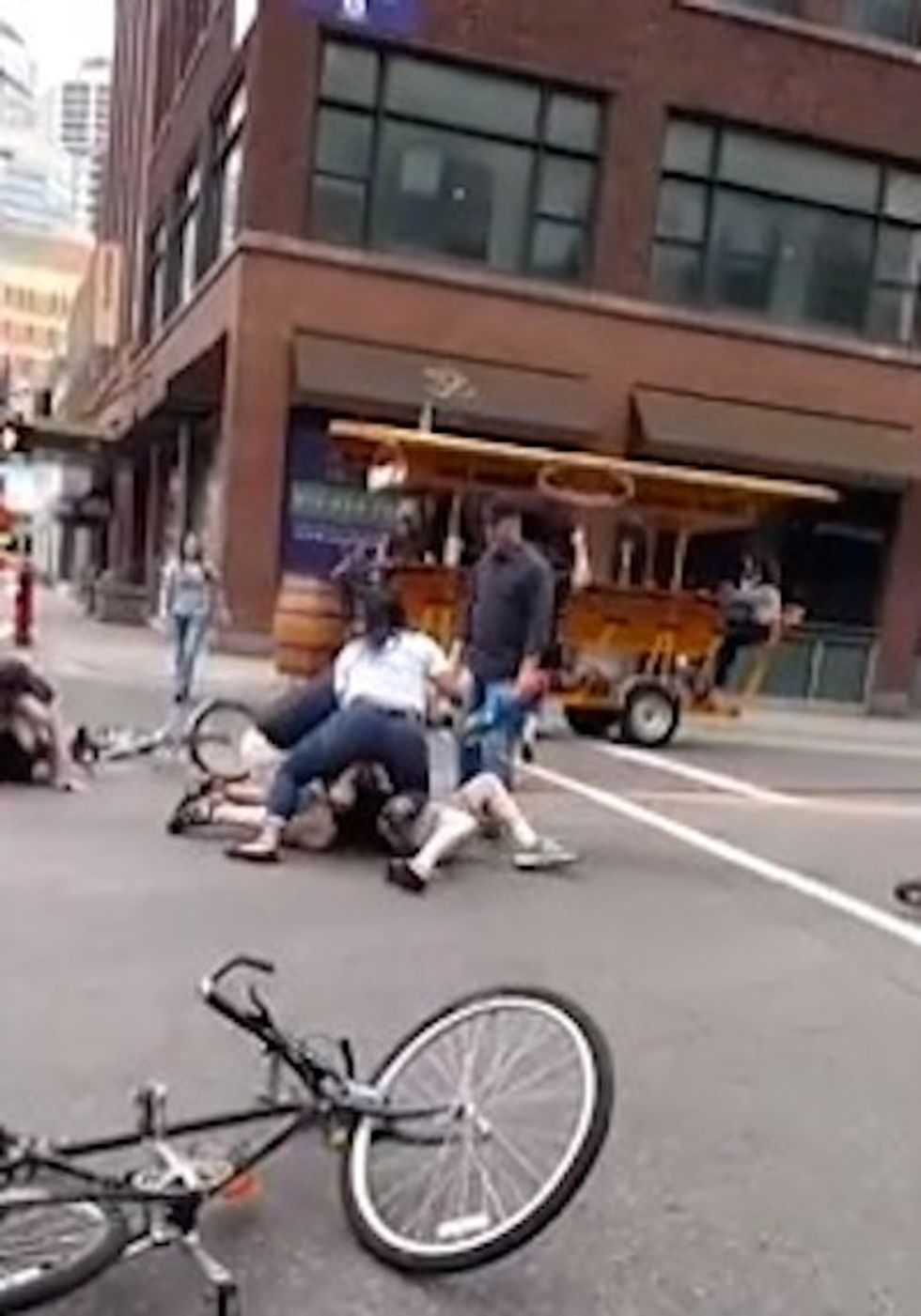 Off-duty cops held down cyclists who allegedly attacked or threatened to attack the PedalPub riders. (Image source: YouTube)
This incident was caught on camera (Content warning: strong language):
Watch WCCO-TV's report
WCCO reported Burnsville Police Department Chief Eric Gieseke confirmed some of his offers were on one of the PedalPubs Saturday. The off-duty cops held some of their attackers down and in the end, six were arrested.
The police department is conducting a full investigation.
PedalPub owners told the Pioneer Press in a statement that the attackers "created a very dangerous situation" by shooting one of the drivers in the face with a water gun.
"Fortunately, there were no injuries reported and only minor property damage," the owners continued. "We hope the individuals involved understand their actions were dangerous and wrong and will not do anything like it in the future."
The manager of the "I hate the Pedal Pub" Facebook page wrote that using water balloons and squirt guns against the PedalPubs was the "wrong idea."
People's angst with PedalPubs in the Minneapolis area goes back a couple of years. Watch this report from 2013 describing how complaints — ranging from litter to noise to disobeying traffic laws — about PedalPubs were on the rise as the business continued to grow: