An Israeli government office manager committed suicide Saturday after being shamed online following a black woman's Facebook post accusing him of racism.
Right before he shot himself to death, Ariel Ronis, 47, a manager at the Population, Immigration and Border Authority, described on Facebook how ashamed he felt for being disparaged online and in the Israel media over what he said was an unfounded claim.
He revealed that he founded a multi-faith group last year to promote equality of minority groups in Israel before signing off with a "Goodbye!"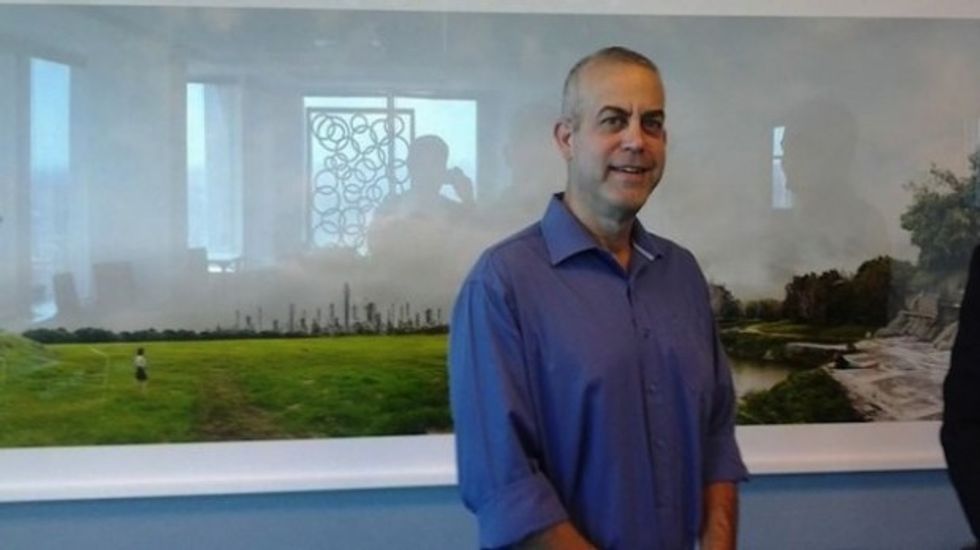 Ariel Ronis' Facebook page included multiple links to Arab-Jewish coexistence groups. His profile photo included the phrase "Living Together." (Image source: Facebook)
It all started when a black Israeli woman, who has not been identified in the Israeli media, complained on Facebook that she had been mistreated at the PIBA office in Tel Aviv when she tried to get a passport for her son.
She wrote that when she arrived, the passport line was very long but that another customer pointed her to a shorter line for parents with small children.
She said that when she got on the shorter line, a clerk told her to go back to the first line.
The woman asserted that all those in the shorter parents' line were white.
"I came to the counter and asked Eti [the clerk] how this could be. Her answer was 'What you're doing is improper, go back to the end of the line,'" she wrote according to the Times of Israel.
She recounted that she asked to speak with the manager, Ronis.
"I told him exactly what happened, and that I felt I was being discriminated against due to my skin color … that all I ask is to be treated equally to all the other mothers who come in, no more but no less," she wrote.
"He told me that if I was complaining of discrimination I should 'get out of his sight,'" she added.
She also wrote that the experience made her cry and strengthened her feeling that the society is racist.
The post received thousands of shares and was picked up by an Israeli television news program.
In a Facebook post before he killed himself, Ronis offered his version of the events and said that, contrary to her claim, the woman did get service from the special line set up for parents of young children.
"Two days ago a lady came to the office to get some service. At that moment I was helping other people. She asked for immediate service and immediately began shouting that not getting what she was asking for is racism," Ronis wrote.
"Here is this lady accusing me of racism. I told her to stop right there. I wasn't prepared that she go down that path. Not in my office," he wrote. "I told her there's a line for mothers with small children and she should stand on the shorter line with the rest of the mothers. Not everything that's not given to you when you ask for it is racism. Nothing helped and she continued to scream that this is racism."
He noted that even though the woman spoke to him in a combination of Hebrew and English, suggesting her Hebrew wasn't very good, her online post was "stylized" and well-written in Hebrew.
Ronis said that each of the initial 6,000 shares on Facebook felt like "a sharpened arrow driven into my flesh. I? Racist?"
"All of my activities my entire life were gone -- in one fell swoop, as if they never happened with the breath of someone who should have stood in line like everyone else," he wrote. "The [Facebook] sharing continued with the speed of good-deed doers, showering down their arrows."
"They didn't stop for even a moment to ask (Were both the female employee and me racists? How is it that the lady in the end got service while standing on the mothers' line? Why didn't she do it sooner?) I do not blame them. I would also have been shocked at the sight of such a post and maybe I would also have clicked my tongue and righteously shared it without thinking about the consequences," Ronis wrote.
"My friends and family have given support. It was clear to everyone that the lady made a mistake in choosing her target. But acquaintances are few compared to those who do not know [me] and were quick to judge. My name that I worked for years to build, is now synonymous with the worst description that could be tied to me – racism," he wrote.
"I want to emphasize that I am not angry with her, and seeing by her pictures she seems to have already managed to overcome the 'severe blow' she experienced. I cannot. Goodbye!!" he wrote before committing suicide.
Ronis' colleagues were shocked that the media firestorm led to his death and rejected the suggestion he had exhibited racism.
"I'm Armenian and not Jewish, and I never felt discriminatory treatment by him. He always took care of me," said his colleague, Vicky Kavavjian, who heads the citizenship and foreign nationals bureau at PIBA.
Another colleague told Israel's Ynet that he seemed fine on Thursday and even handed out the traditional cheesecake days before the Jewish holiday of Shavuot.
The head of PIBA Amnon Ben-Ami released a statement saying the death "shocked us all." He titled his statement: "Words kill."
"This unfortunate incident should teach everyone a lesson about the power of words and the effects of the Internet," read a statement issued by PIBA.
Former Shin Bet chief Yuval Diskin, who knew Ronis well, wrote on Facebook that "when the facts are made clear, those same tongue waggers will do some deep soul searching."
The Times of Israel reported that the woman took again to Facebook on Sunday, a day after Ronis' suicide.
"This morning I woke up to one of the worst pieces of news I had ever heard. I am dreadfully sorry for the loss of life," she wrote.
"For years I have experienced discrimination in Israel. On the only occasion in which I told my story a man was hurt. There is no one more sorry than me. If I could [go back], I would have remained silent this time as well," she added.