WIMBERLEY, Texas (TheBlaze/AP) — Torrential rain and fast-moving floodwaters affecting dozens of Texas counties over the holiday weekend continues to devastate this week.
A vacation home in Central Texas was ripped from its foundation Monday and slammed into a bridge downstream. Rescue teams were set to resume looking for 12 people from two families missing from the home Tuesday.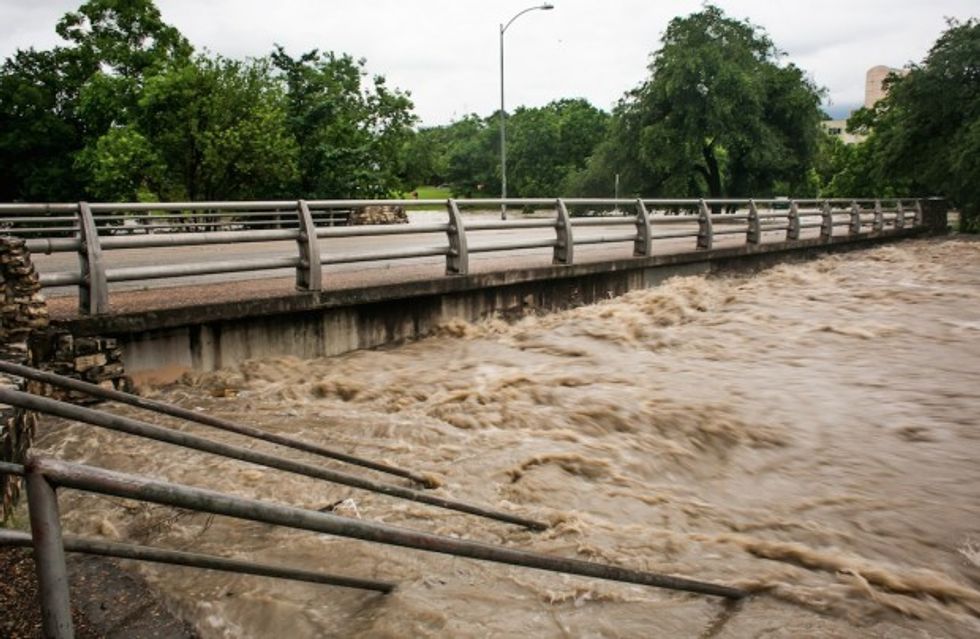 Rising floodwaters at Shoal Creek are shown after days of heavy rain on May 25, 2015 in Austin, Texas. (Drew Anthony Smith/Getty Images)
Trey Hatt, a spokesman for the Hays County Emergency Operations Center, said Monday night that the "search component" of the mission was over, meaning no more survivors were expected to be found in the flood debris along the Blanco River. But recovery efforts were to resume Tuesday morning.
Witnesses reported seeing the swollen river push the home off its foundation and smash it into a bridge. Only pieces of the home have been found, Hays County Judge Bert Cobb said.
KSAT-TV reported that the home belonged to Sue and Ralph Carey. Young children are among those missing.
John McComb was inside the home and he was found and taken to a hospital where he is being treated for a punctured lung and broken rib.
The line of storms that stretched from the Gulf of Mexico to the Great Lakes dumped record rainfall on parts of the Plains and Midwest, spawning tornadoes and causing major flooding that in Texas destroyed or damaged more than 1,000 homes and forced at least 2,000 residents to leave their homes. A tornado in Ciudad Acuna, Mexico, Monday killed 13 people and left at least five unaccounted for.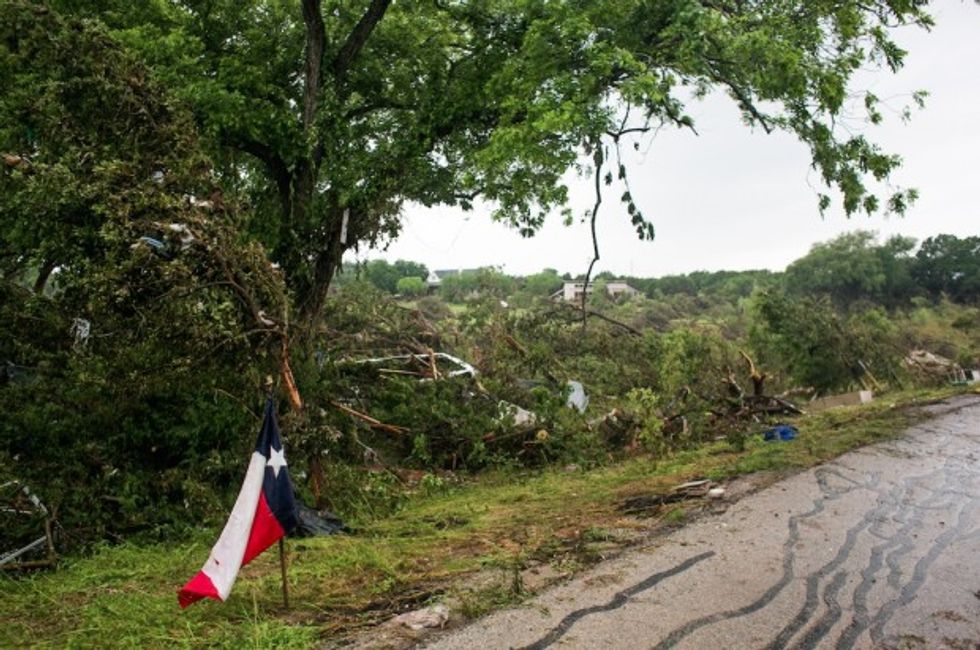 A Texas flag sits in the ground along Texas Ranch Road 12 on May 25, 2015 in Wimberly, Texas. (Drew Anthony Smith/Getty Images)
Gov. Greg Abbott declared the situation in Texas a disaster in 37 counties thus far.
"You cannot candy coat it. It's absolutely massive," Abbott said.
At least four were killed as a result of the flood waters, among them was homecoming queen Alyssa Ramirez, a graduating senior who was coming home from prom Saturday night, KENS-TV reported.
According to the news station, the Devine High School student tweeted before she died that it was "so sad" that they might be stuck in San Antonio due to rain. However, Ramirez drove home anyway and, according to KENS, was only two miles from her house when her car stalled and was swept away in the flood waters on a road that hadn't been blocked yet.
Watch KENS-TV's report:
Residents in Harris County waking up for work and school Tuesday were being told not to leave their homes. And, as of 3:50 a.m. about 200 people who attended the Houston Rockets' playoff game Monday night were still inside, being advised not to leave the Toyota Center due to weather conditions.
A flash flood warning was issued in the Houston area as the National Weather Service reported that between 6-10 inches of rain had fallen there Monday night. CenterPoint Energy reported nearly 81,000 area customers were without power.
Evacuations are also underway in Austin, Texas, due to rising water that threatened homes.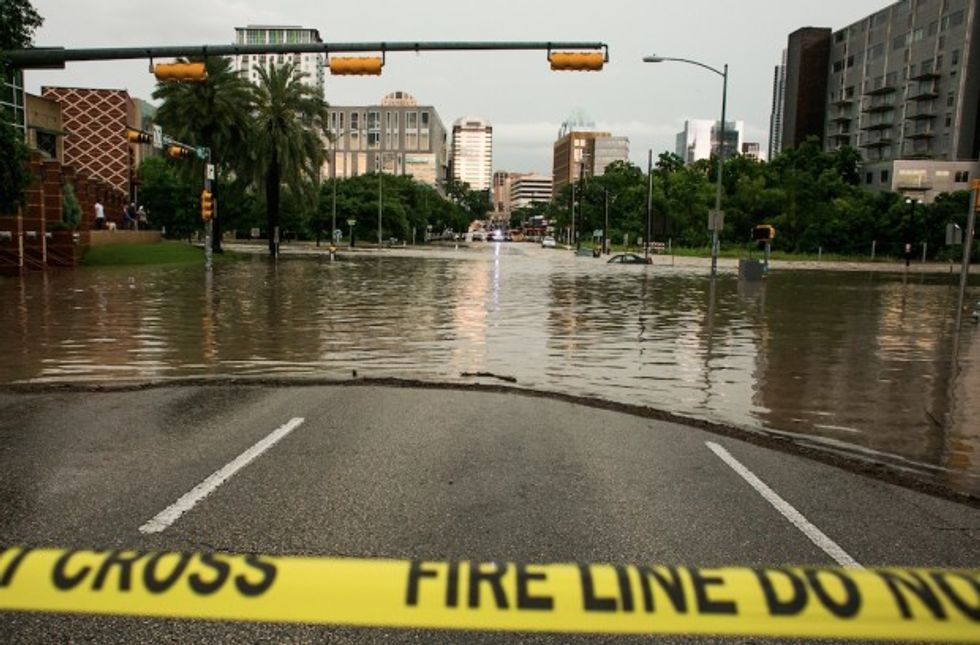 Parts of the city are shown inundated after days of heavy rain on May 25, 2015 in Austin, Texas. Texas Gov. Greg Abbott toured the damage zone where one person is confirmed dead and at least 12 others missing in flooding along the Rio Blanco, which reports say rose as much as 40 feet in places, caused by more than 10 inches of rain over a four-day period. (Drew Anthony Smith/Getty Images)
The Austin American-Statesman reported early Tuesday that some houses in a neighborhood in eastern Travis County had flooded after the Deck Creek left its banks.
EMS spokesman Mike Benevides told the newspaper crews had used boats and helicopters to rescue some residents and were conducting a door-to-door search.
It wasn't immediately clear how many rescues had been conducted. There were no immediate reports of injuries.
Watch a man describe being rescued from the water: