The Obama administration finalized a controversial water rule Wednesday that supporters say will guard against pollution, and that private property advocates call a power grab that will regulate holes in the ground.
The "Waters of the United States" rule from the Environmental Protection Agency and the Army Corps of Engineers will almost certainly be litigated, as it is an attempt to clarify how far the government can go under the 1972 Clean Water Act after two Supreme Court rulings put limits on federal water regulation.
"It doesn't interfere with private property rights," EPA Administrator Gina McCarthy said during a conference call with reporters. "It does not affect any ditches unless they function as tributaries."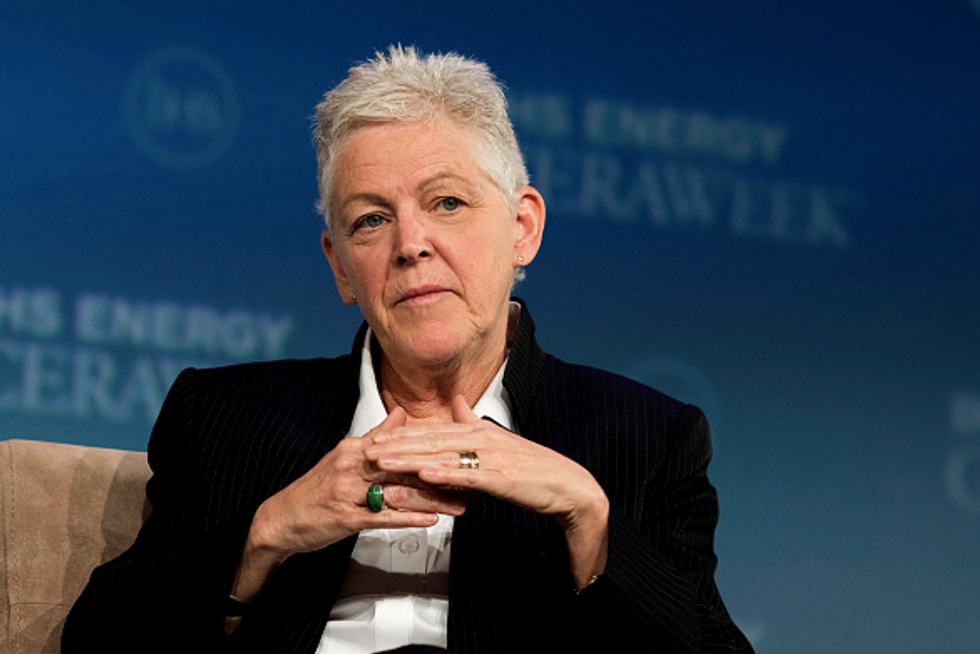 Environmental Protection Agency head Gina McCarthy speaks during the 2015 IHS CERAWeek conference in Houston, Texas, April 23, 2015. (F. Carter Smith/Bloomberg via Getty Images)
The most controversial aspect of the rule involves regulating "tributaries," or depressions in land that can fill up with water and run to other water. McCarthy said that two-thirds of streams cannot be protected under the current rules because they don't flow year around. The administration contends that such small bodies of water – even if temporary – can run off and send pollution into rivers, lakes and larger streams currently protected under the Clean Water Act.
"The administration's cavalier attitude toward expanding the federal government's authority into our backyards is absolutely outrageous," Senate Small Business and Entrepreneurship Committee Chairman David Vitter (R-La.) said in a statement. "Not only were small businesses – who will be dramatically impacted by expanding of the definition of 'waters of the United States' – inappropriately excluded from the rule-making process, but the federal government shouldn't be regulating puddles on private property in the first place."
President Barack Obama praised the new regulations and said they would not interfere with farming, ranching and forestry.
"One in three Americans now gets drinking water from streams lacking clear protection, and businesses and industries that depend on clean water face uncertainty and delay, which costs our economy every day," Obama said in a statement. "Too many of our waters have been left vulnerable to pollution. That's why I called on the Environmental Protection Agency and the U.S. Army Corps of Engineers to clear up the confusion and uphold our basic duty to protect these vital resources."
Twice in less than a decade, the Supreme Court — first in the 2001 case of Solid Waste Agency of Northern Cook County v. U.S. Army Corps of Engineers and again in the 2006 case of Rapanos v. United States — struck down efforts by the federal government to expand jurisdiction under the Clean Water Act. The two agencies say the rule will accommodate the high court rulings, while critics argue the rule clearly expands beyond the court's limits on the government.
The American Farm Bureau Federation established a special website called "Ditch the Rule," using the term "ditch" for claiming the EPA wants to regulate ditches under the Clean Water Act.
The EPA said in a statement that "it does not regulate most ditches," and says a "tributary," or in some cases, a ditch, "must show physical features of flowing water – a bed, bank, and ordinary high water mark – to warrant protection." The release further said: "The rule limits protection to ditches that are constructed out of streams or function like streams and can carry pollution downstream. So ditches that are not constructed in streams and that flow only when it rains are not covered."
Farm Bureau President Bob Stallman said farmers should "find little comfort in the agency's assurances" that concerns have been met, accusing the EPA of misleading information in the past.
"The EPA's proposal transgressed clear legal boundaries set for it by Congress and the Courts and dealt more with regulating land use than protecting our nation's valuable water resources," Stallman said. "EPA's decision to mount an aggressive advocacy campaign during the comment period has tainted what should have been an open and thoughtful deliberative process"
Another controversial aspect of the rule, is a provision allowing the EPA to regulate isolated wetlands and ponds on farms by designating them as "regional treasures," which Senate Environmental and Public Works Committee Chairman James Inhofe (R-Okla.) found particularly troubling. He is promising legislation to end the rule.
"The EPA has set themselves up to increase federal control over private lands, and I will not allow it," Inhofe said in a statement. "Our committee is planning for a markup on S. 1140 this summer, as we continue our work to halt EPA's unprecedented land grab and refocus its job on protecting traditional navigable waters from pollution."