Radical Islam critic Pamela Geller counted Fox News contributor Juan Williams among the "fierce bullies" who want to impose Shariah law in the United States.
Geller and Williams debated Tuesday on "Hannity" regarding her campaign to get the winning cartoon from her "draw Muhammad" contest in Garland, Texas, displayed as ads on the sides of Washington, D.C., buses.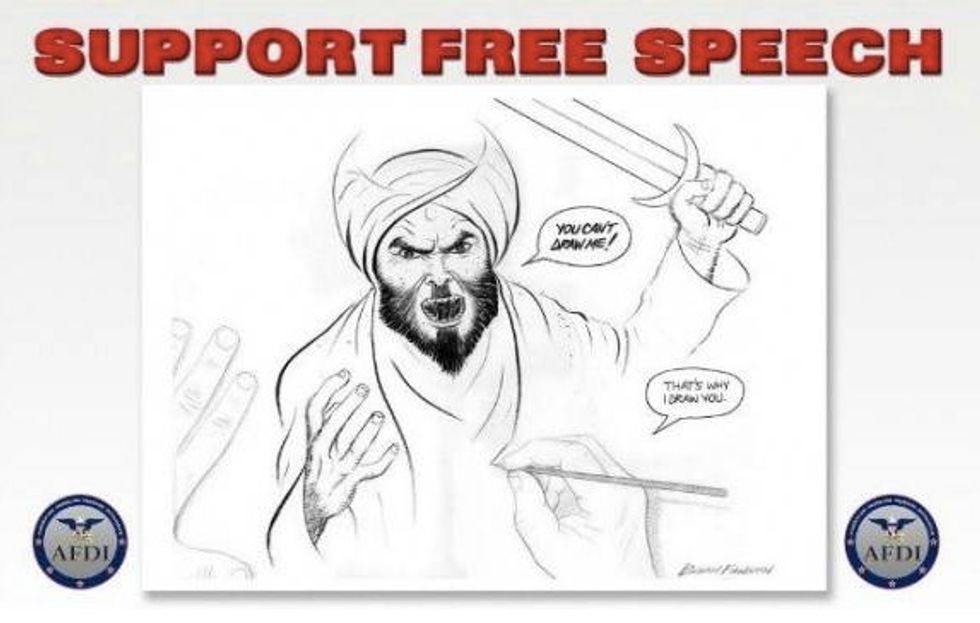 Image source: The Gateway Pundit
Williams said Geller is less about free speech and more about causing controversy. "I'm a huge free speech advocate," he said, "but what I see you doing, I think, is ... at times offending and demeaning Muslims who regard your actions as not only provocative but offensive."
Two armed gunmen were fatally shot by police outside a building where the "draw Muhammad" contest was being held earlier this month. The Islamic State claimed involvement in the thwarted attack, and one of the gunmen was part of an FBI terror investigation.
Geller disagreed with Williams' position, saying that only Muslims who support Shariah will be offended by the ads. She added that "the political, cultural and academic elites are censoring this cartoon."
Geller also called out Williams: "It is fierce bullies like Juan Williams who want to impose the Shariah. This is the Shariah, Juan. Where are you going to stop? Are you going to stop drinking beer? Are you going to stop girls from wearing short skirts? Where is the line going to be drawn?"
(H/T: The Gateway Pundit)
—
Follow Dave Urbanski (@DaveVUrbanski) on Twitter