A Jewish resident in a Vienna apartment building said he was forced to take down the Israeli flag he had displayed in his window this weekend after a neighbor apparently complained to the building management.
Sebestyen Fiumei said he doesn't know who made the complaint, but believes if he had been told to remove, for example, the rainbow flag associated with gay rights, there would have been outrage.
"If anyone thinks that the whole problem is just a needless Jewish oy-veying, they should consider what would have happened if it hadn't been the Israeli flag, but e.g. the LGBT Rainbow flag," Fiumei wrote on Facebook, referring to the Yiddish phrase often used to express woe.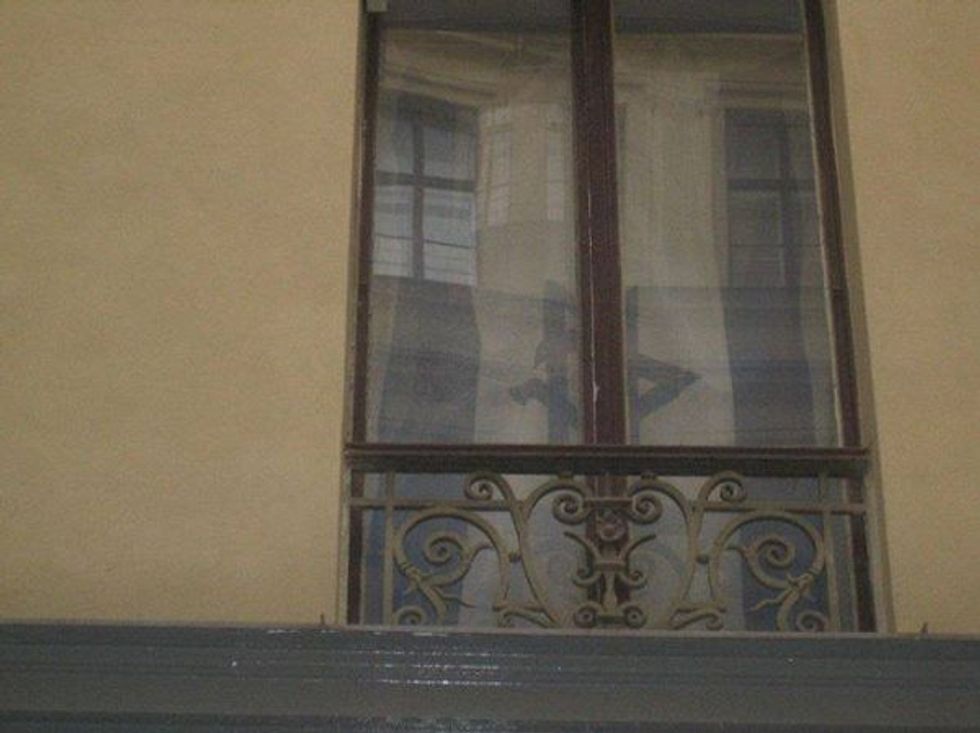 Building management sent this photo demanding he remove the Israeli flag. (Image via Facebook/Sebestyen Fiumei)
Fiumei said the building administrator conveyed the message that the flag "hurts the feelings of a neighbor in the building and that I should remove it."
"Then instead of being a good Ghettojude [ghetto Jew], I sent an e-mail to the administrator and to the p. tenant [from whom he is subletting] in which I pointed out how incorrect and sad their demand is in today's Europe, where even in recent months several attacks have taken place against the Jewish community's members, who were indicating themselves as Jewish, by e.g. wearing a Kippah, or going to a synagogue," he wrote.
"I am also sure that if I had hung any other UN country's national banner, I wouldn't have received any comments like this," he added.
Fiumei said that in response, the tenant he's subleasing from gave him the choice of taking down the flag or moving out.
Fiumei told the Israeli website NRG that he was later told that the neighbor had also complained about his mezuzah, a small ritual box that holds a parchment inscribed with verses from the Torah, which many Jews hang on their doorframe as instructed in Deuteronomy.
The art student told NRG that he has asked the building management to set up a meeting to discuss the matter with the complaining resident.
He said he has taken down the flag for now, but would like to put it back up.
Without knowing who complained, he said, he can only speculate.
"We do not know who complained to us. It could be a Nazi, a Palestinian, or just a Jew who is afraid of anti-Semitism. I have no idea who it is," he said.
Fiumei contended that the demand he remove the flag equates Israel's flag with the Nazi flag, which would almost certainly have been ordered taken down.
"This request … delegitimizes Israel, and suggest something like that there is no essential difference between the Israeli flag and e.g. the Nazi flag of the Third Reich," he wrote.
Fiumei noted the irony that his building is located in what was once the center of Jewish life in Austria's capital before the Holocaust.
He said he got the flag when he attended a party last week for the Israeli contestant at the Eurovision song competition.
"I personally probably will have to move," he concluded, "but what is important is that my story will be told so these acts do not recur. We can't let things like that happen."