Former New York Gov. George Pataki became the latest entry into the crowded Republican presidential field on Thursday, touting his record of winning and governing a blue state, a goal of uniting the country and calling himself "a solutions guy."
Pataki enters the race far behind other leading Republican candidates, but he pointed out he won another longshot victory in 1994 over three-term liberal Democratic Gov. Mario Cuomo.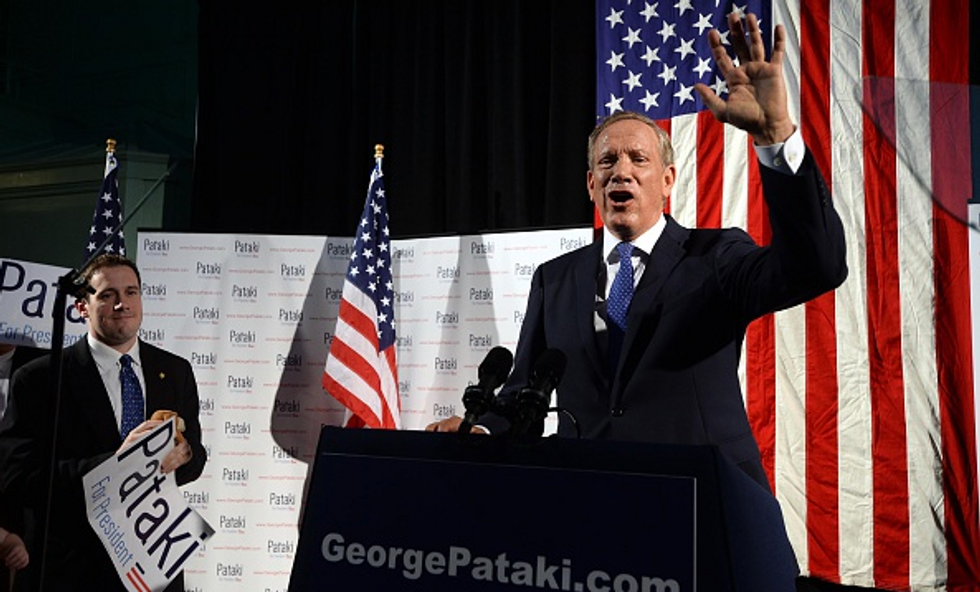 Former New York Gov. George Pataki announces his candidacy for the 2016 Republican presidential nomination, May 28, 2015 in Exeter, N.H. (Darren McCollester/Getty Images)
"When I ran for governor of New York, they said I couldn't win. Too many people were dependent on government. The bureaucrats and the powerful interests were too strong," Pataki told a crowd in Exeter, New Hampshire. "The people couldn't regain their confidence in New York's future. In a sense, they were right. They couldn't do it, but I knew I could, and we did. In 12 years, New York went from the state with the highest tax burden, the lowest credit rating and billions of dollars in deficit, to a state with $143 billion in lower taxes, billions in surplus and its highest credit rating in generations. All it took was for me to get government out of the people's way."
Though Pataki is a moderate who diverges from the GOP on issues such as abortion, his announcement speech rang mostly conservative.
"Liberals have so much compassion for the poor that they keep creating more of them. When I took office, we had every poverty program government could think of. Yet one in 11 of every New York state resident was on welfare," he continued. "But after 12 years of my conservative policies, we replaced dependency with opportunity, resignation with hope mere existence with dreams, a welfare check with a paycheck. When I left office, over 1 million people were on welfare than when I began. That's what our policies can do."
Pataki pointed out that he led the state during 9/11 and understands the threat of terrorism.
"I saw up close the horrible consequences of too many believing that because radical Islam was thousands of miles away across an ocean, that we were safe in America. Sadly, it wasn't true then, and it is not true now," he said. "I will not forget the lessons of September 11."
"If necessary, American forces will be used to actually defeat and destroy ISIS so they can pose no threat to us here," he said, adding, "This is not the time to weaken America's military. This is a time to strengthen America's military, not so we can use it but some we don't have to use it."
Amid the debate between the more libertarian candidacy of Kentucky Sen. Rand Paul and the more hawkish candidates in the Republican field, Pataki seemed to try to stake a middle ground. He rejected nation building and said that U.S. military force should not be used "unless absolutely necessary," but must be used when required to defend the United States.
"We will defend freedom, but we will not be the world's policemen," Pataki said.
He also pledged to reform the tax code, and push for legislation to ban any former member of Congress from becoming a lobbyist, among other policy proposal on health care and education.
"I'll repeal oppressive laws like Obamacare and end Common Core," Pataki said.
He even managed to touch on the IRS targeting scandal, saying that as president he will "fire every IRS employee who uses government power to discriminate on the basses of politics or religion."
This post has been updated.