An atheist activist clashed with Sean Hannity and two prominent pastors on Wednesday night over the debate surrounding homosexuality and religious freedom, with the Rev. Samuel Rodriguez warning that "America as we know it" will cease to exist if biblical truth is defined as hate speech.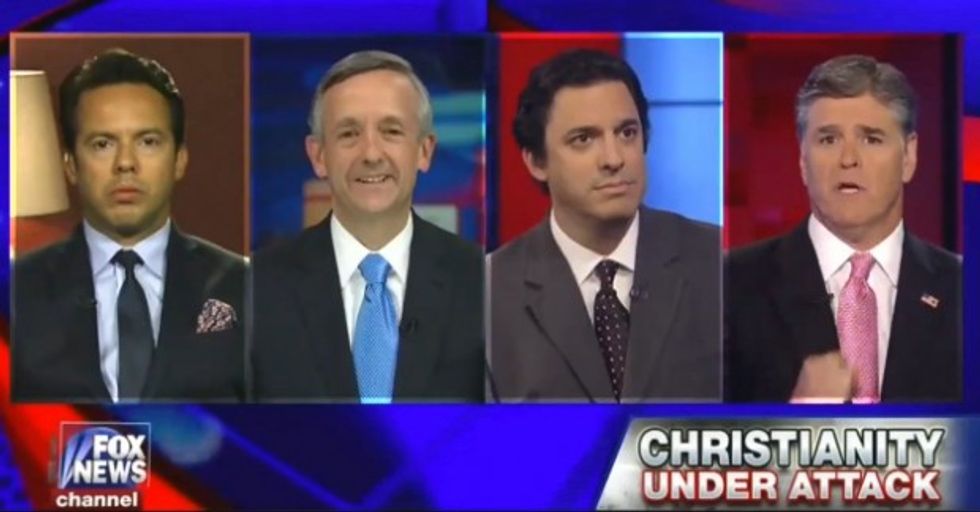 Fox News
Hannity started the segment by sharing a recent comment by Republican presidential candidate and Florida senator Marco Rubio, who has warned that America is at a dangerous crossroads when it comes to perceptions of Christian teachings on homosexuality.
"We are at the water's edge of the argument that mainstream Christian teaching is hate speech ... if you do not support same-sex marriage you are labeled a homophobe and a hater," Rubio said.
It was that quote that led to a spirited debate between Rodriguez, head of the National Hispanic Christian Leadership Conference, Pastor Robert Jeffries of First Baptist Church in Dallas, Texas, and American Atheists president David Silverman.
"The moment in America, the moment in our nation Biblical truth stands defined as hate speech, America as we know it will cease to exist," Rodriguez warned, encouraging Christians not to be silent about biblical teaching.
And Jeffries reminded the audience that "traditional marriage has been in civilization for thousands of years," saying that there is a rich history of Christians and others defining marriage as solely existing between one man and one woman.
But Silverman argued that opposition to homosexuality has nothing to do with Christianity, and said that many people use their faith to shield bigotry.
"Peoples' religious beliefs should not be used as a cloak to protect their bigotry," he said, later adding, "Many churches think that gay marriage is fine in the name of Christianity. This is about bigotry — it's not about Christianity."
As for fears that some faith leaders might be forced to marry gay couples against their will, Silverman was dismissive, claiming that his concern is, again, over battling the bigotry that he believes is waged against gays and lesbians.
"There's nobody out there that's saying that Christian preachers should be forced to marry people against their will," he said.
Rodriguez, though, said that Silverman has it all wrong.
"It is about bigotry, but bigotry against Christians," the preacher said. "It's bigotry and intolerance against those of us that believe in the Bible and our Judeo-Christian value system."
Watch it below:
(H/T: Mediaite)