New bodycam video shows a California officer wrestling an 8-months-pregnant woman to the ground after she refused to give her name.
Charlena Cooks, who is black, was dropping her second-grade daughter off at school when she got into a feud with a school employee in the parking lot. The employee, who is white, called police and told the officer who showed up that Cooks threw something at her vehicle. Cooks told police that isn't true.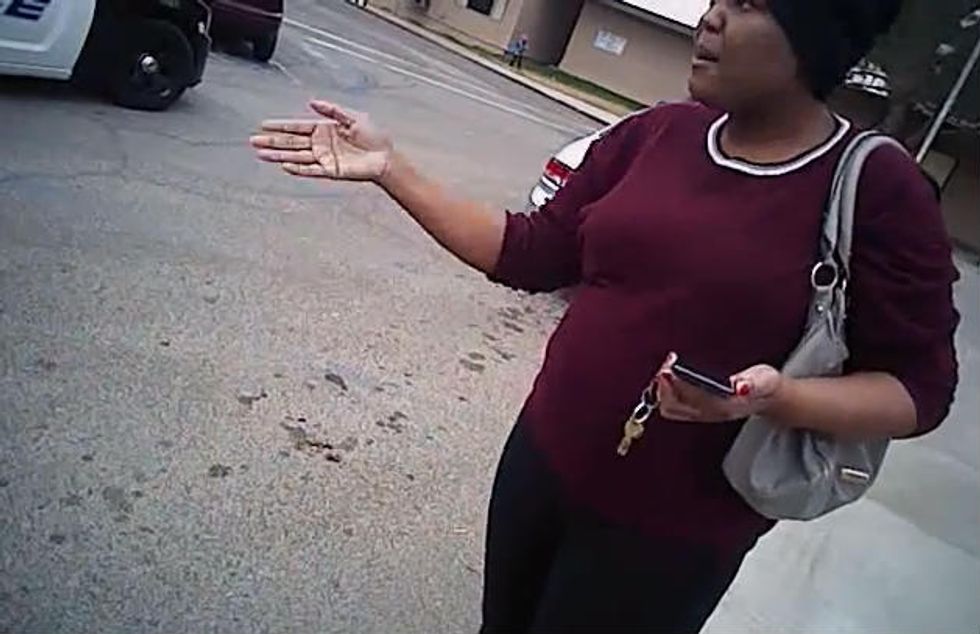 Image source: YouTube
The incident occurred January 26 in Barstow, California, but the ACLU of Southern California recently uploaded the video to YouTube. The ACLU has pointed out that California law does not require residents to identify themselves unless they are driving and get pulled over or they are detained.
The officer listens as the school employee shares her side of the story. In the exchange, he tells her, "I don't see any crime that has been committed."
Moments later, the officer walks over to Cooks to get her side of the story. Cooks began questioning the other woman's decision to call police, pointing out that "she's white."
The officer asked Cooks for her name, which she refused to give before calling her boyfriend to ask him if she was required to give it. The officer did not ask the school employee for her name.
The officer told Cooks she had two minutes to give her name. But fewer than 30 seconds later, police were wrestling her to the ground and putting her in handcuffs.
"Why are you resisting arrest?" the officer asked as the woman screamed. Cooks is also heard shouting, "I'm pregnant."
"I don't think I've ever been that terrified in my life," Cooks said, the Desert Dispatch reported.
"I never saw that coming. I told him I was pregnant so he could proceed with caution. That didn't happen and the first thing I thought was I didn't want to fall to the ground," Cooks said. "I felt the pressure on my stomach from falling and I was calling for help."
The Barstow Police Department reviewed the footage and said it is "apparent" that Cook "actively resisted" arrest.
"The Barstow Police Department continues to be proactive in training its officers to assess and handle interactions with emotionally charged individuals while conducting an investigation, for the protection of everyone involved," the department said.
Although charges were later dropped,  Cooks said the incident has caused her to be more fearful.
"Barstow is so small and I used to be comfortable living here. Not anymore. I really felt like after all that happened I had some of my everyday freedoms taken from me," Cooks told KCAL-TV.
The Daily Mail reported that Cooks had her baby in March and that the child was born healthy.
(H/T: Daily Mail)
–
Follow Jon Street (@JonStreet) on Twitter