The various beers Anheuser-Busch produces — Budweiser, Michelob, Beck's, Rolling Rock — are familiar sights (and tastes) to many Americans.
But drinking water?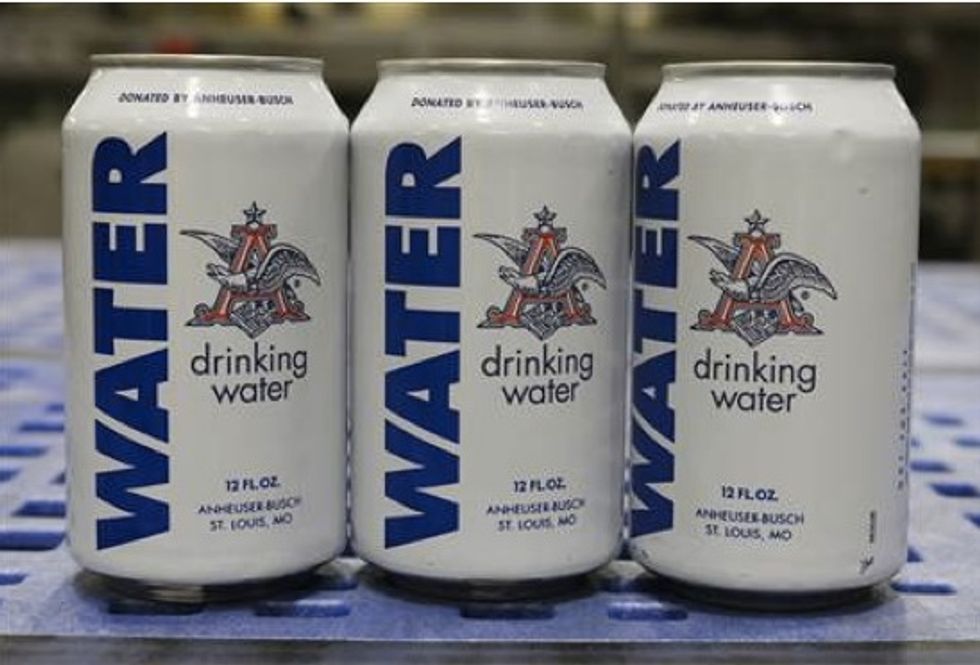 Image source: Anheuser-Busch
Yes, the beer giant makes cans of water, too. One of its breweries adds emergency drinking water to the production list several times a year in conjunction with the American Red Cross.
But this week, the Cartersville brewery in Georgia had an important goal in mind. Late Wednesday night it halted beer production to produce 50,000 cans of water for people affected by historic flooding that's ravaged parts of Texas and Oklahoma, NBC News reported.
"Right now our production line is running emergency drinking water instead of beer," Cartersville brewery manager Rob Haas told NBC News.
When the job was done, about 2,000 cases — each containing two dozen 12-ounce cans — were loaded up and headed to flood-ravaged communities; it would take a few days for water to arrive, Haas said.
Red Cross spokesman Jordan Scott said additional drinking water is "critical" to relief efforts in the area.
At least 37 have died from flooding or tornadoes since the severe weather hit earlier this week, CNN said. Flood warnings and flash flood watches were called Friday for many parts of Texas and Oklahoma, as well as areas in Nebraska, Missouri and Arkansas, and more rain was forecast for the weekend.
(H/T: People)
—
Follow Dave Urbanski (@DaveVUrbanski) on Twitter