Timothy Hudson was visiting his parents house in Antioch, California, earlier this month when he heard a car squealing outside. He went to confront the person, appeared to be deliberately hit and later died at an area hospital while the person who ran over him initially got away.
Now, the 47-year-old man's family said they plan on installing their own speed bumps on the road after the city told them it can't afford to do so, KPIX-TV reported.
"You could hear the tires squealing around and around," Jerry Hudson, Timothy's father, told the news station. "The guy ran over him with the front tire and he was stuck under the truck. He didn't stop, he drug him 45 feet, ran over him again with the back tire."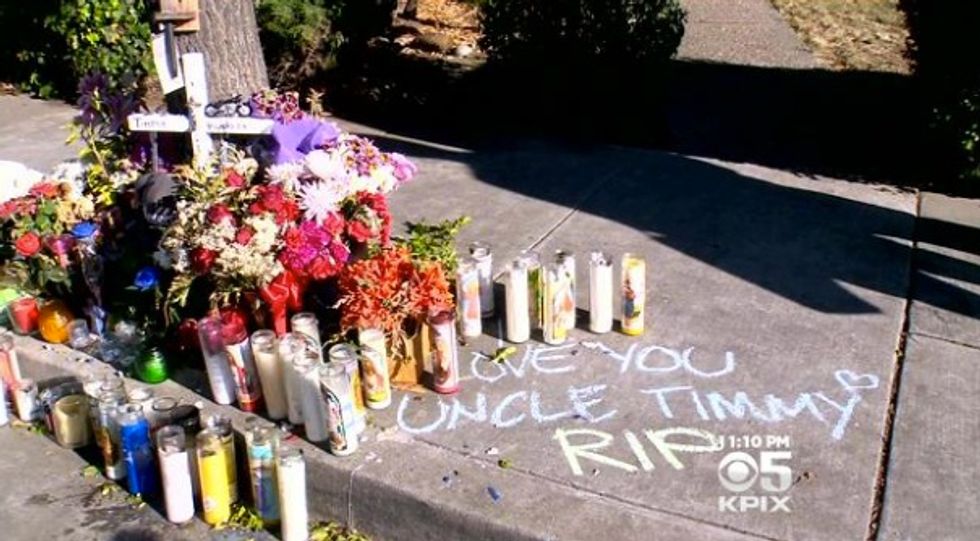 For now, the family has a memorial on the side of the road, but they say they plan on installing their own speed bumps. The city had told them there wasn't funds to do it. (Image source: KPIX-TV)
"The last thing I heard from my son was 'Mom I love you. Tell Dad I love him.' And then he asked the paramedic, 'Please don't let me die!'" Linda Hudson told KPIX.
KVUE-TV reported that the driver, who took off, was later identified as 19-year-old Fredy Castaneda-Longoria. He was taken into custody at the time.
According to KPIX, the Hudson family said that reckless driving is common on the road, which is why they took their story to the city council meeting this week. After her allotted three minutes of speaking time, petitioning for the city to install speed bumps in the area, the news station reported that officials told Linda Hudson that her time was up.
"My dying breath, I will fight the city of Antioch and the mayor will never again tell me to sit down and be quiet, my three minutes are up," she said.
For now though the family, whose other son is in the cement business, is making their own speed bumps for the road, KPIX reported. A neighbor is making speed limit signs.
Watch the news station's report: