White House press secretary Josh Earnest dismissed the debate blocking the renewal of the Patriot Act on Friday, referencing the legendary Hatfields and McCoys feud before declaring there's a new feud going on in Kentucky.
Except this time, Earnest said, it's between Sens. Mitch McConnell and Rand Paul, both from Kentucky where much of the feud occurred.
"There's a pretty long history in the Commonwealth of Kentucky of pretty heated feuds, going all the way back to the Hatfields and McCoys," Earnest said. "The fact is, there seems to be a feud right now between the leader of the United States Senate, Mitch McConnell, a native of Kentucky, and Sen. Paul."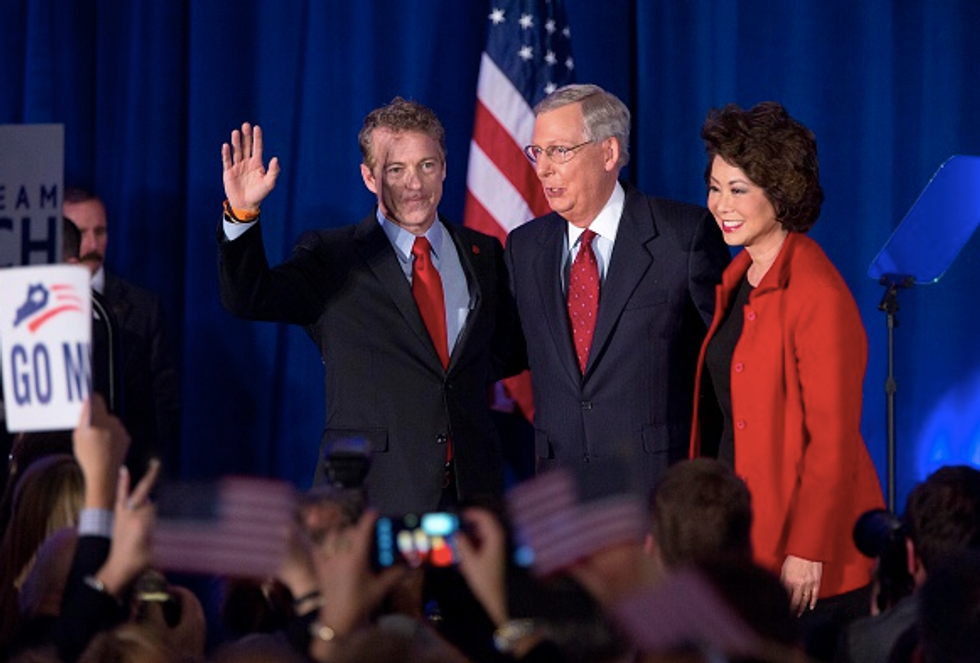 Sen. Mitch McConnell (R-KY) celebrates with his wife Elaine Chao and U.S. Sen. Rand Paul (R-KY) at his election night event November 4, 2014 in Louisville, Kentucky. McConnell defeated Kentucky Secretary of State Alison Lundergan Grimes. (Photo by Aaron P. Bernstein/Getty Images)
"Unfortunately, the victim of that feud, right now, is the amount of risk that is facing our national security and legislation that would protect the privacy and civil liberties of the our people," Earnest continued.
The Hatfields and McCoys feud occurred from the 1860s through the 1890s between two families along the Kentucky-West Virginia border. The feud became part of folklore and common expression to describe a rivalry between two families. It was the subject of a History Channel movie starring Kevin Costner.
The USA Patriot Act, a post-9/11 law, is set to expire Sunday at midnight. McConnell, the Senate majority leader, tried to get the law renewed, as well as get passage of the USA Freedom Act, intended to address concerns about the National Security Agency bulk data gathering.
However, Paul, speaking for 10 hours on the Senate floor last Friday, blocked either bill from coming to a vote in the Senate.
During the Friday press briefing, Earnest expressed frustration.
"I haven't heard a rational explanation for what is going on in the United States Senate," he said. He later added that this is just the "latest installment of the Kentucky feud."
To the extend Paul and McConnell have been in a feud, it seems to have eased in recent years prior to this debate.
In 2010, Paul defeated McConnell's handpicked candidate in the Republican Senate primary. But the two became allies in the Senate, and Paul supported McConnell against a tea party challenger in the 2014 GOP Senate primary.
If the USA Patriot Act expires and the USA Freedom Act doesn't pass, the administration has no backup plan for equipping national security officials with tools to fight terrorists, Earnest said.
"The possibility of a plan B is not on the agenda because it doesn't exist," Earnest said. "There is no plan B. There is no executive action the president can take to give our law enforcement and national security officials the tools they need, all of the tools they need in the USA Freedom Act."