He doesn't seem to have any idea what he's holding up.
The irony is beautiful.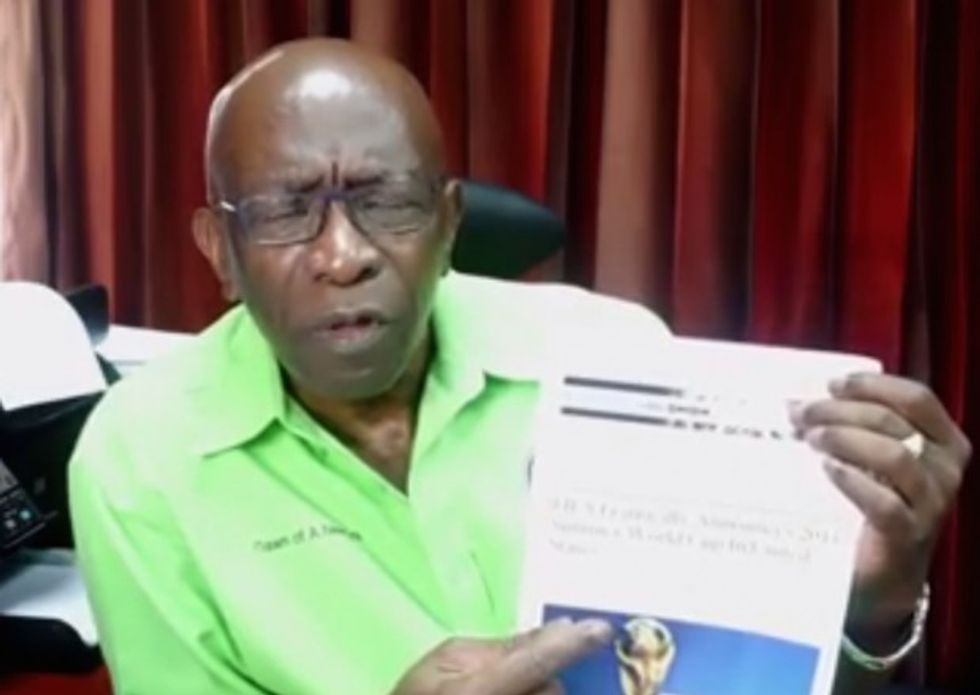 Jack Warner. (Image via Facebook)
As American authorities investigate FIFA, the world soccer organization, for "rampant, systemic and deep-rooted" corruption, one of the officials at the heart of the matter decided to speak out in his own defense.
But he used a bizarre tool to do so.
"I have never changed the culture of FIFA," the Trinidad-born Jack Warner said in a rambling, seven-minute video posted to Facebook.
His defense boiled down to him claiming that he couldn't be that bad, since he was a small fry compared to FIFA president Sepp Blatter (who, while other officials were arrested, did not face arrest himself) and, besides, the Americans are trying to host the World Cup this year.
"If I was so bad ... how is it that the president of FIFA is not?" he said, questioning Blatter's reelection to the FIFA presidency.
Then comes the moment when he holds up an article.
"If FIFA is so bad, why is it that USA wants to keep the FIFA World Cup?" he queries, presenting his evidence to the camera.
The problem: He's holding up a ridiculous, satirical article from the joke "newspaper" the Onion.
Jack Warner accuses US of "double standards" showing headline that US wants WorldCup THIS yr. An @TheOnion headline: pic.twitter.com/lan7gib7U5

— Rob Harris (@RobHarris) May 31, 2015
The World Cup is held every four years, with the last one taking place in 2014 and the next scheduled for 2018. There is no 2015 World Cup, and there was never going to be one.
One would think that Warner, as a FIFA official, would be familiar with those rules.
It appears Warner picked up on his mistake eventually — the video appears to have been deleted from his Facebook page.
(H/T: SB Nation)
—
Follow Zach Noble (@thezachnoble) on Twitter