Twins who grew up living inside of a controversial sect that some claim was an apocalyptic cult are speaking out about their reclusive childhood, with one sister revealing that, as a result of her family's membership, she wanted to take her own life at the tender age of seven.
"I wanted to take my life. I first of all wanted to escape what was going on," Tamar Edwards recently told ABC News. "Second of all, I really didn't want to go through the apocalypse."
Tamar and her sister, Flor, both 34, were members of The Children of God, a controversial sect founded in California in the 1960s by the late religious leader David Berg that some ex-members claim was a reclusive, end times cult.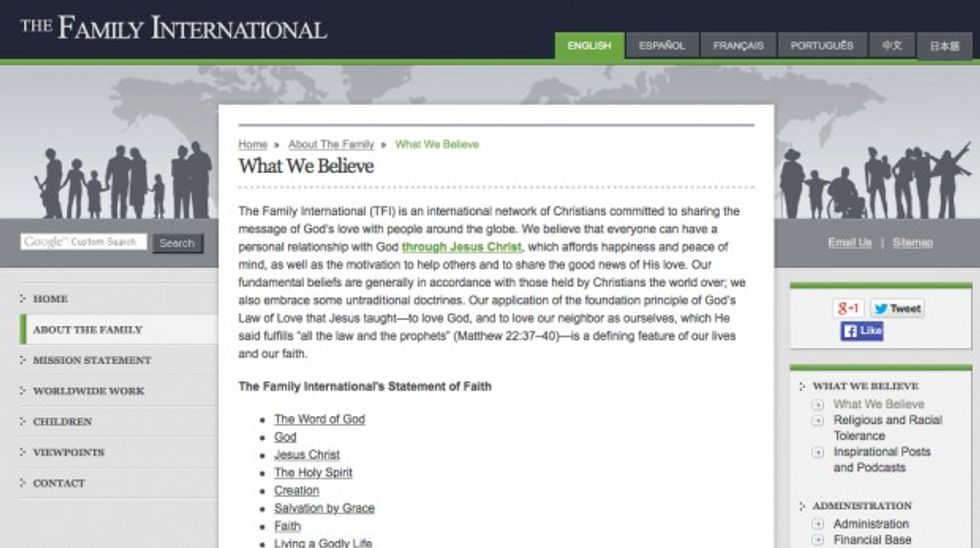 A screen shot from the Family International website
According to the twins, The Children of God encouraged members to separate themselves from mainstream society and live nomadically and communally, believing that its adherents would be saved by God during a coming apocalypse.
Until they were 12, the women were terrified and feared that the end of the world would come during their lifetime, ABC News reported.
"We were supposed to be God's martyrs. I was going to die at 12," Flor told ABC News. "I would spend a lot of my time as a child thinking of that, frozen in fear — just absolutely frozen by it."
Flor and Tamar were so segregated from the rest of society as members of The Children of God that the two claim they weren't even aware of some of the most common forms of entertainment, nor were they aware of some common technological tools such as drinking fountains.
"I didn't know what a movie theater was," Flor told ABC News. "We saw a drinking fountain for the first time, and we all just kind of like saw it, and we, like, huddled around it like it was some [novelty]."
Watch their story below:
While the two women said that they were not sexually abused, they, along with other ex-members, claim that abuse unfolded inside of the reclusive religious sect.
"Sex was the thing that drove people. They didn't do any alcohol, no drugs, so sex was kind of the way to freedom," Tamar explained. "God's creation of love and beauty."
This allegedly led to abuse, including incidents in which adults would reportedly have sex in front of children.
The Children of God disbanded in 1994 following Berg's death, but the movement has rebranded as The Family International, a group that describes itself as "an online Christian community of individuals committed to sharing the message of God's love with people around the globe."
Read more about the reclusive religious group here.
(H/T: ABC News)