Glenn Beck was at his ranch over the weekend, and a calf needed to be castrated. So Beck, who is fond of Facebook, decided to put the entire bloody video online.
The castration was not performed by a veterinarian, but by a "cowboy" who "bites them off," in Beck's words.
The man who runs Beck's ranch said that by doing it "the old-fashioned way," the wound heals "twice as fast" and the risk of infection is greatly reduced.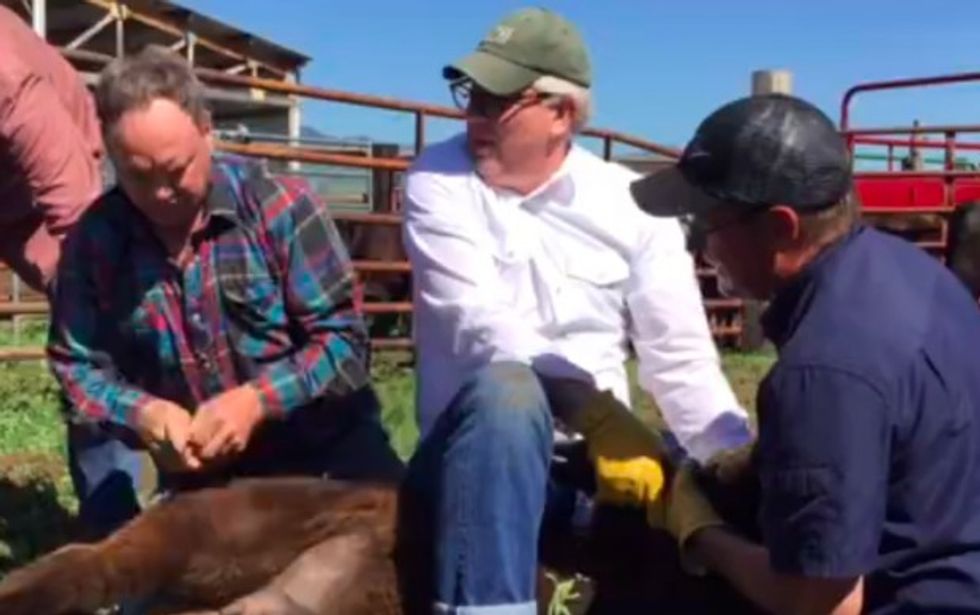 Glenn Beck sits on a calf as it is castrated. (Image via Glenn Beck/Facebook)
"Zero chance I'm watching that video," Beck's radio co-host Stu Burguiere said Monday. "I'm surprised this is even legal to air."
Beck accepted Burguiere's refusal to watch the video because he is a vegetarian, but he wouldn't accept that answer from those who eat meat -- even if they are children.
"[My kids said], 'Dad, we're not doing that!' And I said, 'You know what? That's your stance, totally fine. But you have to give up meat,'" Beck related. "And they said, 'What do you mean?' I said, 'You don't have to do it, but you have to accept that it's being done. And you have to know what it is.'"
The video is below (again, extremely graphic content warning):
This is how we spent our sat morning.Believe it or not, this helps the calf heal twice as fast and zero infection.WARNING YOU WILL NEVER UNSEE THIS! Crazy! I didn't know people did this!

Posted by Glenn Beck on Saturday, 30 May 2015