The rising water of the Trinity River in Dayton, Texas, took an area of nearly 1,800 acres of land down to about 50 acres, trapping 500 or so cattle. So cowboys hopped into their saddles and began to round up the cattle and usher them to safety the old-fashioned way.
"It's really a taste of the Old West coming back in here," Ricky Brown told KHOU-TV of the Sunday rescue effort, noting that it's "something that hasn't happened in probably 200 years."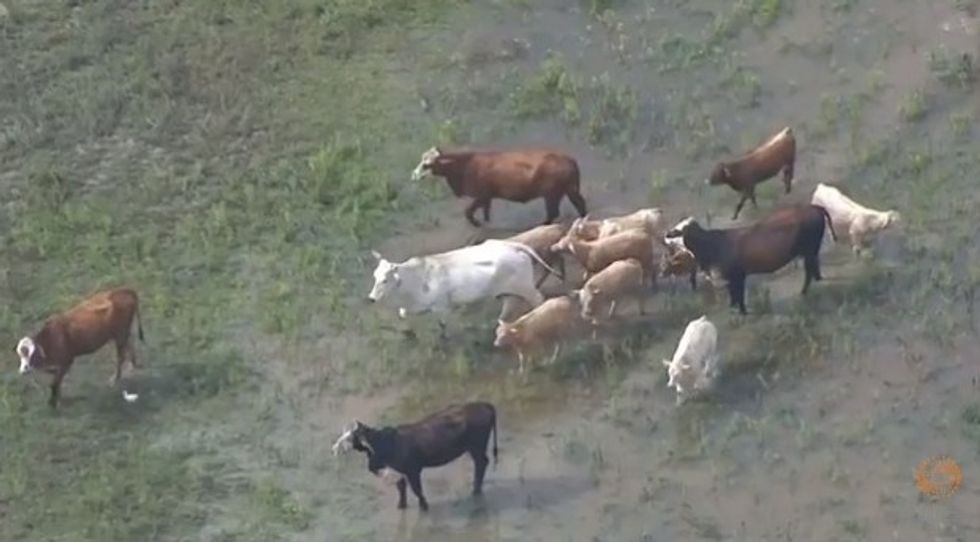 Image source: Reuters/YouTube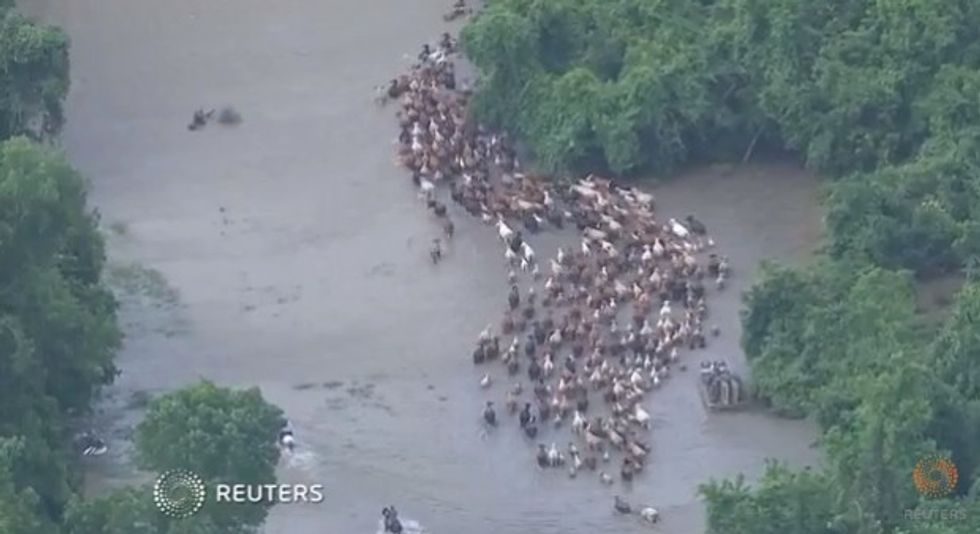 Image source: Reuters/YouTube
Watch this aerial footage of the cattle making their way across the swollen waterway:
Aaron Privett was one of a dozen or so families who showed up to watch the cattle drive, telling the news station it was "a once-in-a-lifetime experience."
Here's a view of the cattle going through town:
While KHOU reported that 500 cattle were trapped, only around 200 made the walk and swim to CMC Rail Yard safely. Though some of the cattle perished on the journey, according to a Houston community newspaper, others resisted moving in the first place and remained on the smaller patch of land surrounded by flood waters.
The cattle will remain at the rail yard until the water subsides.
Watch KHOU's report:
On Sunday, most of Texas got to see its first glimpse of true sunshine in weeks, allowing surging rivers to recede as emergency-management officials turn their attention to cleanup efforts in such places as Houston, where damage estimates top $45 million.
Parts of the state were finally beginning to rebuild on Sunday from weeks of rain and flooding that have made Texas a place of extremes: severe drought conditions earlier in the year that have given way to unprecedented rainfall in some areas. At least 31 people have been killed in storms that began in Texas and Oklahoma over Memorial Day weekend. Twenty-seven of the deaths have been in Texas, and 11 people were still missing over the weekend.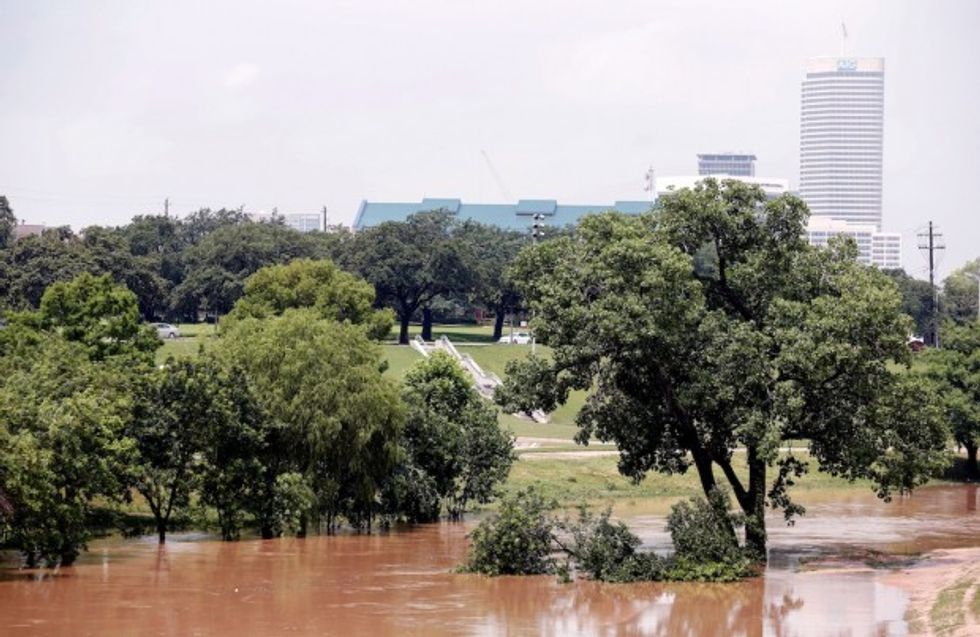 Trees are submerged at Buffalo Bayou park after massive flooding May 27, 2015 in Houston, Texas. (Eric Kayne/Getty Images)
The plentiful sun forecast for much of the state this week was expected to allow engorged rivers such as the Trinity in North and East Texas, the Brazos southwest of Houston and Nueces in South Texas to flush massive volumes of water into the Gulf of Mexico.
In the Houston area alone, preliminary damage estimates show the flooding from torrential rains will cost at least $45 million, according to Francisco Sanchez with the Harris County Office of Homeland Security and Emergency Management. There was more than $25 million in damage to public utilities and infrastructure, he said, and the cost to remove storm debris from bayous, flooded neighborhoods and elsewhere is about $15 million. There's another $4.5 million in damage to buildings and equipment.
There are about 1,500 homes in Harris County, including those in Houston, with some level of flood damage, and this number will increase as damage-assessment teams canvass the region, he said.
Hays County spokeswoman Laureen Chernow said officials there have recorded at least $32.7 million in damage to public infrastructure following record flooding that overflowed the banks of the Blanco River. Many roads have been closed and two bridges destroyed, Chernow said.
"There are a couple of pillars standing in the riverbed," she said. "It's going to take years to rebuild this whole area."
The flooding in Hays County alone has claimed eight lives and left six missing.
Search crews are continuing to make their way down the Blanco River — at least 25 miles of the 55-mile stretch contained within the county have been searched this week. That process has slowed as workers make their way downriver and run into increasingly larger piles of debris, Chernow said.
"It's 15 to 20 feet tall in some places," Chernow said. "As areas continue to dry out it will be easier to access and bring in heavy equipment."
As cleanup begins, officials are also looking at effectiveness of the emergency warning system.
The West Gulf River Forecast Center, part of the National Weather Service, is meant to anticipate and inform the response to Texas flooding disasters.
The center's hydrologists use a complex formula of weather forecasting, stream flows and ground saturation measures to provide early warnings to locations in the path of high water, the Statesman reported. Emergency officials look to the agency to plan their flood operations.
The Fort Worth-based center issued its first flood forecast at 7:15 the evening of May 23, hours after the waters already had swept through Blanco. Even then, the center's prediction was for the river to crest in Wimberley at only 12 feet, about 8 feet above its normal flow, and then to slowly drop after that.
The agency issued a second forecast just before 8 p.m., revising the expected surge in Wimberley to hit 16 feet and drop overnight, an unremarkable event the forecast center characterized as "minor flood stage."
In fact, by the time the Blanco River water-level gauge at Wimberley was destroyed by the raging waters, at about 1 a.m. May 24, the river was above 40 feet and rising.
"There was a lot of warning this was coming up. The missing factor was how big it was going to be," Bill West, general manager of the Guadalupe-Blanco River Authority, told the newspaper. "Information is the best tool we've got, and there is no doubt we could've benefited from more information."
—
The Associated Press contributed to this report.