UPDATE 3:30 p.m. ET: Police have identified the suspect as 26-year-old Usaama Rahim.
Man shot by police identified as Usaama Rahim, 26-year-old from #Roslindale. Was being followed by Joint Terrorism Task Force.

— WCVB-TV Boston (@WCVB) June 2, 2015
Original story below
A Boston terror suspect surveilled by the Joint Terrorism Task Force for weeks has been killed, according to police.
The suspect, was of Middle Eastern descent, in his mid-20s and armed with a "military style" knife or machete. The Boston Globe reported the suspect confronted a Boston police officer and and FBI agent in a CVS Pharmacy parking lot around 7 a.m. Tuesday. 
It's unclear why the man was being monitored by the FBI. Citing an "ongoing investigation," Boston Police Department Commissioner William Evans said only that officers "believed he was a threat."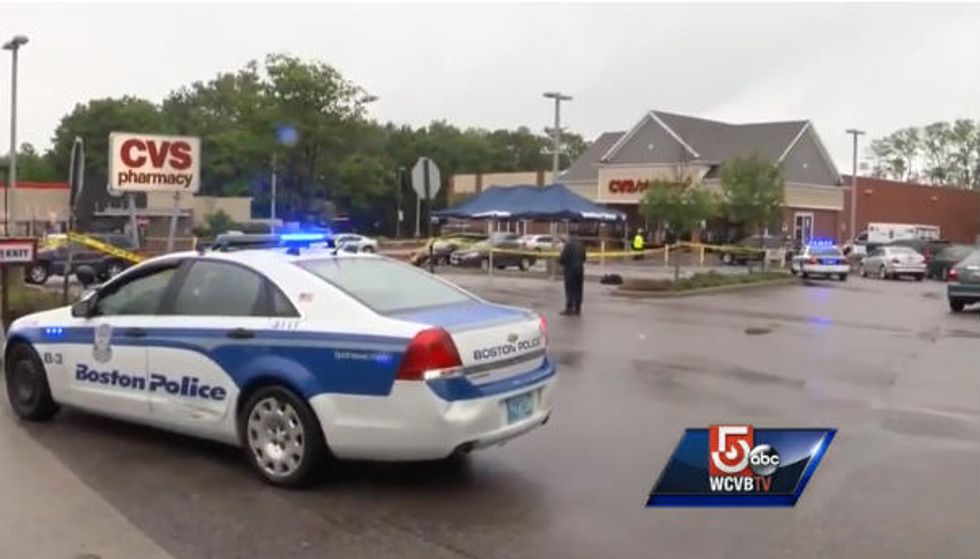 Image source: WCVB-TV
"The officers asked him several times to put that knife down. They gave him several commands. The officers tried their best," Evans told WCVB-TV.
Evans said police commanded him several more times to drop the knife but he refused. That's when Evans said "he turned and came toward the officers" and both law enforcement officers fired their weapons, WCVB reported.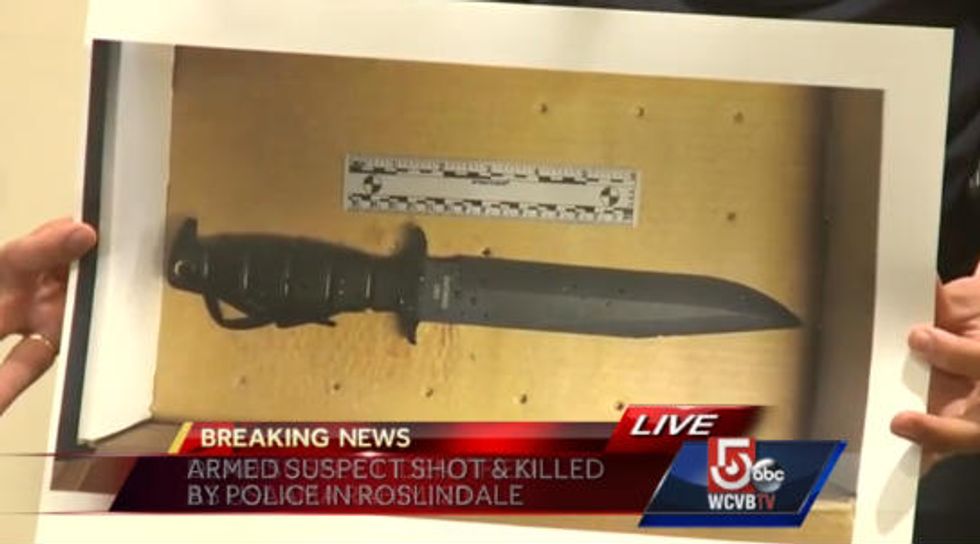 A picture of the knife used by the terror suspect is seen here. (Image source: WCVB-TV)
Both officers were taken to a hospital for evaluation, although neither of them suffered injuries.
The suspect was taken to nearby Brigham and Women's Hospital, where he was later pronounced dead.
"They did what they were trained to do, and unfortunately, they had to take a life. And that's never an easy decision for any officer to do," Evans told WCVB.
Boston Mayor Martin Walsh declined to comment until an investigation has been completed.
Authorities investigating the scene of the shooting in Roslindale. pic.twitter.com/LVAzpjACIQ

— Owen Boss (@OVVenBoss) June 2, 2015
Police are also investigating a second location thought to be the man's residence, WBZ-TV reported.
No one being allowed inside Stony Brook Commons. Man shot & killed by police this morning believed to live here pic.twitter.com/5vNGoJ54Tl

— Ryan Kath (@ryankath) June 2, 2015
Suffolk County District Attorney Daniel Conley said he would release a report to determine whether the officers' use of deadly force was justified in the case. He did not give a date for its release.
An FBI spokesman did not immediately respond to TheBlaze when asked for a comment.
More here:
(H/T: WCVB-TV)
–
Follow Jon Street (@JonStreet) on Twitter