Just weeks after Pastor Creflo Dollar, founder of World Changers Church International, offered a fiery defense of his controversial campaign to raise millions for the purchase of a high-end aircraft, the board of his ministry is apologizing over the "confusion" that was created by a video appeal that Dollar released earlier this year.
"We fully acknowledge that the campaign video did not do a good job of communicating the request, and we apologize for any confusion it may have caused – it is in the process of being revamped and will be re-released when complete," reads a statement on Dollar's website.
But the ministry seemingly has no plans to back away from its quest to purchase a $65 million Gulfstream G650 aircraft — one that Business Insider recently called, the "biggest, fastest, and overall best private jet money can buy."
"We plan to acquire a Gulfstream G650 because it is the best, and it is a reflection of the level of excellence at which this organization chooses to operate," the statement continues. "We, the World Changers family, so value the lives, the safety and the well-being of our pastors and leaders that we wish to provide to them the best air travel experience possible."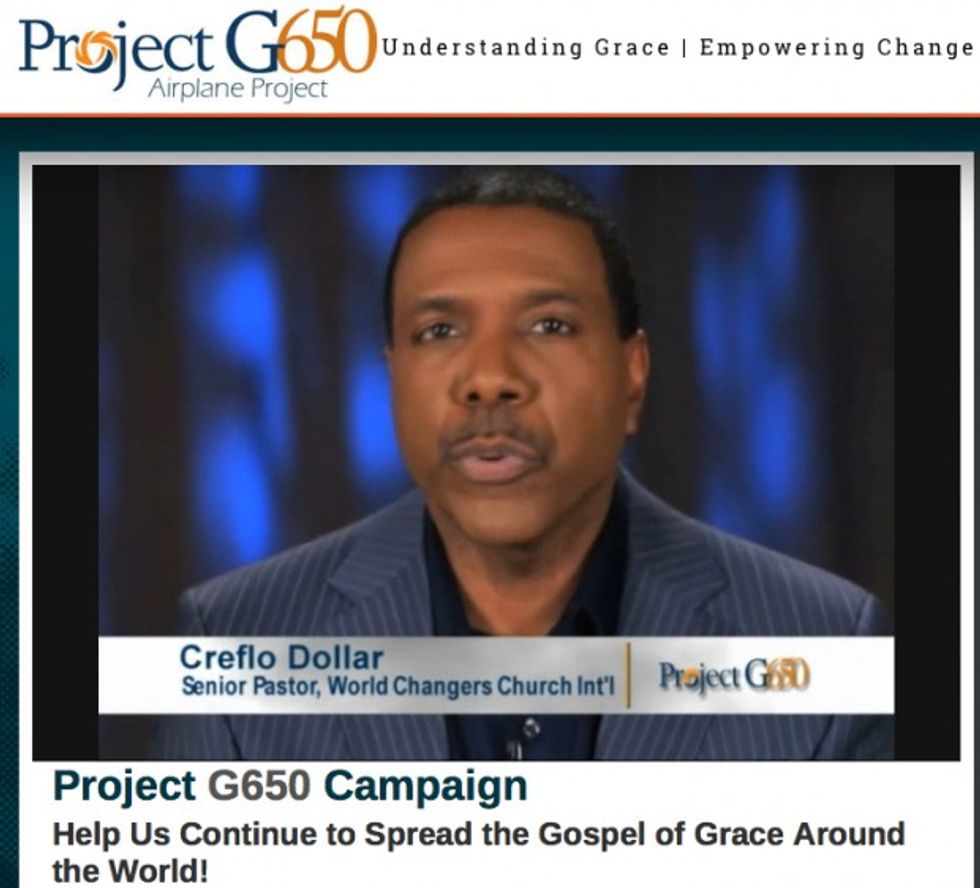 Screen shot from Creflo Dollar Ministries website
The board said that it believes Creflo Dollar Ministries is called to serve people around the world and that a private aircraft is needed to keep up a grueling travel schedule.
"A long-range, high-speed, intercontinental jet aircraft is a tool that is necessary in order to fulfill the mission of the ministry," the statement continued. "In light of an unfortunate accident that recently resulted in the ministry's aircraft being declared a total loss, it is our intention to purchase another airplane at a time, place and price of our choosing."
The statement also makes it clear that donations will not be solicited at Dollar's church locations and that the ask was tailored to "a specific community of like-minded people who love and support the ministry and its global missions work."
The initial video, which was removed following controversy, is being revamped and will soon be re-released to the public.
The ministry's apology as well as its defense of the coveted aircraft come after Dollar delivered a fiery sermon in April, claiming that the "devil tried so aggressively to discredit [his] voice" in the midst of the controversy.
"The enemy has got to discredit the voices of faith, and grace and truth, because he don't want you to know that you can walk on the water if you can look at Jesus," Dollar told his congregation, going on to seemingly paraphrase Satan. "'I got to discredit that man before he starts showing people Jesus.'"
He offered a passionate defense of his quest to raise millions for the Gulfstream G650, saying that he was merely believing that God could provide his ministry with a tool that he says was much-needed.
"I can believe God as long as I want to. If I want to believe God for a $65 million plane, you cannot stop me," he said, taking aim at his critics. "You cannot stop me from dreaming. You can't stop me from dreaming! I'm going to dream until Jesus comes!"
And he wasn't done there, going on to say that he'd dream for a billion dollar spacecraft if it were deemed necessary.
"If they discover life on Mars, if you think a $65 million plane was too much — if they discovered that there's life on Mar