Conservatives have openly expressed fears about the nation's perceived moral decline, but a recently released poll from Gallup shows that a majority of liberal Americans also share concerns over the nation's ethical trajectory.
When asked whether the "state of moral values in the country as a whole is getting better or worse," 72 percent said that they believe that the paradigm is worsening, while, in contrast, just 22 percent said that it is improving.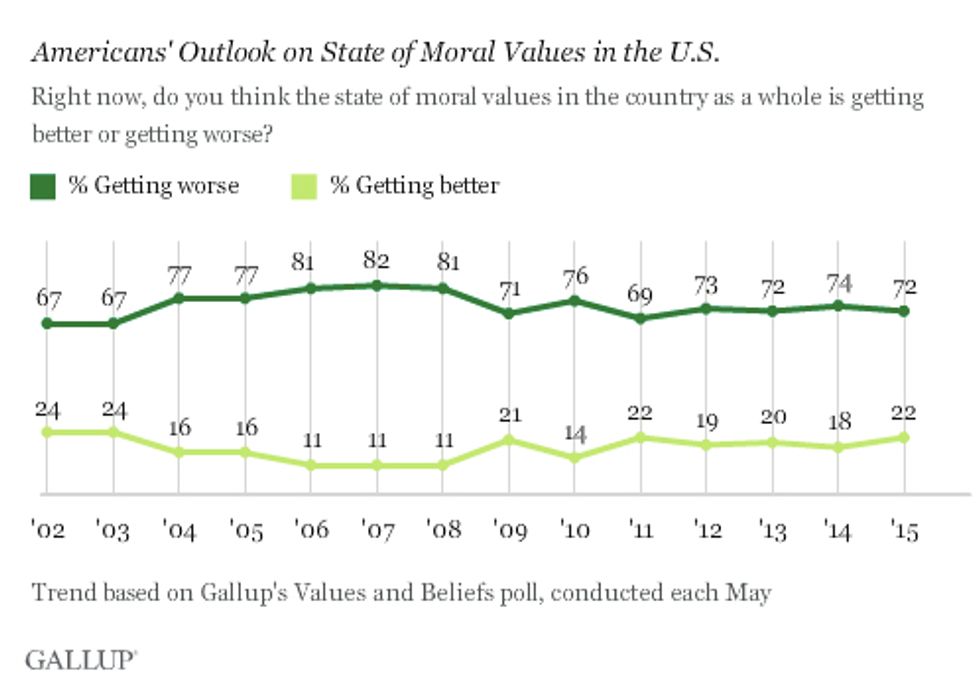 Meanwhile, 45 percent of Americans said that the current state of morals is poor, 34 percent called it "only fair" and 19 percent said that the moral state is either "good" or "excellent." 
The perception that the nation is in moral decline is sweeping, though it was higher in 2007 when it came in at 82 percent, with 11 percent claiming at the time that was getting better, Gallup reported.
Considering the starkly divergent value sets that are sometimes observed among conservatives and liberals, there are some notable differences when it comes to these' groups views on the matter.
That said, majorities of all conservatives, social moderates and liberals agree that the country's moral standing is on the decline. Eighty-one percent of conservatives say that moral values are worsening, compared to 76 percent of social moderates and 58 percent of liberals.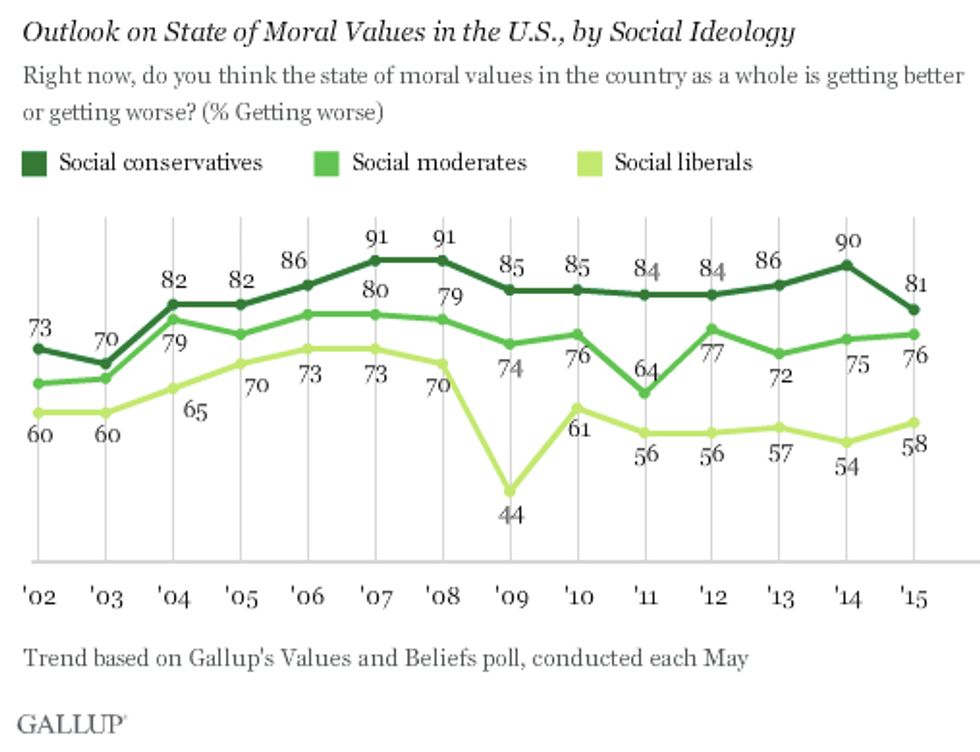 The new results from Gallup, which were collected from May 6-10 among 1,024 adults aged 18 and older, come after the polling firm recently released survey results showing that Americans' moral values on specific issues changed profoundly between 2001 and 2015.
Consider that just 40 percent expressed moral acceptability of gay and lesbian relations in 2001, with that proportion increasing substantially to 63 percent in 2015. Likewise, 61 percent of the nation now says that having a baby outside of marriage is permissible, while only 45 percent said the same back in 2001.
The moral acceptability of divorce increased from 59 percent to 71 percent, with the proportions for doctor assisted suicide standing at 49 percent in 2001 and 56 percent in 2015. Support for polygamy also increased from seven percent to 16 percent. Read more about it.
--
Front page image via Shutterstock.com.