Police were able to arrest a suspect accused of mugging a woman in New York City on Wednesday after a group of good Samaritans took down the man, recovered the woman's money and held him for officers.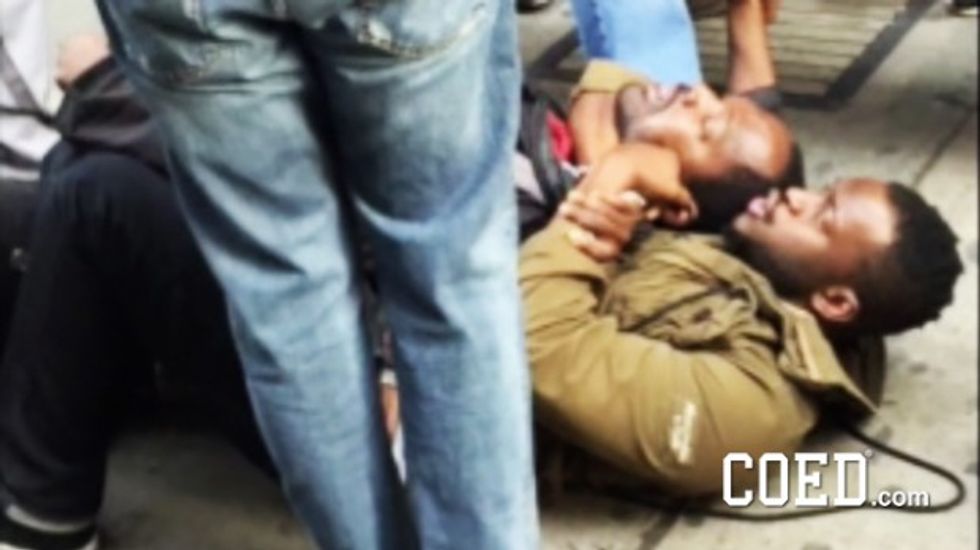 Image via Coed.com
Police say Theodore Shearin, 37, stole the victim's backpack and dragged her as she tried to prevent the mugging, according to Gothamist. That's when the alleged mugger was stopped in his tracks by New Yorkers.
At least four men are seen on video helping restrain the suspect, with one man keeping him in a headlock. The men eventually pry the victim's money from the man's hands and return it to her.
"Did you get everything?" one of the men asks the woman in the video. "Are you OK?"
The apparent victim is also heard saying that she wanted to press charges.
Watch the video below (WARNING: Some strong language)
The person who recored the video, identified as J Bryant of Coed, wrote that as many as 12 citizens stepped in to take the "huge thug" to the ground.
"It wasn't a black thing or a white thing, it was just good people doing the right thing," he wrote.
Gothamist reports that Shearin, the suspect, tried to escape but was ultimately arrested and charged with "robbery, assault, criminal possession of stolen property and criminal possession of a controlled substance."
---