The White House said it supports Israel's right to defend itself after Israeli Prime Minister Benjamin Netanyahu Sunday blasted the international community for what he called its "silence" in response to the recent renewal of Palestinian rocket attacks on Israel.
"Clearly, the United States stands with the nation of Israel as they defend their nation and their people from these attacks," White House press secretary Josh Earnest said according to the Associated Press.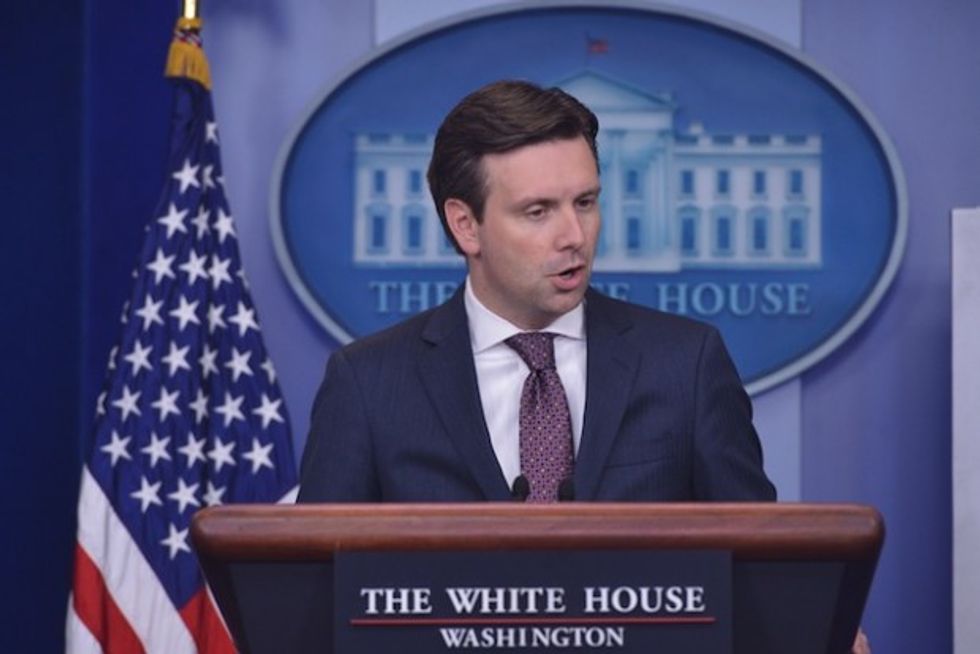 White House Press Secretary Josh Earnest at his June 5, 2015 daily briefing in the Brady Briefing Room of the White House in Washington. (Photo: Mandel Ngan/AFP/Getty Images)
Earnest made the comments Sunday in Germany where President Barack Obama was attending a meeting of G7 leaders.
The White House spokesman said that U.S. officials had spent "a lot of time talking about this" during the war last summer between Israel and Hamas when the terrorist group launched thousands of rockets at Israeli communities.
"This is not the first time that I've stood at a podium like this and strongly condemned rocket attacks by extremists in Gaza against innocent Israeli citizens," Earnest said.
"I have not heard anyone in the international community condemn this firing; neither has U.N. said a word," Netanyahu said at the opening of his weekly cabinet meeting Sunday.
The prime minister hinted a harsh Israeli response to future attacks: "It will be interesting if this silence continues when we use our full strength to uphold our right to defend ourselves."
"Let it be clear: The spreading hypocrisy in the world will not tie our hands and prevent us from protecting Israel's citizens. Thus we have acted; thus we will act," Netanyahu said.
There have been three Palestinian rocket attacks on Israel from Gaza since the end of May claimed by terrorist group rivals of the ruling Hamas.
Israeli Air Force jets Sunday morning bombed targets in Gaza in response to the latest rocket launch toward the southern Israeli city of Ashkelon Saturday night. No injuries were reported in either incident.
The Omar Brigades, a Salafist group with reported ties to the Islamic State group, claimed responsibility for two of the attacks.