UPDATE: After Netanyahu's remarks, the White House defended Israel's right to defend itself from Palestinian rocket attacks.
"Clearly, the United States stands with the nation of Israel as they defend their nation and their people from these attacks," White House press secretary Josh Earnest said according to the Associated Press.
See separate story with more quotes from Earnest here.
—
Israeli Prime Minister Benjamin Netanyahu sharply criticized the international community for what he called "silence" in response to multiple Palestinian rocket attacks on Israel during the past two weeks.
"I have not heard anyone in the international community condemn this firing; neither has [the] U.N. said a word," Netanyahu said during his weekly cabinet meeting Sunday. "It will be interesting if this silence continues when we use our full strength to uphold our right to defend ourselves."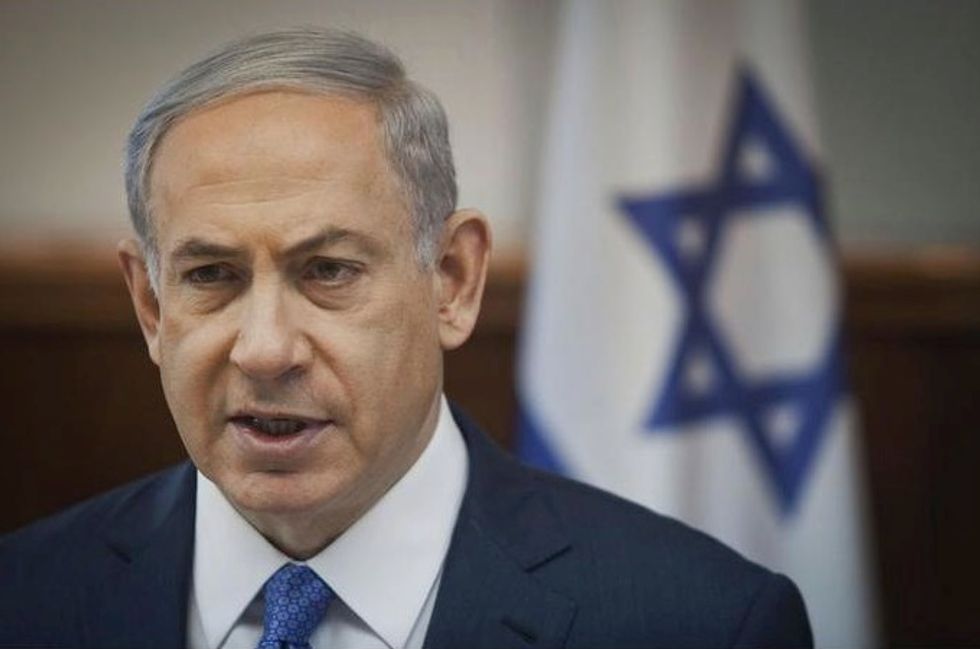 Israeli Prime Minister Benjamin Netanyahu chairs the weekly cabinet meeting in Jerusalem on Sunday, March 29, 2015. Netanyahu said he has "deep concern" over a pending nuclear deal the West appears close to signing with Israel's arch-enemy Iran. (AP Photo/Dan Balilty, Pool)
Israeli officials often point to what they believe to be a double standard when it comes to Israel in the media, at the United Nations, and among its allies who loudly excoriate Israel in the event of Palestinian civilian casualties while appearing to gloss over Hamas violations.
"Let it be clear: The spreading hypocrisy in the world will not tie our hands and prevent us from protecting Israel's citizens. Thus we have acted; thus we will act," Netanyahu said.
The Times of Israel noted that following a Palestinian rocket attack last week, a spokesman for U.N. Secretary General Ban Ki-moon called on "all parties to avoid further escalation and prevent incidents that jeopardize the lives of Israeli and Palestinian civilians."
Palestinians in Gaza fired a rocket at the southern Israeli coastal city of Ashkelon Saturday night. Hours later, Israeli Air Force jets hit targets in Gaza in response to the attack. No injuries were reported in either incident.
The Saturday night launch was the third rocket attack on southern Israeli communities in the past two weeks.
A radical Salafist terrorist group linked to the Islamic State group took responsibility for two of the rocket firings.
The Times of Israel quoted Israeli military sources who said they suspect Omar Brigades, a Salafist group which views the ruling Hamas as a rival, has launched the rockets in order to provoke an Israeli military response against Hamas targets, and thus weaken its rival.
Israel Radio reported Sunday morning that hours before the rocket attack, a Salafi leader encouraged more rocket launches in order to disturb the calm.
Netanyahu said Sunday that "Israel holds Hamas responsible for all firing from the Gaza Strip at our territory."
ישראל רואה בחמאס אחראי לכל ירי מרצועת עזה לעבר שטחנו. לא שמעתי שום גורם בקהילה הבינלאומית מגנה את הירי הזה, וגם באו"ם לא פוצים פה. מעניין אם השתיקה הזאת תימשך כשנפעיל במלוא עוצמתנו את זכותנו להגן על עצמנו. שיהיה ברור: הצביעות שמתפשטת בעולם לא תכבול את ידינו מלהגן על אזרחי ישראל. כך פעלנו, כך נמשיך לפעול >> ===Israel holds Hamas responsible for all firing from the Gaza Strip at our territory. I have not heard anyone in the international community condemn this firing; neither has UN said a word. It will be interesting if this silence continues when we use our full strength to uphold our right to defend ourselves. Let it be clear: The spreading hypocrisy in the world will not tie our hands and prevent us from protecting Israel's citizens. Thus we have acted; thus we will act.

Posted by ‎Benjamin Netanyahu - בנימין נתניהו‎ on Sunday, June 7, 2015