Glenn Beck on Monday announced a "new journey" that he believes has been in the making for five years, since he gathered with countless Americans in Washington, D.C. on August 28th, 2010.
"I feel that my whole life has been leading in one direction," Beck said on his radio program. "And it began to happen around 8/28, five years ago. I finally shared it with my wife, then I shared it with my children. Then, quite honestly, I threw roadblocks up because I didn't want to do it."
But Beck said Americans must begin to unite to help those who are in desperate need, and "never again is now" in the Middle East as people of all faiths are being raped, murdered and beheaded by the Islamic State.
"If we can't unite on an end to genocide, there's nothing we can unite on," Beck said. "God specifically tells us that when you happen on someone who is in trouble or needs help, don't look the other way, pretending you don't see them. Don't keep a tight grip on your purse."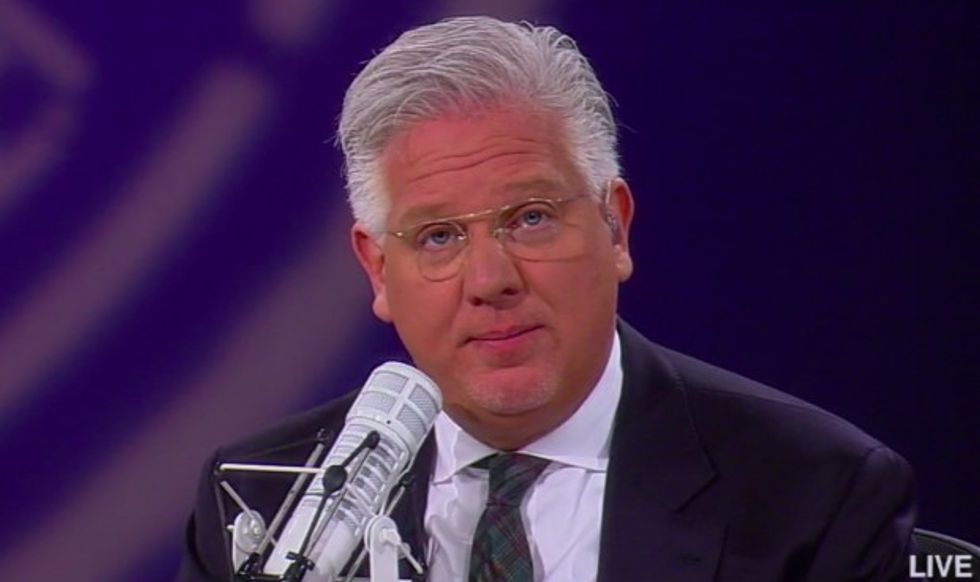 Glenn Beck speaks on his radio program June 8, 2015. (Photo: TheBlaze TV)
Beck has launched a fundraiser through his Mercury One charity, saying he hopes to travel to the Middle East "in the next two to three months with a planeload of aid and my cameras to bring home a story of the children who are standing up against evil."
He will also be visiting churches whose pastors "can be trusted to say the difficult things," including the Guiding Light Church in Birmingham, Alabama on August 28th. As he sees it, far too many churches are failing to stand on principles, and "God is not dead, but far too many of his pulpits are."
Beck said the movement is "starting with the clearest injustice on the planet" in an effort to avoid any kind of partisan bickering, and go straight to the assistance of those in need.
"The Christian who speaks out for the homosexual who is being stoned, the homosexual who stands up for the Christian baker in Oregon, the Jew that sees the dark echoes of the past and wakes his people to the cries of the Coptic Christians, and the Christian who stands in defense of the Jew in France or on any American campus -- these will be the people that change the world," Beck declared. "These will be the people that will stand and say, 'I will not go over the cliff into the sands of insanity with the rest of humanity.'"
Beck asked his audience for prayers and their willingness to join the movement, saying they can tweet with the hashtag "#neveragainisnow" and change their profile photos to have "now" written on their hands.
"And if you have a few bucks to spare, we have a goal of raising an awful lot of money in relief," Beck concluded. "We will be asking your children to write letters to children in refugee camps so they know America is still America, that we have not forgotten them. I would ask that you would go to mercuryone.org right now and join and donate. But more importantly, join our cause."
[mlbvideo content_id=150373883]
The full episode of The Glenn Beck Program, along with many other live-streaming shows and thousands of hours of on-demand content, is available on just about any digital device. Click here to watch every Glenn Beck episode from the past 30 days for just $1!