The week after the New York Times was criticized for scrutinizing Florida Sen. Marco Rubio's traffic citations, the newspaper ran a story Tuesday about the Republican presidential candidate's personal finances.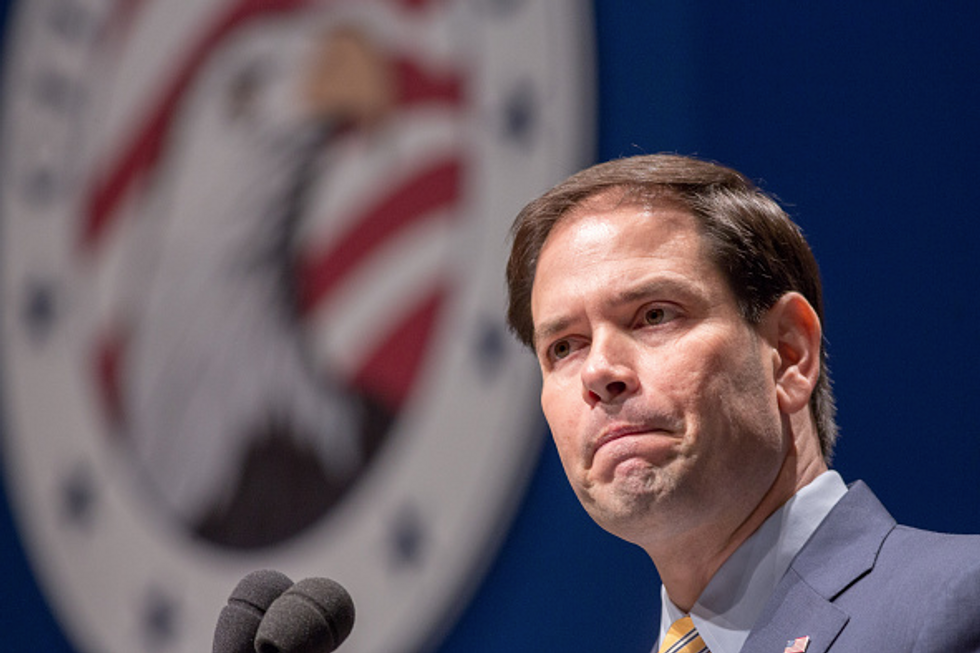 Republican presidential candidate and Florida Sen. Marco Rubio speaks during the Freedom Summit, May 9, 2015 in Greenville, S.C. (Richard Ellis/Getty Images))
From the New York Times:
A review of the Rubio family's finances — including many new documents — reveals a series of decisions over the past 15 years that experts called imprudent: significant debts; a penchant to spend heavily on luxury items like the boat and the lease of a $50,000 2015 Audi Q7; a strikingly low savings rate, even when Mr. Rubio was earning large sums; and inattentive accounting that led to years of unpaid local government fees.

Mr. Rubio has acknowledged missteps: using personal credit cards to pay for his campaigns (a bad idea, he said); appointing his wife, Jeanette, as a treasurer of a political action committee (ill advised, he said); and using the party money for the reunion trip (an accident, he said). Mr. Rubio, in his 2012 memoir, "An American Son," confessed a "lack of bookkeeping skills" and an "imperfect accounting system."

In private conversations, Mr. Rubio has told friends that he learned how to manage money through trial and error. His poor, immigrant parents — his father a bartender, his mother a hotel maid — had little money to manage, he told them.
In a statement to the Times, Rubio said, "Like most Americans, I know what it's like for money to be a limited resource and to have to manage it accordingly."
"Our primary financial motivation over the last 15 years has not been to become wealthy. It has been to provide for our children a happy upbringing and the chance at a great future," he said.
But in a statement to Politico, the Rubio campaign fired back hard at the Times.
"First the New York Times attacked Senator Rubio over traffic tickets. Now they think he doesn't have enough money in his bank account," campaign spokesman Alex Conant said. "Of course, if instead he was worth millions, the Times would then attack him for being too rich, like they did to Mitt Romney. What the New York Times misses is that getting rich is not what has driven Senator Rubio's, financial decisions."
The Times' story on Rubio's and his wife's traffic violations garnered intense mockery on social media:
Took the trash out but didn't put a new liner in. #RubioCrimeSpree

— Mary Katharine Ham (@mkhammer) June 5, 2015
Once announced he had been to all 57 states. Oh, wait... #RubioCrimeSpree

— Tammy Bruce (@HeyTammyBruce) June 5, 2015
If only Marco had boozed up, driven off a bridge, and drowned his mistress, the @nytimes would have been far kinder! #RubioCrimeSpree

— Andrew Klavan (@andrewklavan) June 5, 2015
Tuesday's report was no different:
The #NYT is broke. Busy firing and laying off staff, yet find the column space to criticize Rubio's financial life. Laughable. #tcot

— writeonright (@Writeonright) June 9, 2015
@EugeneMcCarty @tullyframe @nytimes BREAKING NEWS: @marcorubio once placed toilet paper in the roller BACKWARDS!!!

— Cincinnatus Chili (@cincinchili) June 9, 2015
@nytimes I also heard Rubio used to mow his own lawn like a loser.

— Jess G (@infomaniac8126) June 9, 2015
@nytimes I'm sorry? Maybe @marcorubio should have created a foundation like Hill and Bill...are you aware of that?

— Jen Olney (@OLNEY_JEN) June 9, 2015