(TheBlaze/AP) -- The McKinney, Texas, officer seen wrestling a 15-year-old girl to the ground and pulling his firearm on other minors during a chaotic scene at a pool party has resigned, KDFW-TV reported.
Cpl. Eric Casebolt's attorney confirmed the decision to the news station on Tuesday.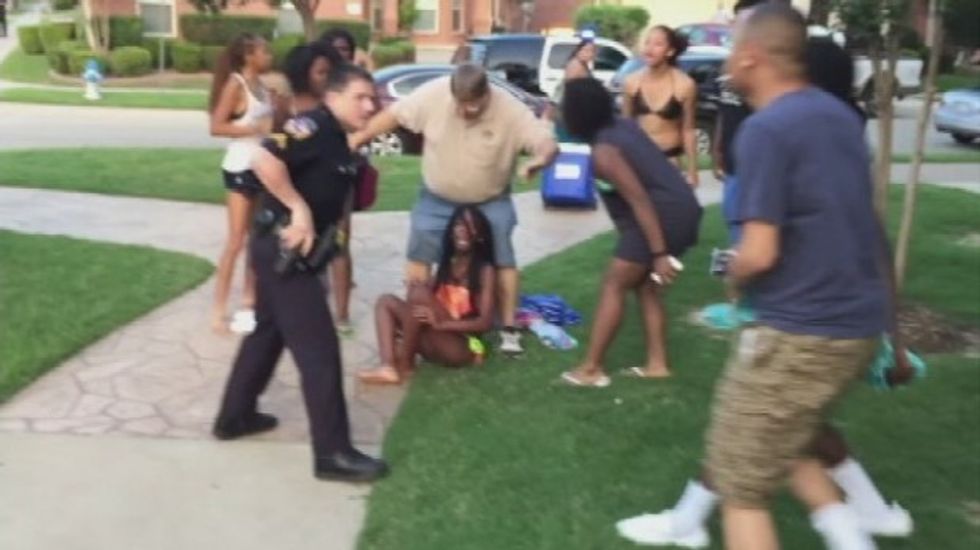 (YouTube)
Casebolt's resignation comes after he was initially placed on administrative leave as police investigated the incident.
McKinney Police Chief Greg Conley called Casebolt's actions "indefensible" during a press conference on Tuesday.
"He came into the call out of control, and as the video shows, was out of control during the incident. I had 12 officers on the scene, and 11 of them performed according to their training," he said.
Some community activists in McKinney, an affluent, predominantly white Dallas suburb, have accused Casebolt, a 41-year-old officer, of racism. Others urged calm until the facts are investigated.  However, many have also been calling for the officer to be fired.
According to neighbors, a woman who lives in the community reserved the pool for a party, said Benét Embry, a black local radio personality who witnessed the Friday incident. The homeowners' association limits the number of guests each homeowner may have at the pool to two. But about 130 people, mostly kids, showed up. At one point, several kids began jumping over the fence to get into the pool area and were causing a disturbance, Embry said, and a couple of fights broke out.
"This was a teenage party that got out of hand," Embry said.
Police said some of the young people did not live in the area and did not have permission to be at the pool.
The events were captured on video by a teenager. In the video, a black teenager in a bikini repeatedly cries out, "Call my momma!" as Casebolt pins her to the ground, only moments after drawing his handgun on other black teens.
Watch the video of the incident below:
---