Saudi Arabia's ambassador to Britain warned that "all options will be on the table" if a negotiated agreement does not prevent regional rival Iran from its nuclear pursuit, hinting that his country could work toward developing nuclear weapons of its own.
"We hope we receive the assurances that guarantee Iran will not pursue this kind of weapon," Prince Mohammed bin Nawwaf bin Abdulaziz al-Saud, the Saudi ambassador to the U.K., told the Daily Telegraph in an interview published Monday. "But if this does not happen, then all options will be on the table for Saudi Arabia."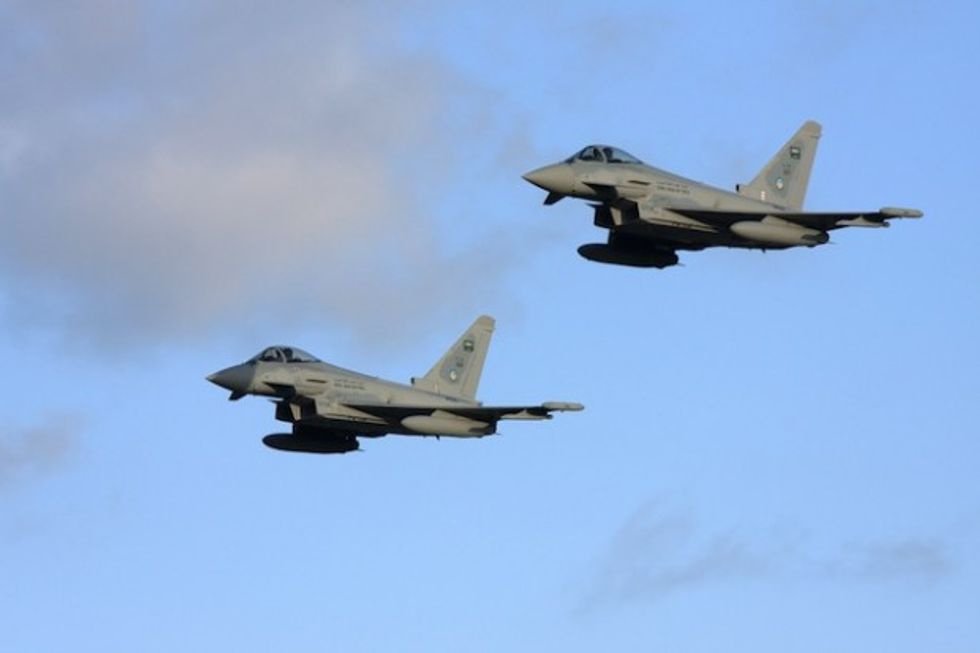 Saudi Air Force Eurofighter EF-2000 Typhoons F2 transiting through Malta on delivery flight, Dec. 5, 2009. (Photo credit: Shutterstock/InsectWorld)
Mohammed, who is also a senior member of the ruling family, told the newspaper that while Saudi Arabia has for years had a policy of not working to develop nuclear weapons, Iran's reported pursuit of a doomsday weapon has "changed the whole outlook in the region."
Iran maintains its nuclear program is for peaceful purposes.
While he commended President Barack Obama's efforts at a negotiated resolution of the nuclear issue, the ambassador said his country wants a guarantee the deal is "watertight."
"We have always expressed our support for resolving the Iranian nuclear file in a diplomatic way and through negotiation," Mohammed told the Telegraph. "We commend the American president's effort in this regard, provided that any deal reached is watertight and is not the kind of deal that offers Iran a license to continue its destabilizing foreign policies in the region. The proof is in the pudding."
The ambassador said that an Iranian nuclear weapon could spark a regional arms race.
"Iran's nuclear program poses a direct threat to the entire region and constitutes a major source and incentive for nuclear proliferation across the Middle East, including Israel," he said.
Saudi Arabia is reported to have provided funding for Pakistan's nuclear development in exchange for a future promise that if needed, Islamabad could supply the Saudis with nuclear warheads.
The Telegraph reported:
Any failure by Iran to provide the necessary safeguards by the end of this month could see Riyadh activate that deal, thereby enabling Saudi Arabia to become the Arab world's first nuclear power. And if that were to happen, then many other regional powers, such as Egypt and Turkey, would also attempt to follow suit – a nuclear arms race in the world's most unstable region.
Negotiators from Iran, the U.S. and five world powers are working to meet a self-imposed deadline of June 30 to finalize a permanent agreement.