A cyclist in the District of Columbia rolled up behind an SUV blocking the bike lane on L Street this week. He stopped to call 911 to report the illegally parked vehicle, but when he saw who the driver was, he quickly apologized and rode on.
In the video posted to YouTube Tuesday by the user going as DCMuppetDrivers, the suited driver of the SUV approached the cyclist as he was calling the authorities, pointing to a police badge and gun on his belt, saying "pay attention, OK. Don't play with me, OK."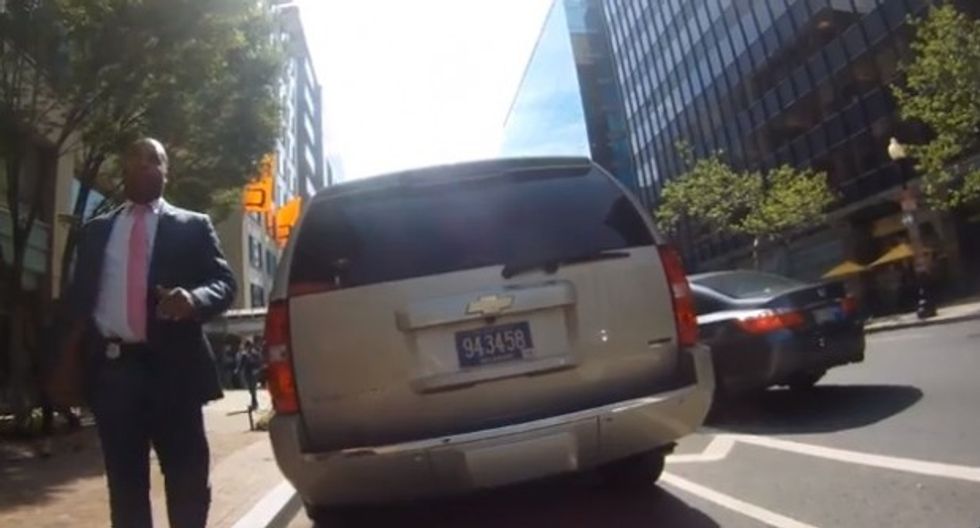 Image source: YouTube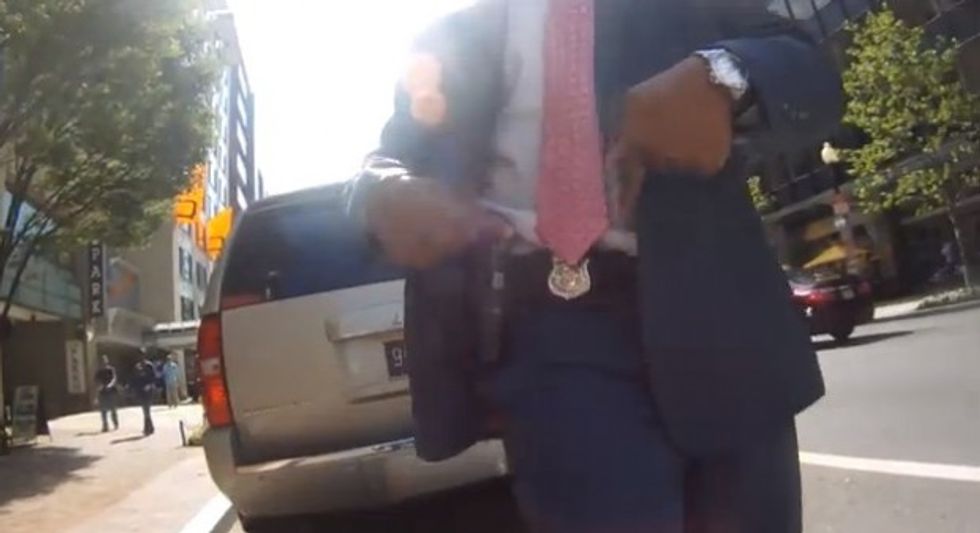 Image source: YouTube
"Nevermind, sorry, nevermind," the cyclist quickly said to the 911 operator. "Sorry."
The cyclist left the scene from there, but when he posted the footage on the video sharing site, he asked if it was a "Delaware police officer making threats in DC?"
WJLA-TV shed light on the situation, reporting that the officer, a Delaware State Police trooper, was there to protect Governor Jack Markell, who was in the District for an event.
Markell's office released a statement regarding the situation, which was turned over to state police for investigation, according to WPVI-TV:
As an avid cyclist and governor of the third most Bicycle Friendly State in America, the Governor knows keeping bike lanes clear is critical to the safety of everyone on the road. He understands the concerns being expressed regarding yesterday's incident in D.C., in which a State Trooper assigned to protect the Governor idled his vehicle in a bike lane while waiting for him to exit an event. Law enforcement officers must sometimes block lanes of traffic in order to do their job effectively and the Delaware State Police will be looking at how the officer handled this situation. The Governor appreciates all that our law enforcement officers do and trusts the Delaware State Police will handle their response to the incident appropriately.
Even if the trooper was parked there for safety purposes, cyclist Melissa Fredericks told WJLA that because "it's illegal to ride on the sidewalk or in traffic [... the officer was] basically strong-arming [the biker] into endangering his life."