Fox News host Megyn Kelly on Wednesday hit back at liberal blogs and websites that she said have been running with inaccurate narratives surrounding her coverage of the situation in McKinney, Texas.
Kelly said liberal bloggers have unfairly made it seem as though she was defending Cpl. Eric Casebolt, the former McKinney police officer who grabbed a 15-year-old girl and threw her to the ground in a filmed incident that has made national headlines.
At the center of these claims was Kelly's brief on-air comment that the teenage girl "was no saint either," though she repeatedly called the events shown in the video "brutal" throughout her coverage of the matter, as Mediaite reported.
"Several ... left-wing blogs ran with the narrative suggesting that our show supports the brutalization of young woman," Kelly said, calling this an entirely inaccurate portrayal of her coverage.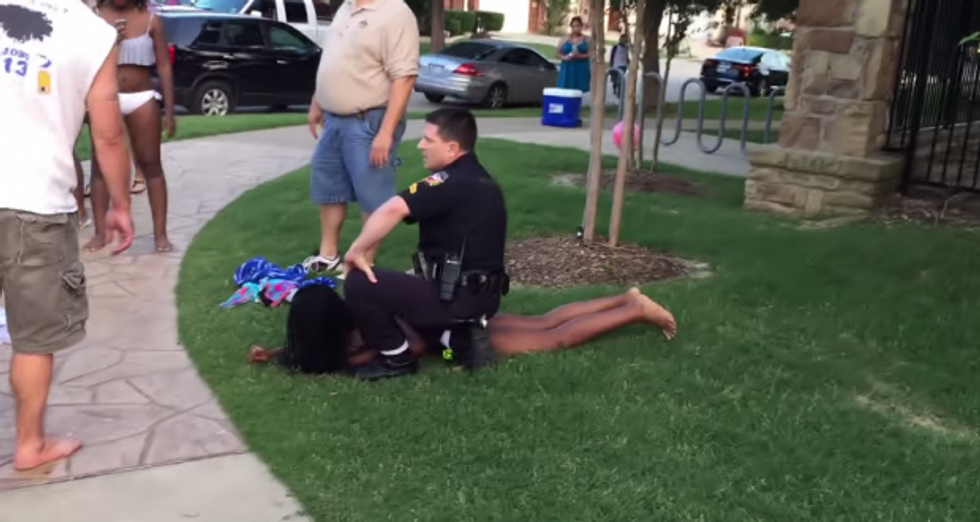 Ex-McKinney police officer Eric Casebolt pinned a teenage girl to the ground (Image source: YouTube)
The host went on to say that she usually doesn't respond to these types of "smears," but felt compelled to do so this time.
"It's almost pointless to respond to these kinds of smears and I almost never do it, but this one struck me as an example of how drastically the press — really the blogs — distort innocuous comments to promote their own agendas," Kelly said.
Her fellow Fox News host Howard Kurtz appeared as well to discuss what he agreed was unfair coverage of Kelly's McKinney commentary.
"The worst part of it is leaving out the comments you made seconds after you said the girl wasn't a saint," Kurtz said, calling liberal coverage of her comments examples of selective quotations being "used by writers who don't have any interest in fairness."
Kelly agreed, reiterating his point.
"There's very little desire on the part of these folks to get to truth," she said. "There's only a desire to get to agenda."
Watch her comments below:
(H/T: Mediaite)