An Israeli journalist sparked intrigue and humor from the faithful and basketball fans alike after posting a verse from 1 Samuel that in Hebrew could be read to reference two key figures in the NBA Finals.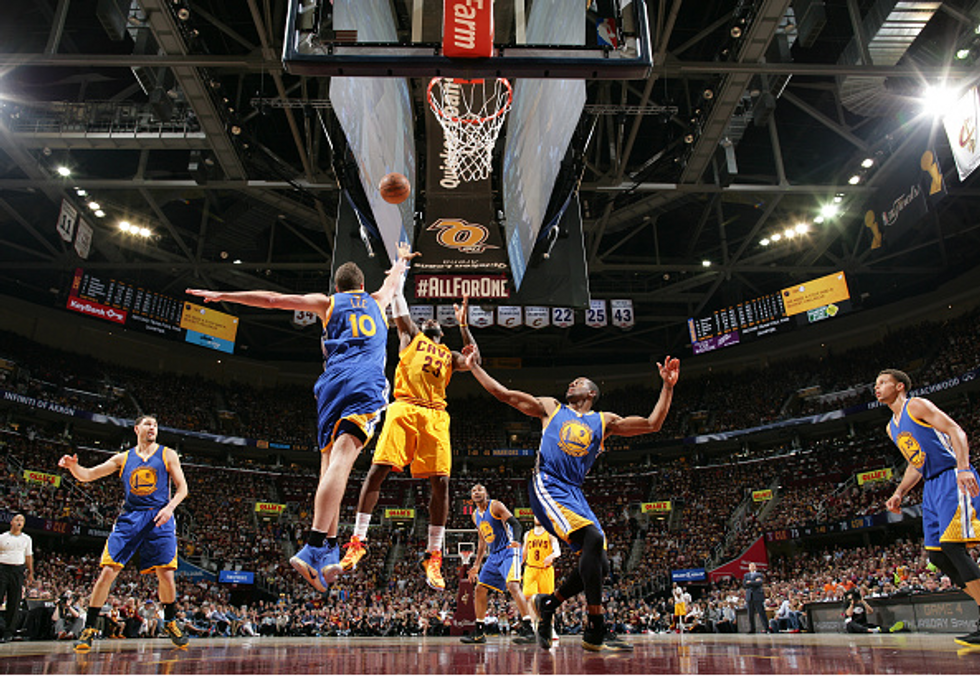 LeBron James #23 of the Cleveland Cavaliers shoots over David Lee #10 of the Golden State Warriors during Game Three of the 2015 NBA Finals at the Quicken Loans Arena, June 9, 2015 in Cleveland. (Photo by Nathaniel S. Butler/NBAE via Getty Images)
In a public Facebook message wishing Cleveland Cavaliers coach David Blatt good luck, Israeli journalist and humorist Hanoch Daum attached the Hebrew text for 1 Samuel 18:22, which read in a certain way includes the words "David Blatt" and "the King."
Read literally, the verse says: "And Saul commanded his servants, saying, commune with David secretly and say, 'Behold, the king hath delight in thee, and all his servants love thee: now therefore be the king's son in law.'"
(Naturally, we pulled that translation from the King James Version.)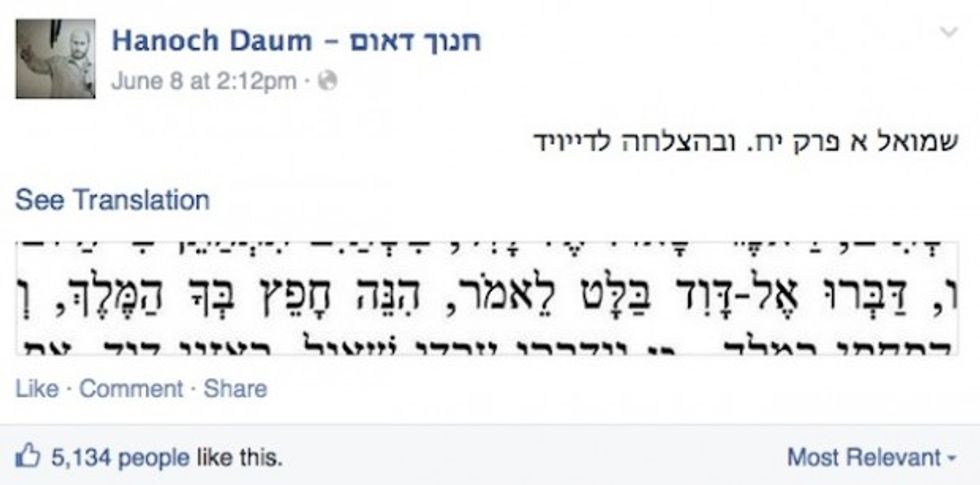 Hanoch Daum's Facebook post that highlighted the appearance of "David Blatt" and "the King" in a Bible verse. (Image source: Facebook)
However, because modern Hebrew is usually read without vowels, the word "balat" (meaning "secretly" or "privately") can also be read as "Blatt."
In other words, "commune with David secretly" could also be read as Saul telling his servants to "commune with David Blatt and say, 'Behold, the king hath delight in thee."
The "king" has delight in Blatt? Some saw that as a positive sign for the Cavs and star player LeBron James.
Among the comments to Daum's post [translated from Hebrew]:
Ohad Gefen wrote: "Hahahahahaha. The King means King James."

Roei Aharoni wrote: "Wow, you don't even have to skip letters !!! I'm speechless. It's [a sign] from above."

Dor Marsiano: "Oh my God, both David and LeBron are mentioned in the same verse."

Eli Atar: "Is there any doubt which team will take the championship?"

From Yaki Ezra: "And the Lord said to LeBron: remove your shoes from your feet since size 62 are thee."
(That last one is a reference to the burning bush episode of Exodus 3:5 when God told Moses to remove his sandals because he was standing on holy ground.)
But Raz Maoz posted a comment directing others to check out the rest of the biblical passage, specifically 1 Samuel 18:25 where Saul offers David his daughter Michal in exchange for 100 Philistine foreskins, but the king was secretly hoping David would be killed in battle.
Maybe not such a positive prophesy for Blatt's team after all.
A reader who described himself as "just some crazy, religious Cleveland sports fan" alerted Deadspin to the David Blatt biblical verse.
"If this isn't a sign for the Cavs winning it all and proof that Lebron and the rest of the Cavs approve of Blatt than I don't know what is," reader Jeremy wrote.
"Damn. JUST AS THE BASKETBALL GODS FORETOLD!" quipped Deadspin columnist Drew Magary.
"Nothing delights me more than when crazy people revisit sacred texts in an attempt to discover ancient prophecies about current NBA games," Magary wrote Tuesday. "What separates this theory from your standard cockamamie horsesh** is that the name David Blatt literally appears in the ancient text."
To all this talk of religion and basketball, Etai Schwartz summed it up in one word to Israeli journalist Daum: "Amen."
(H/T: Times of Israel)