MSNBC host Alex Wagner, on Friday, was forced to distance her employer from an implied allegation of a hidden Bush family scandal made by Washington Post reporter Janell Ross.
Possible 2016 contender Jeb Bush stood by comments he made in 1995 book suggesting "public condemnation" is a good way to prevent women from having children out of wedlock. The MSNBC panel was discussing the issue when Ross "intimated" a possible Bush family secret.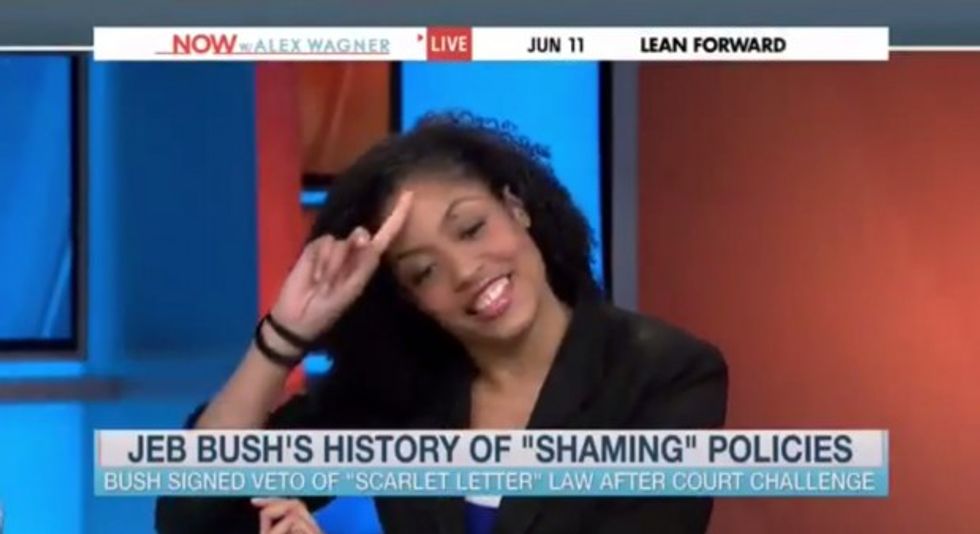 MSNBC
"I was rather stunned, I guess, to hear that these things had been written in a book at a time when the governor probably had his own issues that he was struggling with in his personal life," she said.
Wagner immediately replied, "Explain — you're intimating something here."
"I am," Ross continued, "and I'm trying to be as delicate as possible, but, in all honesty, the governor has some own issues in his own family that some might argue are worthy of some public discussion or shaming."
The reporter's insinuation left Wagner scrambling to make it clear that MSNBC was not standing behind the insinuation.
"To be fair, none of those have been corroborated. We have no reporting on that; NBC News cannot report any of that. You are a reporter for the Washington Post, if you have independent reporting on that," Wagner said.
Watch the segment below:
(H/T: Mediaite)
---