A state official said Friday that a female instructor apparently played a role in helping two convicted murderers escape from a New York maximum security prison about a week ago.
Clinton County District Attorney Andrew Wylie told CNN that Joyce Mitchell, who worked as an instructor at the Clinton Correctional Facility's tailor shop, where the two convicts worked, "provided some form of equipment or tools."
David Sweat, 34, and Richard Matt, 48, used power tools to cut through steel and bricks and crawled through an underground steam pipe. They emerged from a manhole outside the 40-foot walls of the prison in Dannemora, about 20 miles south of the Canadian border, and were discovered missing early Saturday, authorities said.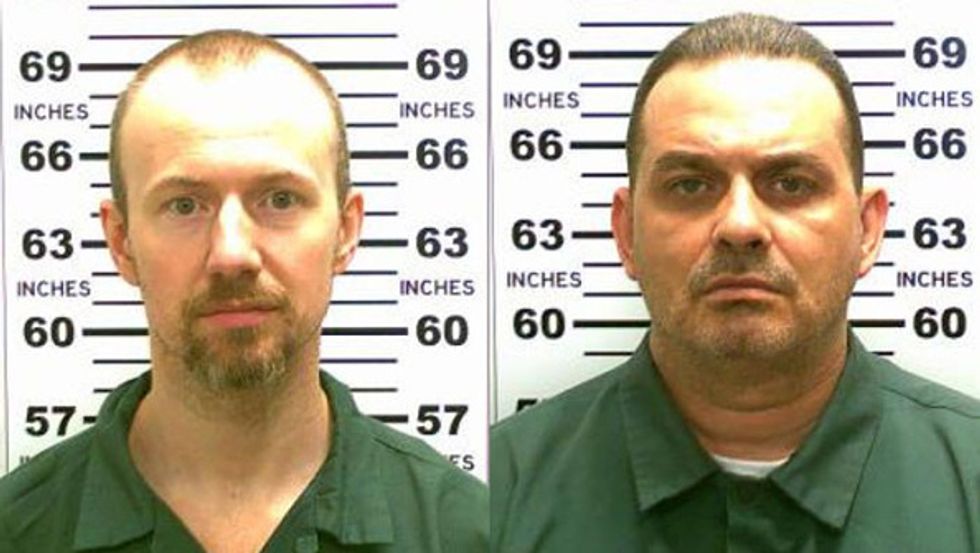 In this handout from New York State Police, convicted murderers David Sweat (L) and Richard Matt are shown i n this composite image. Matt, 48, and Sweat, 34, escaped from the maximum security prison June 6, 2015 using power tools and going through a manhole. (Photo by New York State Police via Getty Images)
Authorities are on their sixth day of searching for the escapees.
CNN reported that a complaint regarding a relationship between Mitchell and one of the escaped prisoners was filed but was unsupported without evidence. CNN noted that investigators said Mitchell was being cooperative and told them Matt made her feel "special."
Watch this New York Daily News report for more on Mitchell:
Wylie told CNN Mitchell could be charged with felonies for her actions.
New York Gov. Andrew Cuomo had words regarding anyone found helping the prisoners.
"If you do it, you will be convicted, and then you'll be on the other side of the prison that you've been policing, and that is not a pleasant place to be," Cuomo said, noting that investigators were "talking to several people who may have facilitated the escape."
A person close to the investigation told the Associated Press authorities believe Mitchell had befriended the men and also was supposed to pick them up Saturday morning, but didn't.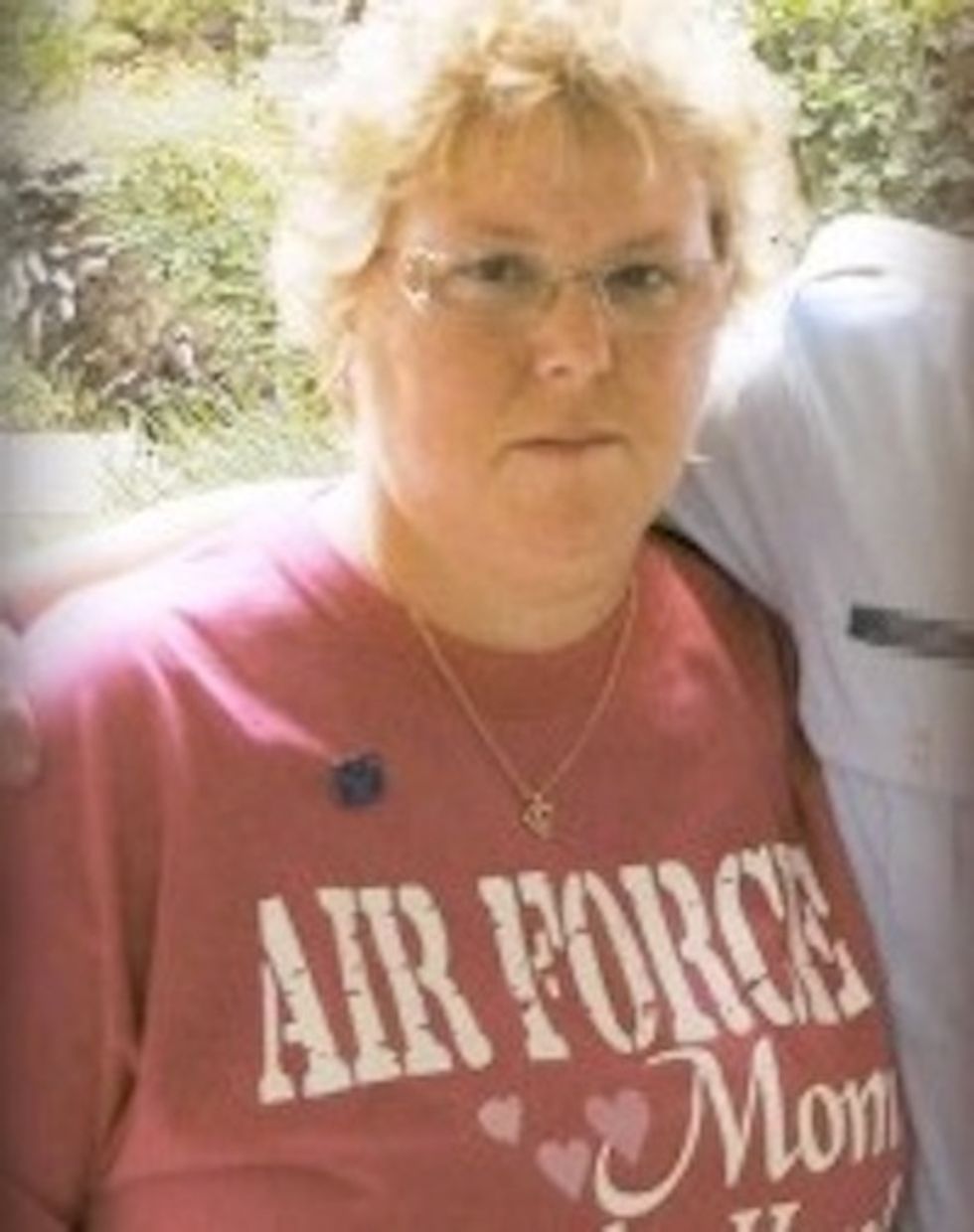 Authorities say Joyce Mitchell is being cooperative with questioning. (Image source: New York Daily News)
Mitchell has not been charged. Her son Tobey Mitchell told NBC on Wednesday that she checked herself into a hospital with chest pains Saturday. He said she would not have helped the inmates escape.
A longtime neighbor also was stunned by the suspicions swirling around Mitchell.
"I just can't believe she'd do something so stupid," neighbor Sharon Currier said. She said Mitchell is always happy to help people, but she's "not somebody who's off the wall."
State Police said they bolstered the force looking for the fugitives to 500 officers from 450 a day earlier.
Law enforcement officers walking an arm's length apart were conducting a grid search through a cordoned-off area consisting of mud, woods, thick underbrush and several houses, Sheriff David Favro said. He said there had been no reports of stolen or abandoned vehicles, break-ins or abductions.
Jennifer Hilchey-Reyell, who lives on the edge of the search area, heard low-flying helicopters all night and watched state police SUVs race by all day. She said she now carries a .22-caliber gun and relies also on her pit bull, Layla.
"My dog will slow them down, and that's all I need," she said.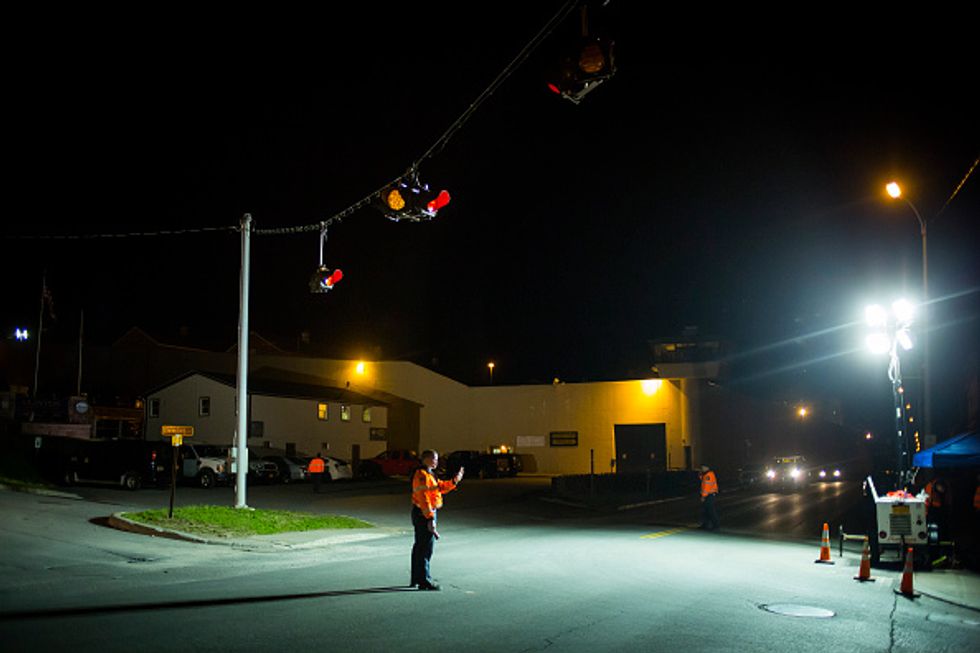 Police work a roadblock at the Clinton Correctional Facility on June 11, 2015 in Dannemora, New York. Law enforcement continue their search for two prisoners who escaped the maximum security section of the prison nearly a week ago. (Eric Thayer/Getty Images)
Matt was serving 25 years to life for the 1997 kidnap, torture and hacksaw dismemberment of Matt's 76-year-old former boss, whose body was found in pieces in a river.
Matt and an accomplice stuffed William Rickerson in a car trunk in his pajamas and drove around with him for 27 hours because he wouldn't tell them the location of large sums of money he was believed to have.
According to testimony, Matt bent back the elderly man's fingers until they broke and later snapped Rickerson's neck with his bare hands.
After the killing, Matt fled to Mexico, where he killed a man outside a bar.
Sweat was doing life without parole for his part in the 2002 killing of sheriff's Deputy Kevin Tarsia, who was shot 15 times and run over after discovering Sweat and two accomplices transferring stolen guns between vehicles.
—
The Associated Press contributed to this report.