A group of donors helping those affected by the deadly 5.9-magnitude earthquake in Malaysia's Mount Kinabalu region earlier this month gathered for a photo, but soon afterward, someone noticed an off-putting detail.
http://t.co/Cke1JNQIUp http://t.co/nNdHLFjSav

— Jejari Kami (@JejariKami) June 12, 2015
Mysterious hands appear in Mount Kinabalu photo: http://t.co/Q0yVKonb5j pic.twitter.com/0o2K2WYhjb

— The Star (@staronline) June 12, 2015
"We posted the photo on our WhatsApp group and a friend responded saying that he was uncomfortable with the image as there was something not right about it. Only then did we realize it," Misbahuddin told the Star, a Malaysian newspaper. "I initially thought it could be my [right] hand, but it is strange. After looking at the position of the hands, I tried straightening my arms to emulate it but it [the position] is very difficult to do."
He also pointed out that the "hand" resting on his jeans appears darker than his own and "its nails look dead," he told the online newspaper.
Samasuddin Yusop, vice president of the group Persatuan Komuniti Bugis Sabah, told the Star that the picture was not altered and said two were taken with different devices, the hand-like image showing up in both.
"Many people asked us about the photographs but even we have difficulty determining if was a makhluk (mysterious creature) or a problem with the cameras," Samasuddin said, adding that he doesn't "feel anything" with regard to the image but said he has "other friends who are creeped out instead."
The earthquake that struck on June 5 killed more than a dozen people as it sent rocks and boulders raining down the trekking routes on 13,435-foot Mount Kinabalu in eastern Sabah state on Borneo island.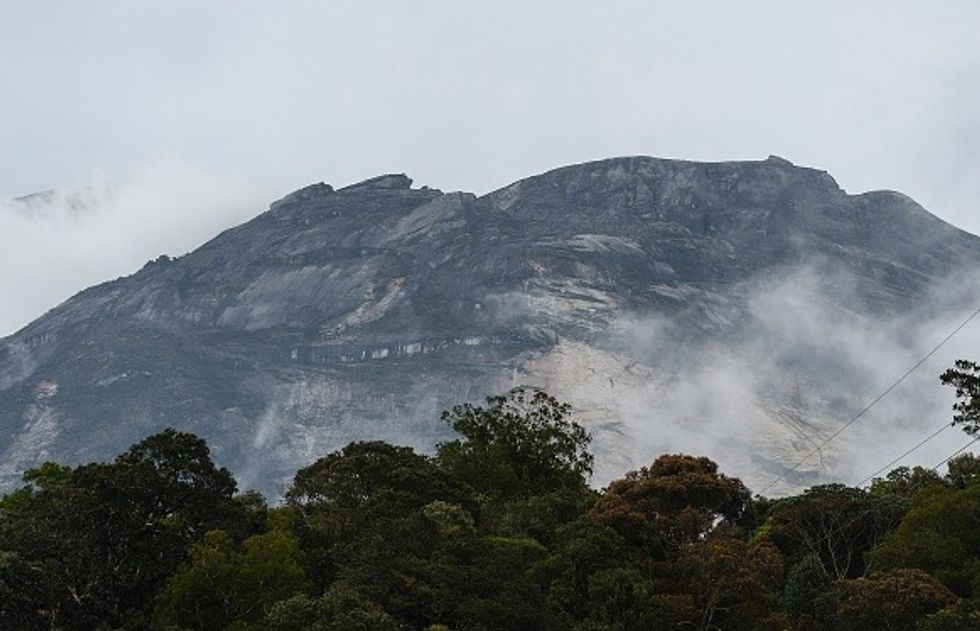 Malaysia's Mount Kinabalu is seen among mists from the Timpohon gate check point a day after the earthquake in Kundasang, a town in the district of Ranau on June 6, 2015. A strong earthquake that jolted Malaysia's Mount Kinabalu killed at least 11 people and left another 8 missing, an official said, as authorities continued to search for survivors on Southeast Asia's highest peak. (MOHD RASFAN/AFP/Getty Images)
Singapore on Monday flew flags at half-staff to mourn the victims, part of a school outing to the mountain.
Most of the other climbers made it down the mountain in the darkness early Saturday, some with broken limbs and one in a coma.
Sabah Deputy Chief Minister Joseph Pairin Kitingan blamed the tragedy on a group of 10 foreigners who "showed disrespect to the sacred mountain" by posing naked at the peak last week. He said a special ritual would be conducted later to "appease the mountain spirit."
The foreigners, who included two Canadians, two Dutch and a German national, broke away from their group and stripped naked before taking photos at the mountain peak on May 30, officials have said.
(H/T: ABP Live)
—
The Associated Press contributed to this report.