An Illinois high school baseball team's "hidden ball" trick landed the players an easy out.
During a game between Rockford Christian School and St. Bede Academy in Peoria, Illinois, on Saturday, a runner from Rockford was trying to steal third base when the pitcher turned around to try to pick him off, Opposing Views reported.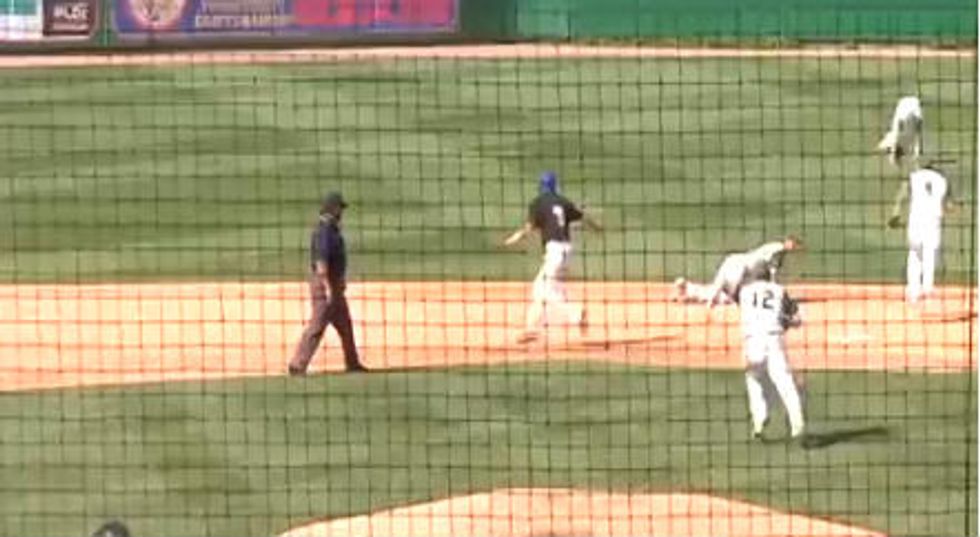 Image source: YouTube
The St. Bede pitcher tricked the Rockford runner into thinking he'd thrown the ball to his second baseman, and the St. Bede second baseman even jumped for the baseball as if to catch it. That's when the short stop player also pretended to jump for the ball followed by an outfielder to make it look like the ball had left the infield.
The Rockford runner went going back and forth, trying to decide whether or not to run when the St. Bede pitcher, who had the baseball the entire time, ran up and tagged him out. Rockford still won the game 2-1, but if wins were based on cleverness, there'd be little doubt as to who would have won.
Watch closely as the team performs the hidden ball trick:
(H/T: Opposing Views)
–
Follow Jon Street (@JonStreet) on Twitter