Video footage reportedly captured in Baltimore last month seemingly shows Rachel Dolezal, the former president of the NAACP's Spokane, Washington, chapter, speaking to Freddie Gray protesters and even leading them in a chant.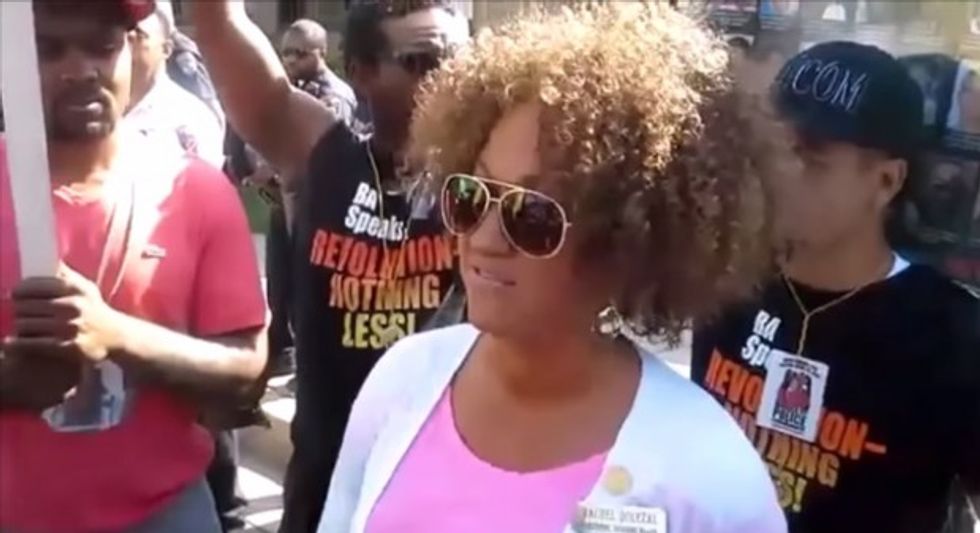 (Screengrab via YouTube)
"I wanted to join with you in support today," Dolezal told protesters outside police union headquarters in Baltimore on May 20. She later added, "This is something that is affecting us nationwide, and if there is no justice, there will be no peace."
She then initiated the following chant: "No justice, no peace! No racist police!"
The video was posted online by James MacArthur of MacArthur Media:
As previously reported by TheBlaze, Dolezal passed herself off as "black" for years before her white parents revealed the truth. In an interview with NBC News on Tuesday, Dolezal maintained she is definitely not white.
Dolezal also met with Baltimore City State's Attorney Marilyn Mosby while in Baltimore:
@HarlmRenaissanc and @MarilynMosbyEsq #BlackWomenMatter #freddiegray #NAACP pic.twitter.com/3RSEOKESY1

— Spokane NAACP (@SpokaneNAACP) May 22, 2015
(H/T: Right Scoop, Baltimore Brew)
---