CHARLESTON, S.C. (TheBlaze/AP) -- A childhood friend of the man suspected of shooting and killing nine people in a Charleston church Wednesday night noticed a key detail in the image released by police earlier Thursday morning: a stain. After seeing that, he phoned the authorities with information.
Joey Meek, who saw suspect Dylann Roof as recently as Tuesday, said he was wearing the same sweatshirt, stained from his job at a landscaping and pest control company, when the guys got together to play Xbox. Meek and his mother alerted the FBI when they thought they could help identify the suspect as Roof.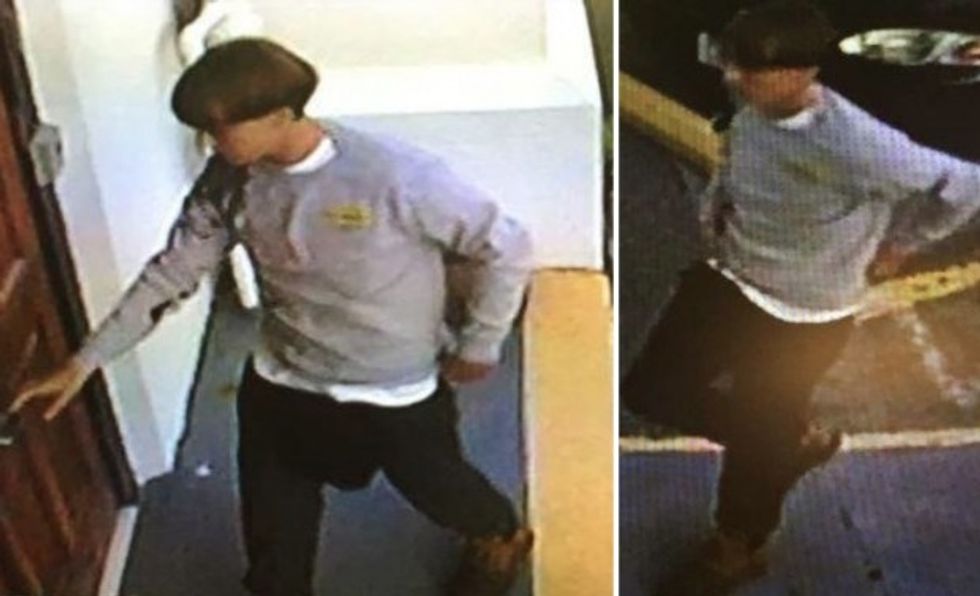 Police sought this man overnight and arrested him Thursday morning. He is suspected of shooting and killing nine people attending a church meeting in Charleston, South Carolina. (Image source: Charleston Police Department)
"I don't know what was going through his head," Kimberly Konzny, Meek's mother who also knew Roof, said. "He was a really sweet kid. He was quiet. He only had a few friends."
Others expressed similar surprise at Roof being taken in as a suspect in the tragic shooting and other details are painting a picture about the 21-year-old man.
For example, Roof drove around with a Confederate flag on his license plate — not exactly an unusual sight in the South. But on his Facebook page, he wore a jacket with the flags of the former white-racist regimes of South Africa and Rhodesia.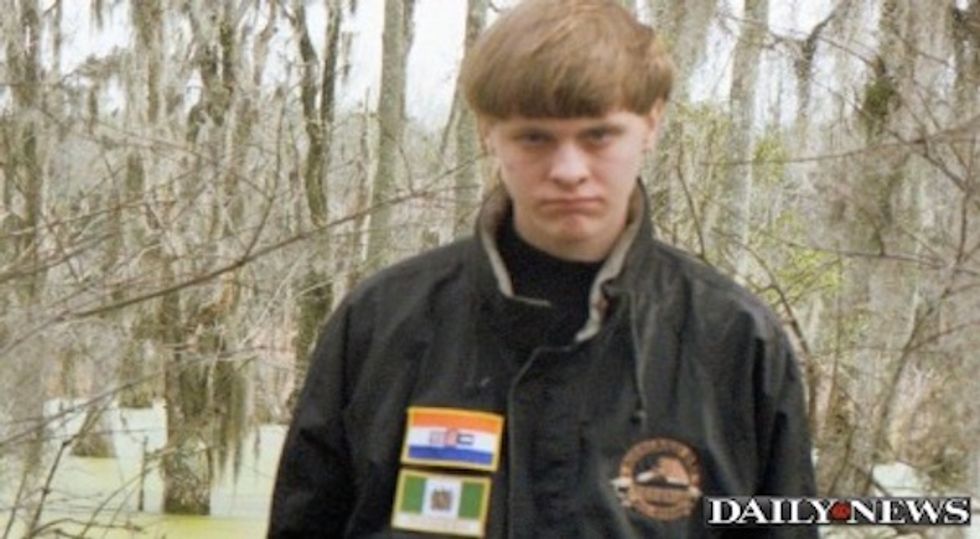 Image source: New York Daily News
In the hours after the bloodbath, the Southern Poverty Law Center, a civil rights group that tracks hate organizations and extremists, said it was not aware of Roof before the rampage. And some friends said they did not know him to be racist.
"I never thought he'd do something like this," said high school friend Antonio Metze, 19. "He had black friends."
Watch the police talk about Roof's arrest:
A young man with a blunt sugar-bowl haircut, Roof used to skateboard in a Lexington suburb in South Carolina when he was younger and had long hair then.
State court records for Roof as an adult show a felony drug arrest from March that was pending against him and a misdemeanor trespassing charge from April. Authorities had no immediate details. As for any earlier offenses, juvenile records are generally sealed in South Carolina.
Court records list no attorney for him.
Roof displayed a Confederate flag on his front license plate, Konzny said.
His Facebook profile picture showed him wearing a jacket with a green-and-white flag patch stitched on it, the emblem of white-ruled Rhodesia, the African country that became Zimbabwe in 1980. Another patch showed the South African flag from the era of white minority rule that ended in the 1990s.
Watch this video from the New York Daily News with information about Roof:
Roof attended ninth grade at White Knoll High during the 2008-09 school year, and went there for the first half of the following school year, district spokeswoman Mary Beth Hill said. The school system gave no reason for Roof's departure and said it had no record of him attending any other schools in the district.
"He was pretty smart, though," Metze said. "I can't believe he'd do something like it."
In Montgomery, Alabama, the president of the Southern Poverty Law Center said the church attack is a reminder of the dangers of homegrown extremism.
Since 9/11, "our country has been fixated on the threat of jihadi terrorism," Richard Cohen said in a statement. "But the horrific tragedy at the Emmanuel AME reminds us that the threat of homegrown domestic terrorism is very real."
Since 2000, the center has seen an increase in the number of hate groups in the U.S., Cohen said.
"The increase has been driven by a backlash to the country's increasing racial diversity, an increase symbolized for many by the presence of an African American in the White House," he said.