President Barack Obama expressed sorrow and anger the morning after a gunmen fatally shot nine people at a South Carolina church, and said it's time for the nation to "reckon with the fact that this type of mass violence doesn't happen in other advanced countries."
"I've had to make statements like this too many times," Obama said Thursday. "Communities like this have had to endure tragedies like this too many times."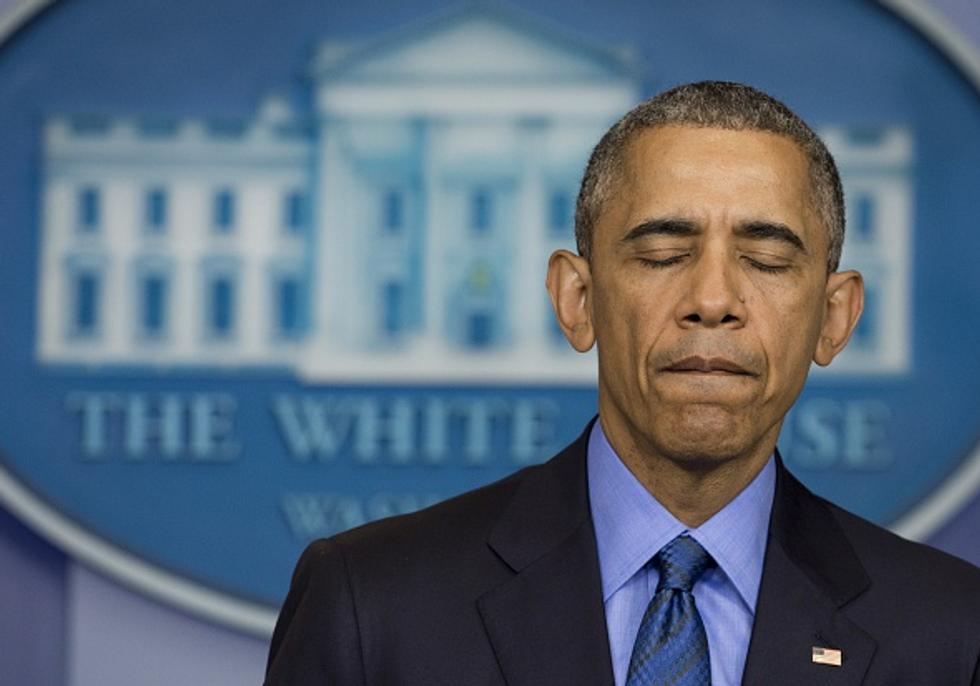 President Barack Obama speaks about the shooting deaths of nine people at a historically black church in Charleston, S.C., from the press briefing room of the White House in Washington, June 18, 2015. (Photo credit should read SAUL LOEB/AFP/Getty Images)
"We don't have all the facts, but we do know that, once again, innocent people were killed in part because someone who wanted to inflict harm had no trouble getting their hands on a gun," Obama said, joined at the podium by Vice President Joe Biden. "But let's be clear: At some point, we as a country will have to reckon with the fact that this type of mass violence does not happen in other advanced countries. It doesn't happen in other places with this kind of frequency. And it is in our power to do something about it."
Police arrested 21-year-old Dylann Roof in Shelby, North Carolina, during a traffic stop Thursday morning after he allegedly opened fire Wednesday night at Emanuel African Methodist Episcopal Church in Charleston. Authorities are investigating it as a hate crime.
Obama said he and first lady Michelle Obama know several members of "Mother Emanuel," including the Rev. Clementa C. Pinckney, who was among those killed.
"To say our thoughts and prayers are with them and their families doesn't say enough to convey the heartache and the sadness and the anger that we feel," Obama said. "Any death of this sort is a tragedy, any shooting involving multiple victims is a tragedy. There is something particularly heartbreaking about death happening in a place in which we seek solace, and we seek peace, in a place of worship."
Obama said Emanuel is "more than a church, this is a place of worship that was founded by African-Americans seeking liberty. This is a church that was burned to the ground because its worshippers worked to end slavery."
And the fact that it's a black church, Obama said, "obviously also raises questions about a dark part of our history,"
"This is not the first time that black churches have been attacked. And we know that hatred across races and faiths pose a particular threat to our democracy and our ideals," he said.
But Obama said the show of unity across Charleston in the wake of the shooting "indicates the degree to which those old vestiges of hatred can be overcome," and invoked the word of Martin Luther King Jr. after the 16th Street Baptist Church bombing that killed four young girls in Birmingham, Alabama, in 1963.
Still, his strongest comments were in regard to the need to address the issue of gun violence in America.
"It is in our power to do something about it," Obama said. "I say that recognizing the politics in this town foreclose a lot of those avenues right now. But it would be wrong for us not to acknowledge it. At some point it's going to be important for the American people to come to grips with it, and for us to be able to shift how we think about the issue of gun violence collectively."