Ex-"NBC Nightly News" anchor Brian Williams said he told half-truths and exaggerations because of his "ego."
"I told stories that were not true. Over the years, looking back, it is very clear. I never intended to. It got mixed up. It got turned around in my mind," Williams said in a taped interview with NBC colleague Matt Lauer aired Friday. "This came from, clearly, a bad place, a bad urge inside me. This was clearly ego-driven. The desire to better a story I was already in. That's what I've been tearing apart and unpacking and analyzing."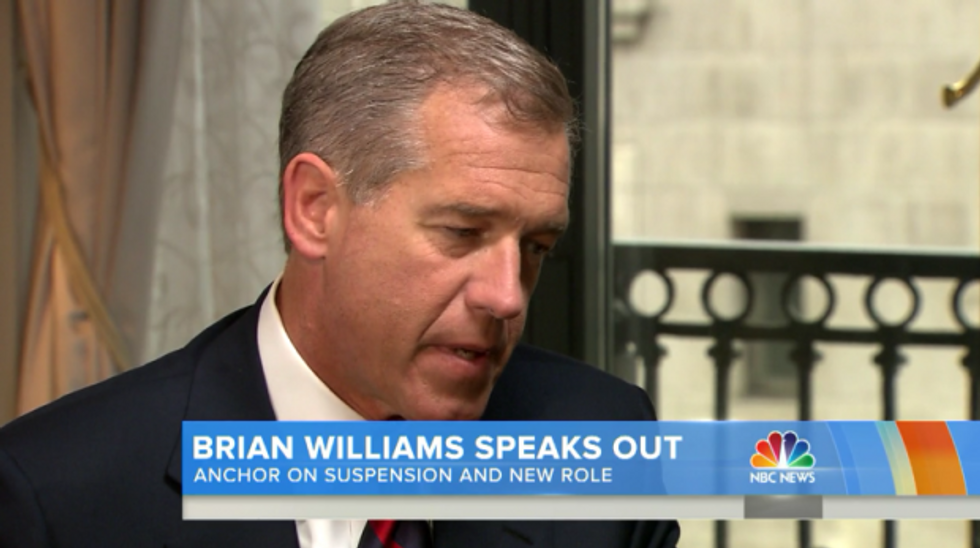 Image source: NBC

Williams spoke publicly for the first time since getting suspended earlier this year after allegations that he had embellished his stories a number of times on talk shows and in other appearances. The interview aired a day after NBC announced it was officially dumping Williams as "Nightly News" anchor, but moving him to a newscaster role at MSNBC.
"It has been torture," Williams said of the past few months. "Looking back, it has been absolutely necessary. I have discovered a lot of things. I have been listening to and watching what amount to the black box recordings from my career. I have gone back through everything, basically 20 years of public utterances."
He said he was "reading these newspaper stories and not liking the person I was reading about, wanting — I would have given anything to get to the end of the story and have it be about somebody else, but it was about me. These statement I made, I own this. I own up to this. I had to go through and try to figure out how it happened."
Williams said he had realized he had been using a "double standard" between when he was sitting at the anchor desk and when he would go out and appear on the late-night circuit or elsewhere.
"In our work, I have always treated words very carefully. That's the coin of our realm, that's our tool. It's the key to our credibility and our integrity. It is clear after work, when I got out of the building. When I got out of that realm, I used a double standard," he said. "It had to have been ego that made me think I had to be sharper, funnier, quicker than anybody else."