AP Photo/The O and M Co., Jacob Cohl
Give them a point for honesty.
In a piece for Gawker, Sam Biddle has this breaking news: Spider-Man movies are lame because Spidey's creators gave him positive traits that are contractually enforced.
Before we get to Biddle's anti-values screed, let's look at asininity in the opening.
Based on information he gleaned from the famous Sony hack, Biddle begins his column:
Why are the Spider-Man movies so bad? Maybe it's because the character has become stale, locked down by arbitrary contractual definitions? A leaked agreement between Marvel and Sony shows us why Peter Parker always looks like Peter Parker.

Only in recent years has the notion that a superhero (or villain) can be something other than a white man (or cyborg) who wants to impress white women -- gay heroes have appeared, but only on the margins. Batwoman recently had a gay comic book marriage, as did Northstar, but the onscreen AAA, marquee heroes and villains still generally resemble a Young Republican luncheon.
First, are the Spider-Man movies really "so bad"? They're not my cup of tea as far as superhero movies go -- in fact, I'm not a comic book fanboy -- but they're fun. That said, my opinion of the franchise is even less important than Biddle's: He's the one actually paid to write columns about that crap.
But let's examine his claim that the movies are "so bad" -- acknowledging, of course, that it's based on taste. (You don't like a movie, you don't like it. What do I care? Unless it's the original Star Wars or Indiana Jones trilogies, criticism of which should arguably cost you your American citizenship.)
Since so many critics tout Rotten Tomatoes (it's a major source of exposure for them in their chosen career of "I'm going to tell people what to think about movies they haven't seen") and moviegoers rely on the site for advice on what movies to see (don't think you do? check the movie-time apps on your phone), let's see what the Tomatometer says about the five (yes, five) most recent Spider-Man movies since 2002.
Spider-Man (2002): Critics gave it an 89%; audiences gave it a 67%.

Image source: Rotten Tomatoes
Spider-Man 2 (2004): Critics 94%; audiences 81%

Image source: Rotten Tomatoes
Spider-Man 3 (2007): Critics 63%; audiences 51%

Image source: Rotten Tomatoes
The Amazing Spider-Man (2012): Critics 72%; audiences 77%

Image source: Rotten Tomatoes
The Amazing Spider-Man 2 (2014): Critics 53%; audiences 66%.

Image source: Rotten Tomatoes
Even with the 53% from critics for the most recent film, that's not too shabby a run for movies that are "so bad."
Second, Biddle claims the movies are"so bad" because the central character is "locked down by arbitrary contractual definitions." Is there a contractual way that Spider-Man is to appear? Yes. Can you believe that? The creators of the character want to define and stay true to the character of the character they've poured their lives into. GASP!
For Biddle to claim to know better how a character -- beloved by tens of millions of Americans for more than 50 years -- should act in order to be popular is absurd.
But his desire to project a left-wing worldview -- the only acceptable worldview, by the way -- on a fictional character is not the most absurd part of this Gawker twaddle.
According to the Sony leaks, the deal Sony Pictures struck with Marvel included a bulleted list of "Mandatory Spider-Man Character Traits." Here's the list that set off the Gawker writer:
Male

Does not torture

Does not kill unless in defense of self or others

Does not use foul language beyond PG-13

Does not smoke tobacco

Does not sell/distribute illegal drugs

Does not abuse alcohol

Does not have sex before the age of 16, does not have sex with anyone below the age of 16

Not a homosexual (unless Marvel has portrayed that alter ego as a homosexual)
How did Biddle respond to this list?
Wow, Spider-Man is a f***ing dork.
Really?
What, in the addled mind of a left-winger, makes Spider-Man so f***ingly dorkish?
It is his refusal to torture or kill? No. "We don't torture" is one of the left's mantras. Plus our military, which kills enemies, is bad. And don't even get them started on capital punishment.
Maybe it's Spidey's refusal to smoke tobacco? Nope. We all know the left's thoughts on tobacco.
It could be his anti-drug stance. Since dope-smoking hippies have found a home in the liberal crowd that will take away their old-school tobacco pipes but not their bongs, they aren't going to be big fans of Spider-Man's "just say no" attitude. In fact, Biddle makes that view clear at the end of his piece:
There appears to be one slight, hopeful loophole here: Spider-Man is only barred from selling and/or distributing illegal drugs, which means he's free to use them recreationally. Give us a bath salt Spider-Man, Marvel, or let the franchise die.
They might also take issue with Spider-Man's refusal to abuse alcohol. For obvious reasons: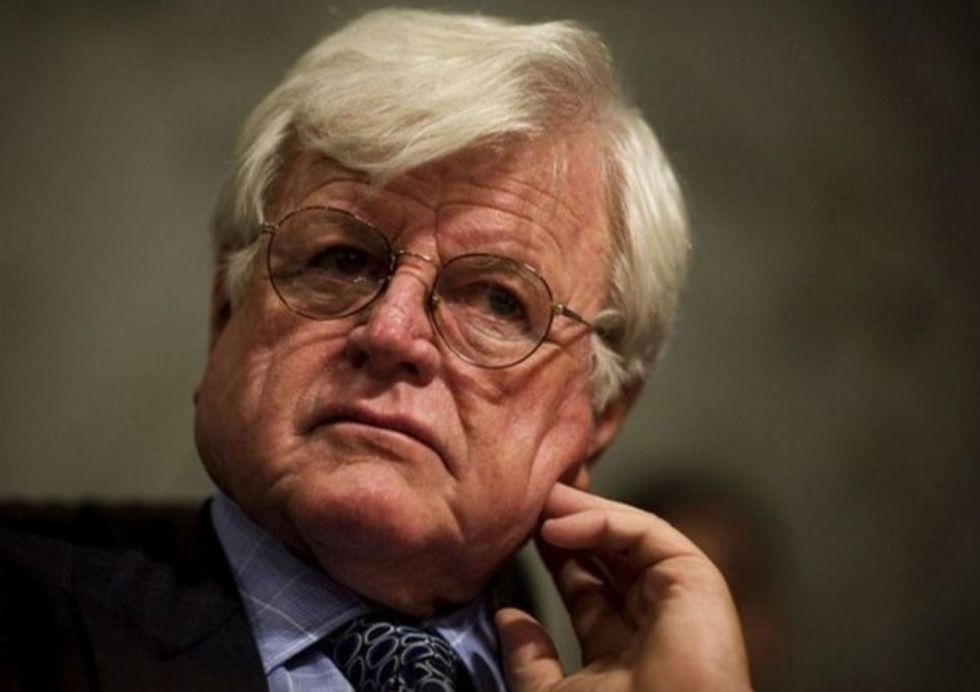 AFP/Getty Images
The Gawker crowd certainly does not like the "male" requirement. Down with the Patriachy!
Judging by the writing you can find in Biddle's archives and throughout Gawker and pretty much every other left-wing site, a proscription on foul language is just godd**n f***ing ridiculous. Amirite?
But, really, what is it that most likely makes Spider-Man a "f***ing dork" in the eyes of the Gawker-types
Answer: He won't "have sex before the age of 16" and "does not have sex with anyone below the age of 16," and he's "not a homosexual."
It's also worth pointing out that Biddle ridicules Peter Parker (aka Spider-Man in plainclothes) as a "total dweeb" for being contractually required to be "Caucasian and heterosexual." Whiteness and straightness is bad.
For the left, sex is sacrosanct.
You cannot make a moral determination about those who choose to have sex as teenagers.
Or with teenagers.
Or with members of the same sex.
Let's sum up what we learned from Gawker today:
If you refuse to put illegal drugs into your body or refuse to sell illegal drugs for others to put into their bodies, you're a "f***ing dork."

If you believe that abusing alcohol might not be the best for you, you're a "f***ing dork."

If you don't use phrases like "f***ing dork," you're a "f***ing dork."

If you hold to any sort of belief that sex is for adults within the bonds of one-man-one-woman marriage, you're a "f***ing dork."
The world as the left would have it is revealed by those superhero qualities Gawker and their cohorts would celebrate (or mock and eliminate).
--
Follow Chris Field (@ChrisMField) on Twitter.