Debbie Dills was running late for work Thursday. While driving along Highway 74 in Shelby, North Carolina, toward her job in Kings Mountain, she prayed for the victims of the church shooting that happened in Charleston, South Carolina, Wednesday evening.
That morning, she told "Fox and Friends," she had paid extra attention to news reports, taking in the surveillance images police released of the black sedan and the man suspected of killing nine people in Emanuel African Methodist Episcopal Church. So when she stopped at a light Thursday, her heart raced when she saw a similar looking black car and a person inside who had the same distinctive bowlcut hairstyle.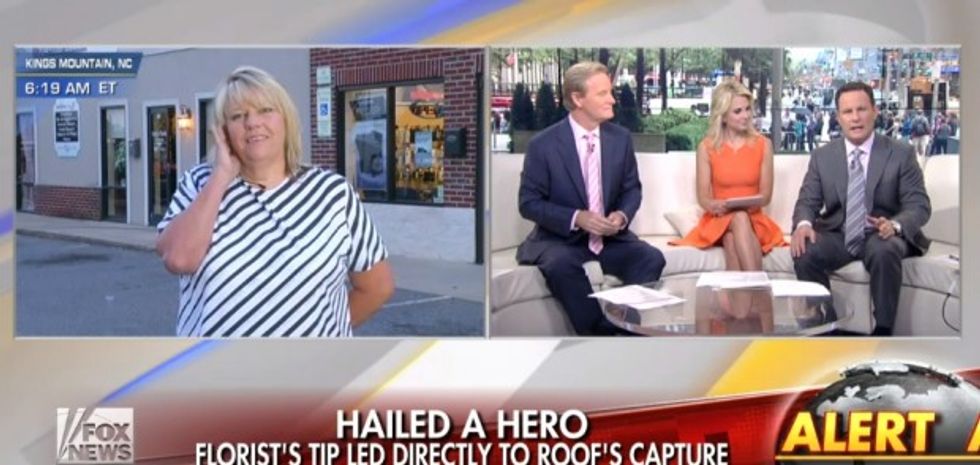 Image source: Fox and Friends
"I looked over and I thought why does that car look familiar to me and why am I thinking about that car?" she told WBTV-TV. "Because normally I don't do that. I'm not an observant person."
That day though, she was. But it's not something she takes credit for: she gives it up to God.
"Actually watching Fox News, 'Fox and Friends,'" Dills said, responding to "Fox and Friends" co-host Elizabeth Hasselback's question of where she first saw images of the suspected killer, who was later identified as Dylann Roof.  "I don't know why I paid closer attention. I'm calling it divine intervention. I believe God had a plan in it."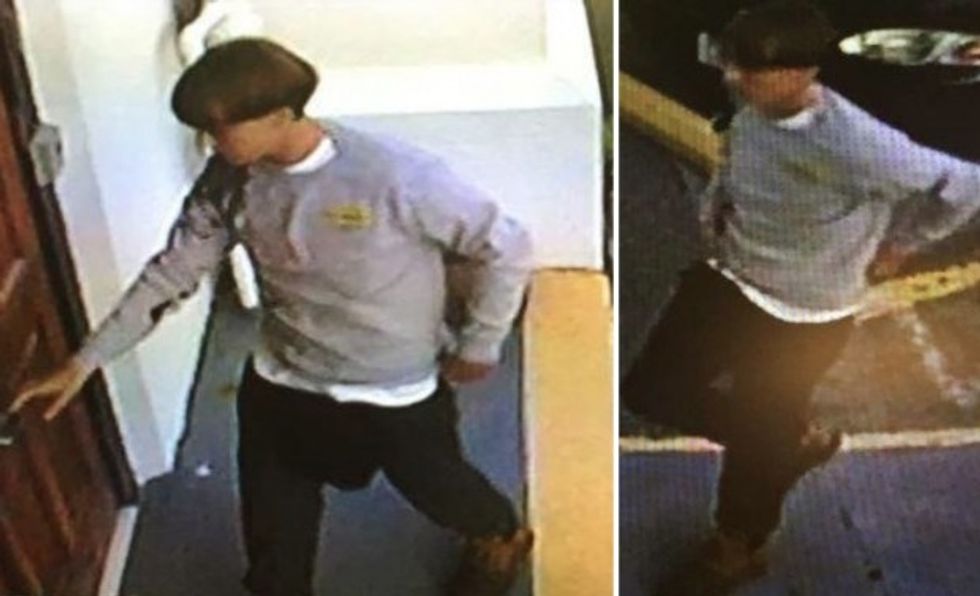 Police released these images of the man suspected of shooting nine people in a Charleston church. (Image source: Charleston Police Department)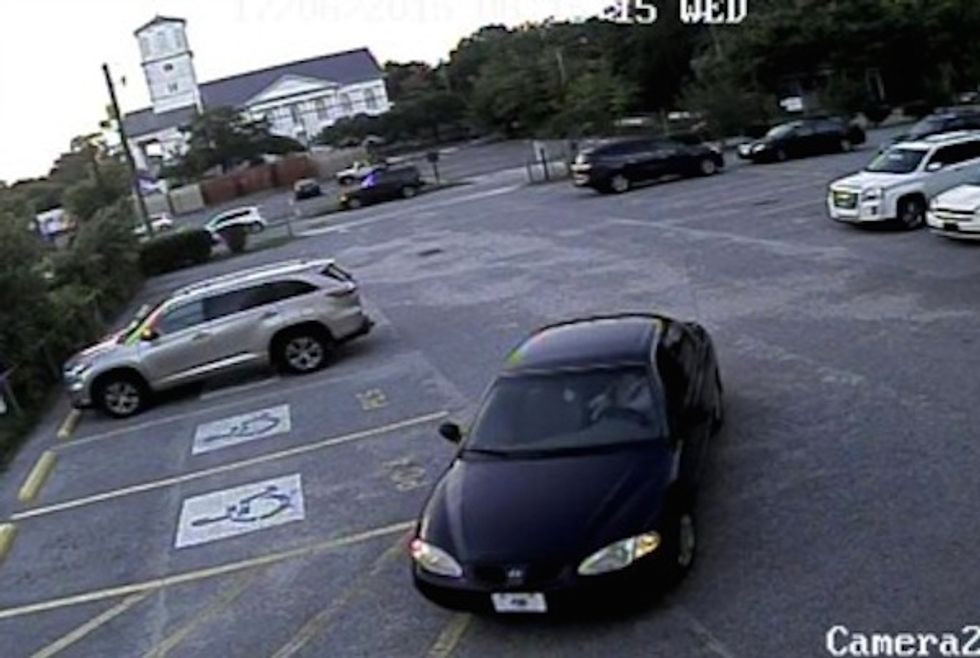 Image source: Charleston Police Department 
At that point, sitting alongside a man who could be the suspected gunman, Dills told "Fox and Friends" she got nervous.
"I'm not a hero and I'm not brave," she said. "I just started talking to the Lord about it, and ... I got off at the exit to come on into Kings Mountain and I got to thinking about it. 'What if it really was him?'"
Dills called her boss and they both then called the police. Dills got back on the highway, chased the black sedan for about two miles and reported his license plate tags to the authorities. Not long afterward, Roof, who now faces murder charges, was caught by police.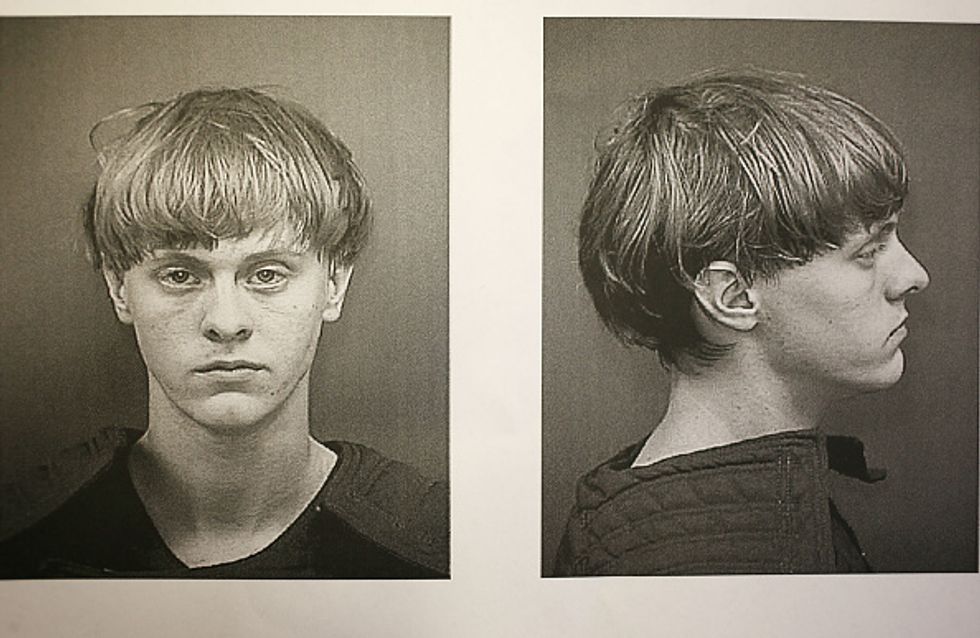 In this handout photo provided by the Charleston County Sheriff's Office Detention Center, Dylann Storm Roof is seen in his booking photo after he was apprehended as the main suspect in the mass shooting at the Emanuel African Methodist Episcopal Church that killed nine people on June 18, 2015 in Charleston, South Carolina. (Charleston County Sheriff's Office via Getty Images)
Hasselback told Dills that she does think of her as a hero, but Dills still humbly deflected.
"Oh I'm not the hero, God's the hero," Dills said. "He used me. If we are a willing vessel, He can use us, but we've got to open up our hearts and our minds. I don't know why He chose me ... but he's got to be glorified in all and everything. And He's going to get the glory one way or the other and I hope it's through me and I hope He's pleased with me. I want Him to be pleased with me more than anything else."
Watch Dills talk to "Fox and Friends" Friday:
Jerry Tessneer, a patrol captain with Kings Mountain Police Department, confirmed that Dills was the tipster who helped capture the suspect.
After the ordeal, Dills went to work at Frady's Florists in Kings Mountain, where she was besieged by visitors.
Charleston police spokesman Charles Francis said Friday that 21-one-year-old Roof was charged with the 10 total counts in the Wednesday night fatal church shooting — nine counts for murder and one for illegal possession of a weapon.
A bond hearing is scheduled for 2 p.m. Friday.
—
The Associated Press contributed to this report.