Conservative firebrand Ann Coulter strolled onto the set of HBO's "Real Time" Friday night knowing she would be seriously outnumbered for a debate on immigration. Even host Bill Maher at one point acknowledged, "You got to give it to her, she ain't afraid."
That was after Coulter brazenly insulted Maher's entire studio audience, saying America's immigration system should involve selecting the "creme de la creme" — but "not like this audience."
Maher initially pressed Coulter to explain why she claims in her book, "Adios, America!," that there are really 30 million illegal immigrants living in the United States, not the 12 million reported by the U.S. Census Bureau. After explaining her methods, Coulter said her estimate is still "low."
However, things turned tense when Maher opened up the floor to the other panelists, Rep. Luis Gutierrez (D-Ill.) and MSNBC national correspondent Joy Reid.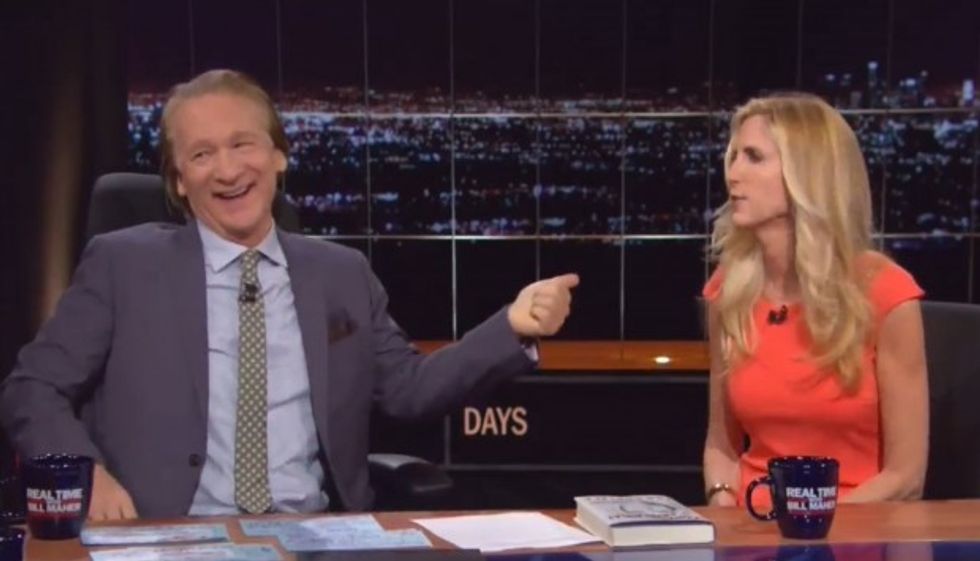 Screengrab via HBO
"I would just say one thing, worry abut the 50 million Latinos in the United States of America that are here legally," Gutierrez said. "Because many of the people that you refer to as murderers, and rapists, and criminals, and people that are on welfare are their aunts, their uncles, their classmates…these are people they care about."
He added, "So what I think that Ann Coulter is actually doing, along with Donald Trump, they are just revving up…a Latino registration machine."
Reid went after Coulter by using her own personal story of her parents' immigration to the United States.
"When they came here, they came for the same reason that everyone does — for opportunity, for education," she said. "And when they are contributing to our society and they have a child here, like me. I'm a first generation American — and I'm fully American."
Maher actually had to interrupt the panel after Gutierrez cut in to tell Coulter "all the foods you eat, all the vegetables you eat, they are picked by foreign labor." In response, Coulter argued there are now machines that can pick strawberries. By that point, tensions were running high.
"We're not going to talk over each other," Maher said. "It's not what we do on this show."
Watch part of the segment via HBO below:
(H/T: Mediaite)
Editor's note: This story has been updated to note Joy Reid is a national correspondent for MSNBC.
---