The Justice Department is looking at this week's fatal shooting of nine black people in a South Carolina church in several ways, including as a hate crime and as an act of domestic terrorism.
But the director of the FBI has a different perspective on the mass killing.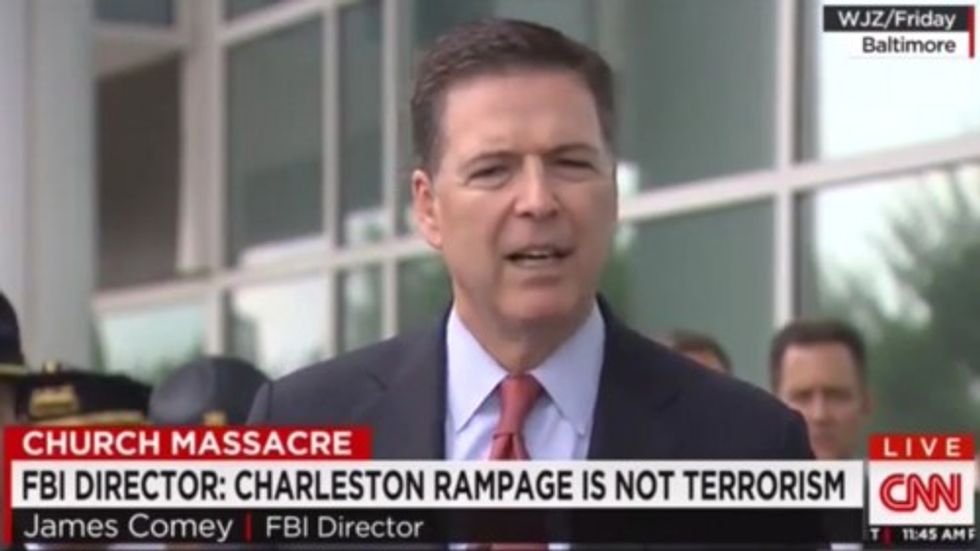 Image source: YouTube
"Terrorism is act of violence done ... in order to try to influence a public body or the citizenry, so it's more of a political act," James Comey said during a Baltimore press conference Friday regarding the tragedy in Charleston. "And again based on what I know so far, I don't see it as a political act. Doesn't make it any less horrific ... but terrorism has a definition under federal law."
While Comey made the statement a day before the purported manifesto of suspected killer Dylann Roof came to light, it isn't clear if his position has shifted. Still many took to social media on Saturday angry at his characterization:
@deray FBI Director #JamesComey is either a racist or a complete idiot.#DylannRoof meant to influence citizenry with terrorist act of murder

— Anthony B. (@PoliticalAnt) June 20, 2015
FBI Director James Comey needs to re-read the law on "domestic terrorism." 18 USC 2331(5). http://t.co/jzBWLEI0df pic.twitter.com/dYMKPDJJYi

— Keith Boykin (@keithboykin) June 20, 2015
The FBI defines terrorism as "the unlawful use of force or violence against persons or property to intimidate or coerce a government, the civilian population, or any segment thereof, in furtherance of political or social objectives."
(H/T: Mediaite)
—
Follow Dave Urbanski (@DaveVUrbanski) on Twitter