Iran's parliament voted overwhelmingly Sunday to prohibit international nuclear inspectors from examining its military bases, documents and scientists, in a move that could further complicate international negotiators' efforts to meet a June 30 deadline to reach a permanent agreement over Iran's nuclear program.
While some lawmakers chanted "death to America," 199 members of the Majlis voted in favor of the bill while only three voted against it. There were five abstentions, Iran's PressTV reported.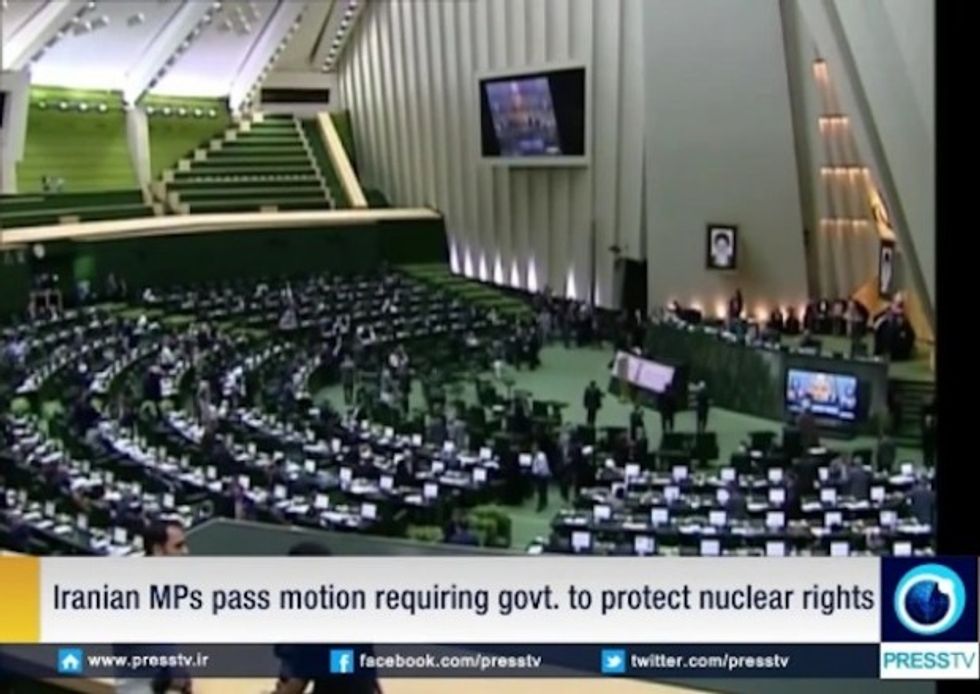 Image source: PressTV via YouTube
The legislation stipulated that the International Atomic Energy Agency would be permitted to "conduct conventional inspections" of Iran's nuclear facilities; however, access to Iran's "military, security and sensitive non-nuclear sites, documents and scientists is forbidden."
The vote echoed recent statements from top Iranian military and political leaders rejecting military site inspections, a key sticking point as negotiators race to meet a self-imposed deadline to wrap up talks by the end of the month.
The legislation also stated that any agreement over Iran's nuclear program must lift sanctions against Iran "on the day Iran starts fulfilling its obligations," PressTV reported.
The U.S. State Department issued a statement Sunday asserting that inspections were key to a final agreement.
All parties "are well aware of what is necessary for a final deal, including the access and transparency that will meet our bottom lines," the statement said according to the Associated Press. "We won't agree to a deal without that."
The Tehran Times quoted parliament member Ali Motahari, who told reporters that the bill would not negatively impact the ongoing negotiations or "tie the hands of [the country's nuclear] negotiators."
According to the AP, the bill must be first ratified by the Guardian Council before becoming law.
Iranian President Hassan Rouhani last week repeated the long-held Iranian position to bar IAEA inspectors from visiting Iranian military sites.
"Iran will absolutely not allow its national secrets to fall into the hands of foreigners," Rouhani told a press conference last weekend.
In response, Israeli Prime Minister Benjamin Netanyahu accused international negotiators of speeding up their concessions to Iran, even as Iran refused to fold on key demands.
"To our regret, the reports arriving from the major powers attest to an acceleration of their concessions in the face of this Iranian obduracy," Netanyahu said June 14, referring to the Iranian president's announcement not to allow surprise inspections of military sites.
Netanyahu on Sunday said the State Department's new global terrorism report which highlighted Iran's continued support for international terrorism was "a wake-up call" on Iranian "subversion and aggression."
The Israeli leader repeated his warning that the deal being negotiated is "not a good agreement."
"This agreement endangers the State of Israel, the Middle East and – in my opinion – the peace of the entire world," Netanyahu told his cabinet ministers.